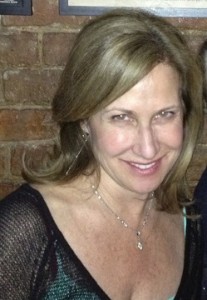 Elin Hampton's new off-beat new comedy—"The Bells of West 87th"—premieres this week in Los Angeles: "Building manager and amateur poet Molly Fein is almost 40, still single, and craving a new life independent of her crazy, dysfunctional family. But when she brings her night-school boyfriend home to meet her parents, he fits right in! What's a girl to do?"
Hampton's writing credits include the musical Who's Your Mommy?! (aka Amother Musical), written with composer Gerald Sternbach, as well as writing and producing credits on television shows such as Mad About You, Dream On, Pinky and the Brain, Buffy the Vampire Slayer, The Jackie Thomas Show, Rugrats, House of Buggin, Life's Work and Baby Bob.
Hampton talks about her creative process, the differences between writing plays and TV, and more.
What inspired you to write The Bells of West 87th?
The conceit of the bells is actually based upon my friend's family. I don't know her parents or her sister, they don't live on the upper west side, and my friend is married with children, but her hilarious stories about her separated parents definitely inspired me to write this play.
What is your writing process?
I'm not one of those people who write the same hours every day. I write when I think I have a good idea or when I have a deadline. I have a wonderful little office in my backyard. I keep a little notebook in my car and purse.
Do you tend to write from experience? Observation? Both?
Both. My own life is pretty boring, but I surround myself with interesting smart funny people. Shamefully, I find humor in other peoples' struggles. Once I have an idea, and start to write, my imagination takes over. By the time the first draft is finished, it may not resemble the original concept, but observation and experience are always my launching pad.
What was your favorite part of writing it? The greatest challenge?
Writing dialogue is my favorite part of writing. Creating characters and relationships is lots of fun. For me, story, is by far the hardest challenge.
In what ways are writing plays similar to/different than writing for TV?
They each have their own limitations and freedoms. Most of the television writing I did was for three camera sit-coms, which is similar to theatre in that the actors have a relationship with their live audience. Unlike theatre, the actors can do take after take until the director is pleased. If an actor forgets a line or a prop, he/she has the luxury to do the scene again. On the negative side, if an audience has to hear the same scenes multiple times, jokes that once seemed funny are now embarrassingly bad.
Television has censorship, theatre does not.
Television has strict guidelines for act (commercial) breaks. Playwrights have complete freedom, although that doesn't mean anyone is going to want to produce your play.
Since television shows has a large budget, a big soundstage is often able to accommodate several sets on which to work. In theatre, since the budget is usually comparatively small, the playwright needs to be aware of space limitations, practicality, and affordability. For instance, every day in a script is a costume change. If a set can be abstract or suggestive, it will be less expensive to produce.
Writing plays allows freedom to create characters from a blank page. Television writing is almost always limited by characters in a world that already exists.
When writing television, there is an entire writing staff with whom to bounce ideas. When writing plays, it's just you and your computer.
What are some challenges new playwrights face?
Since theatre isn't often a profit-making venture, it's difficult to find people to invest in or produce your work.
And how can they overcome them?
Join one or more theatre companies. Many have nights devoted to reading new works in development. If you're perseverant, likeable, and a little bit lucky, maybe they'll decide to produce one of your plays.
Tips for writing comedy?
Most humor comes out of characters, not just jokes. Write funny.
Additional advice for writers?
Live fully and pay attention to everyone you meet and everywhere you go. Take an improv class, join a writers' group. Write.
What do you know now that you wish you knew when you first started writing?
I wish I had gotten involved with a theatre company while I was living in New York, but at the time, I thought I was going to be an important actress. I wish I had known that I wasn't going to be an important actress.
"The Bells of West 87th" is presented by Round Swamp Entertainment in association with Greenway Arts Alliance, and takes place at the Greenway Court Theatre, 544 N. Fairfax, Los Angeles, on Fridays and Saturdays at 8 pm and Sundays at 6 pm, September 7 through October 13. Check the website for ticket information.
Tags:
Author Q&A
Elin Hampton
Plays
Television
The Bells of West 87th
Writing