Rick Bakas is the author of Quick Bites: 75 Savory Tips for Social Media Success. Bakas is the Director of Social Media for St. Supéry winery in Napa Valley and a Certified Sommelier from the Court of Master Sommeliers.
Bakas speaks with Write On! about why and how he wrote Quick Bites. Plus, he offers tips for getting started in social media, explains common social media pitfalls, and more.
How did you become an expert in social media?
I don't think there is such a thing as an expert. I'd say I've logged a ton of hours and have listened to people who know more and try to emulate what they do. Luckily, I have a unique skill set combining a brand management background from working at NIKE along with a natural geekiness and attraction to geekery. I was one of the first 1,000 people on America Online in 1989 and tend to be an early adopter.
Why did you write Quick Bites?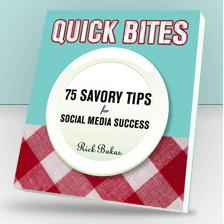 There's so much HOW TO social media info out there. Way too much in fact—sometimes from people who have actually executed the things they're talking about and sometimes from people who are good writers but haven't actually done anything. I wrote the book as the playbook of things I did in my role as Director of Social Media for St. Supery. It's actual battle-tested information.
What was your process for writing it? Getting it published?
I wrote it, then had it edited and re-edited. After that I hired someone to edit it, making sure it was perfect. Then had it published by Baldwin Press. Originally it began as a TO DO list on my wall when I started my job at the winery.
What was your favorite part of writing Quick Bites? The greatest challenge?
The favorite part was the trial and error of testing the ideas. That, and the freedom of sharing useful strategies. Even though Quick Bites is an easy-read and lightweight, it took more work than I thought. Makes you appreciate bigger books and how much work goes into them.
You have a great endorsement from Brian Solis, author of Engage! The Complete Guide for Businesses to Build, Cultivate, and Measure Success in the New Web. How did that happen? Do you have any recommendations of how writers can go about getting an endorsement for their book(s)?
Having Brian Solis endorse my book was pretty cool, I'm not going to lie. What's even better is knowing I didn't do anything special to get endorsed. Brian found me (hopefully) because I was doing something right. I also just reached out and asked him, and he said he would endorse it.
Advice for those getting started using social media?
That's a big question. I guess I'd say an important thing to do when getting started is position your online brand, whether personal brand or corporate brand, for consistency across all social channels. Use the same avatar, screen name, colors, etc…
What are the Top 5 mistakes people make when using social media?
1. People still don't understand the concept of talking WITH people, not at them.
2. Lack of consistency in personal branding (use the same avatar and screen name everywhere).
3. Sharing things that aren't useful.
4. Not understanding the 'social' part of social media., meaning people who don't collaborate or support anyone else [aren't going to be successful].
5. Using gimmicks to build a following
How was writing this book similar to/different than your other writing endeavors?
It required more thought start to finish to share a bigger, more cohesive message.
What do you know now that you wish you knew when you first started using social media?
How much time it would take of my life. It's been a good thing and a not so good thing. Lots of hours have been spent online which is a good thing. It just takes a lot of time.
What do you know now that you wish you knew when you first started writing?
How much time goes into editing, and how much time goes into promoting a book.
Advice for non-fiction book writers?
Just let the words out of your head onto paper no matter how sloppy it is. The early draft(s) shouldn't be anything other than a loose concept. Don't worry about grammar or spelling. Just turn on the faucet and let the ideas out.

Tags:
Author Q&A
Branding
Brian Solis
Debra Eckerling
Engage
Rick Bakas
Social Media
Social Media Success
St. Supéry winery
Write On! Online