Post-apocalyptic, sci-fi, and action films seem to rule the movie screens now, so it's lovely to see something that's well-written with a plucky and adorable female lead. That's the romantic comedy Morning Glory.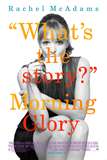 Becky Fuller (Rachel McAdams) has drive and determination! When she gets fired at an early, early morning show in New Jersey rather than the long-deserved promotion she'd been expecting, her mom (Patti D'Arbanville) tells her that her dreams of getting a call to work on the Today Show were: charming when she was a child, but embarrassing now that she's 28. But Becky is undeterred!
McAdams has a spunkiness that jumped off the screen in Guy Ritchie's Sherlock Holmes, when she played femme fatale Irene Adler. And it's in full effect in Morning Glory. From her bouncy pony tail and ability to run throughout New York City in heels to a Doris Day-like klutzyness and her charming "rattling on," McAdams' Becky is all effervescence and endearment. She's sharp as a tack too.
Becky's pluck pays off when a network executive (Jeff Goldblum) hires her to work on the bottom-ranked national morning news show. Her idea? Bring in multiple award-winning, hard newsman Mike Pomeroy (Harrison Ford) to co-anchor the show with Colleen Peck (Diane Keaton), who's all "fluff" (and very fashionably dressed). Think Harrison Ford in Sabrina (wearing the "Indiana Jones" scowl without relief) and Diane Keaton in Something's Gotta Give, both with super egos added on to their characters, and you've got Becky's foils. Patrick Wilson (Angels in America and Little Children) is the smart, handsome, well-educated and supportive boyfriend.
We know the curmudgeony Pomeroy has disdain for all and certainly doesn't like Becky's "repellant moxie" and mixing of news and entertainment ("News is a sacred temple," he pontificates). But we know she's going to win him over, and, with that team effort, they're going to save the show!
The film has the youthful optimism and hope of The Devil Wears Prada and 27 Dresses, which were written by Morning Glory screenwriter, Aline Brosh McKenna. As well, director Roger Mitchell (Notting Hill) either adds to or borrows from the tradition of good "journalism" movies, including Broadcast News, The Paper, and His Girl Friday.
Morning Glory is consistently funny entertainment—I don't recall the last time I sat in an audience that laughed so much—in both its physical comedy and dialogue. Plus, it could double as an instructional films for "how to deal with difficult co-workers." Whether Colleen is calling Becky "Gidget" or Mike is criticizing her for having "No polish, no pedigree and those bangs," Becky just powers on through it all!
5 of 5 Purple Pencils
Broadcast News
Diane Keaton
Harrison Ford
Maria Fotopoulos
Morning Glory
Movie Review
Patrick Wilson
Rachel McAdams
Romantic Comedy
Write On! Online
Write On! Reviews