Poet
Margaret Fieland has been around art and music all her life. Daughter of a painter, she is an accomplished flute and piccolo player, who makes her living as a computer software engineer. Fieland's poems, articles, and stories have appeared in journals and anthologies, such as Main Channel Voices, Echolocation, and Twisted Tongue.
Margaret Fieland and Write On! Online are part of VBT – Writers on the Move.
What inspired you to first start writing?
I started writing poetry as a teenager, and for years scribbled poems in notebooks which I stacked up in the attic or threw away. Then I started writing more poetry because my partner thought it was romantic. Then I started writing verses for family holidays, birthdays, etc.
One day, in 2005, I think, I was in a meeting and wrote a poem I liked and wanted to keep, so, since clearly the notebook thing wasn't working there, I looked around for someplace online and started storing them on a computer. It was better, but, because I work as a computer software engineer, I access more than one. I complained to one of my kids, and he showed me how I could store them online and access them from anywhere.
One day over Christmas vacation, I was reading a poetry ezine I was fond of and noticed that their current poetry contest was one for which I happened to have a poem handy. So I submitted it. It was a finalist. I didn't win, but I was hugely encouraged, found a couple of online communities, and started really working at writing poetry and also at getting it published.
Why poetry?
Darned if I know. It just grabbed me. I'm hooked. Love reading it, love writing it. I also love rhyming and word play. I got hooked on the New York Times crossword puzzle in my 20's, and I noticed that there were a limited number of consonant combinations that come up in English. I used this to develop a system for generating rhymes – this was way before computer networks and the web – that I still use, though I also use rhymezone, which has an awesome online rhyming dictionary.
What was your process for getting your poetry published?
After the contest, one of the communities I hung out in posted opportunities for publication, and I started there. I found some more places that posted opportunities. I submitted to the zines I read. I submitted to the zines the poets I liked were published in.
In what ways has your background in music helped with your writing?
It's been a huge influence on my ear, especially, I think, in terms of meter. I've studied music since I was in elementary school, so while I can't always put my finger on what it's done for my ear, I do know it's huge.
How important is it for writers to explore other forms of creative art?
I really can't say, but I do believe that all arts come from the same creative spark, whereever that is. Working as an artist, say, would be bound to develop one's eye, and that would influence how we would see the world, and hence one's poetry.
Where do your ideas come from?
Everywhere .. incidents that have influence me, feelings I remember and want to capture, prompts, anything at all. The hard part, for me, is not the idea, it's how to put it over. There's a particular memory of mine, about walking down West Fourth Street in Greenwich Village many, many years ago that I've tried to write about three or four times at least, and yesterday, for the first time, I wrote a poem about it that I actually liked.
What is your favorite part of being a writer? The greatest challenge?
Getting the ideas out of my head and onto the paper, in the way that I want them to be, is a huge challenge. Getting it right is a huge high. And just finding time to write without neglecting the grocery shopping, the vacuuming, and the laundry, since I also work full-time as a software engineer, is difficult for me. Balance is NOT my middle name. Left to myself, I get obsessive about whatever it is I'm doing. Not always a good thing.
Advice for poets?
Read, read, read, and write, write, write. Not everything has to be perfect, not everything has to be written for publication. Write just for fun. Yesterday I wrote a poem in response to one of my poetry group mates who was having a hard time writing a poem. It was rhymed. I love to rhyme.
Also the importance of the right word. I make heavy use of a thesaurus. I use Thesaurus.com. The right word can make or break a poem. So can eliminating "extra" words that really add nothing.
What do you know now that you wish you knew when you first started writing?
How important it is to have my writing organized and accessible. Without that I had no perspective, no ability to see where I'd come from and where I was going. I'm not naturally well organized, so this was a big surprise to me.
What's next?
My poetry group has an anthology we've started submitting, and I'm working on a novel – and also at learning enough about writing novels to get it right.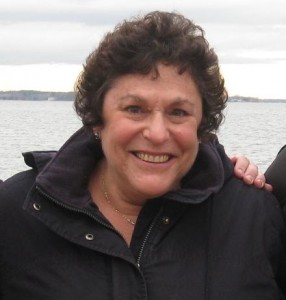 Tags:
Author Q&A
Margaret Fieland
Poetry
Write On! Online
Writing Poetry