Israela Margalit is an award-winning playwright and television writer, concert pianist, and recording artist. In addition to "TRIO," which is having its American premiere in Los Angeles on March 12, after a 5-year, sold-out run throughout Russia and Ukraine, her plays include "Night Blooming Jasmine," "3 O'clock in Brooklyn," and "First Prize," which is set to premiere at the Arclight Theater in New York. She has also written television specials for ZDF, Transtel/Deutsche-Welle/PBS, and Arts & Entertainment. Margalit has recorded extensively for EMI, Universal Classics and Jazz (UCJ), Chandos, Black Box, Resonance, Koch International, and Decca.
"TRIO," the romantic drama about Robert Schumann, Clara Schumann, and the young Johannes Brahms, opens for a five-week run on March 12 at the Lounge 2 Theatre, 6201 Santa Monica Blvd, Hollywood.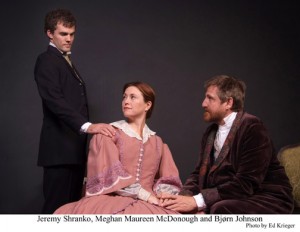 What led you to write "TRIO?" Why did you want to tell this story?
I had a series of concerts in Frankfurt, Munich, New York, and London, in which I played and had guest performers. In between the music selections, we talked about the composers. Two of the programs were devoted to Schumann and Brahms. That's when I began my extensive research. The success of those evenings in Germany prompted ZDF – Germany's channel 2 – to commission from me a one-hour dramatized TV special about Clara Schumann with fine German actors. (I played the piano in the same costume as the actress who portrayed Clara, and they edited it so my hands and arms were seen on the screen as if they were hers.) Later, when I began writing for the theater, I felt I had so much more to say about the subject, and I decided to write "TRIO. "
How did you decide what historical parts to include and what to fictionalize?
The bones of the play are based on history. On occasion I took poetic license on timeline to serve the drama: for example, Schumann was not fired from his job on that specific day, but he did lose it around that time. Another example: Joachim gave Brahms a letter of introduction to Schumann, whereas in the play he visits Schumann and asks him to see Brahms. The interpretation of the relationships is all mine. I read everything I could find from biographies to letters to historical documents. I found a descendant of Schumann's brother, an old woman who lived in Frankfurt in the mid 80's, and spent a day with her. Once I finished my research, I began to write the play and let my dramatic imagination fly. I'm sure there are musicologists who'd not agree with my views, but that's the beauty of history: no one knows exactly what happened. This is not a documentary. What fascinated me about the story of Schumann-Clara-Brahms was the human conflict between three giants who loved, admired, and nearly destroyed each other in a clash between private passions and artistic egotism.
What was your favorite part of writing "TRIO?" The greatest challenge?
There were two major challenges, apart from the usual challenge of writing a good play. The play begins on the day Brahms first meets Schumann and Clara, thirteen years into their marriage. However, one can't understands the depth of conflict between Schumann and Clara without knowledge of their past. The challenge was how to bring their past into the play without exposition. For my taste, exposition in a play is like voice over in a movie – it's a writing cop-out and an insult to the intelligence of the audience. I'd much rather have the audience connect the dots and discover the story on their own. But that's very hard to do on the page. I must have written the first half of Act 1 thirty times or more. I hope I got it right.
The other challenge was the role of the music in the play. I wanted the music to be another character in the play – to be the voice of the characters' souls. That took a great deal of thinking. I also wanted to say something about what it means to be a performer without boring the audience with academic pronouncements and analytical statements. My solution was to wrap all dialogue about music and performance in humor. Again, I can only hope I succeeded.
What did it take to bring "TRIO" to the US?
"TRIO" was world-premiered in Moscow in a Russian translation in 2004. That happened completely by chance: I visited my husband, who was an executive supervising producer for Sony Int. on a Russian primetime TV series of some 100 episodes, and I got introduced to Pyoter Stein (the Russian theater director, NOT the German). He was looking for a new drama to present in a commercial production (rather than in a state theater production). He loved "TRIO" and put together a magnificent production that became an instant hit. It played in Moscow, and all over Russia and Ukraine for five years to sold-out halls. Then it went into a second production, which is still performing on a guest appearance basis at the 1,000-seat Vachtanghov Theater in Moscow. Nevertheless, a production in the US didn't happen. John Tillinger wanted to direct it, and on a couple of occasions we nearly got a production, but in the end we met with obstacles. It's a long story. At some point I began to think a production of "TRIO" in the US was doomed, and stopped trying. Here my husband played his role, again: he became a Co-Executive Producer of The Young and the Restless, and his job brought us to Los Angeles. Once here, I met Racquel Lehrman. I was sure that a charming young producer like her would not care for "TRIO." To my surprise and delight she totally loved the play, and asked Rick Sparks to read it. So here we are at The Lounge Theater. I might add it was well worth waiting for. I love this production so much.
Why do you like writing plays? How is it different than/similar to than your other writing?
Theater has always been my great love, next to music. If I'd go to London on Wednesday and leave on Sunday, I'd see six plays. But since English is my second tongue, I didn't dare write plays. It was a gradual process. First I wrote for TV, then my shows got all kinds of awards. Then, I began writing for the theater. I knew that if it was horrible, my husband and my kids would tell me. We don't mince words at home when it comes to artistic endeavor. My first play was "Night Blooming Jasmine," about the conflict between Jewish Israelis and Arab Israelis. It was produced at the Tribeca Playhouse in New York, and that first preview with audience was an experience hard to describe.
How has music helped with your writing and vice versa?
The sense of timing and structure is similar. And the sense of economy. How to say more with less. The big difference is, when I play the piano, I interpret a masterpiece. Creating a play on the page is a mystery. I never know until nearly the very end of the process if this is a play or a piece of garbage. It's easy to have a great idea, but to develop it and lead it somewhere worthwhile is very hard. I can't even work on a play unless I've written the first and the last scenes, and the title. I've got to know what it's about and where it's going.
Advice for playwrights?
Listen to the actors in rehearsals. A good actor needs fewer words. I've cut a bunch of lines in "TRIO" during rehearsals, which tells you what I think of our cast.
What mistakes do new playwrights tend to make?
Think that the first draft is good. I've made the same mistake. We all do, not only beginners. I have a file on my laptop, called "Pearls sent to Siberia." Just because the line is good doesn't mean the line is good for the scene.
What do you know now that you wish you knew when you first started writing?
Take praise with a grain of salt, and criticism with a grain of sugar. Both may be right or wrong in equal measure. Point is, there is a lot to learn from others. The theater is a collaborative effort, and a good production is the result of many talents. I learn a lot from my directors and from the actors. I try to identify my mistakes and respond to other people's ideas. But if every fiber in my body tells me that something is right, I'd fight for it to the death. In movies the director is the star. In TV, the executives are the stars. In classical music, the conductor is the star. In the theater the play is the star. I love that.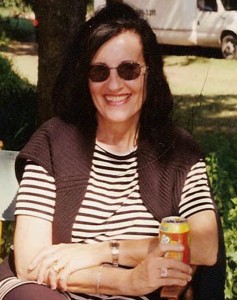 Tags:
Author Q&A
Clara Schumann
Israela Margalit
Johannes Brahms
Plawright
Robert Schumann
TV Writing