Write On! speaks with writer William Rabkin, who just released his second Psych novel: Psych: Mind Over Magic, based on the TV show. The first, Psych: A Mind is a Terrible Thing to Read, was published by NAL in January of this year, and he is currently writing the third: The Call of the Mild. Rabkin started writing for TV 20 years ago with a spec he sold to Spenser: For Hire, and has been working ever since. Rabkin has been a freelancer, a showrunner, and everything in between. He currently teaches screenwriting in UC Riverside-Palm Desert's creative writing MFA program and TV writing at Writers University (next WU session starts on July 13).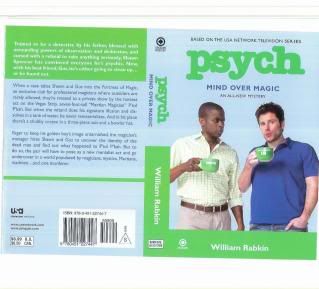 When and how did you first start writing? I think the standard answer is "I've been writing as long as I remember," and I'm afraid I'm going to have to stick with the clich√©. The earliest writing I can document dates from my first years in high school, when I was in one of John Oliver Simon's earliest poetry-in-the-schools workshops. John published two collections of our poems, which we all got to sell out on Telegraph Avenue. So before I was a TV writer, I was a street poet…

What was your first professional writing experience?
Street-poeting aside, I was in the MFA screenwriting program at UCLA when my friend Lee Goldberg sold his trashy novel .357 Vigilante to New World Pictures. His agent at William Morris got a clause in the contract saying they had to let him write the first draft of the script—but they only gave him two weeks to turn it in, so they could burn him and bring in a real writer. Since he'd never written a screenplay before, he asked me to do it with him. To their great surprise, the New World execs liked our draft enough to keep us on the project and to hire us to write an adaptation of Marvel's Blade. (Which had no relation to the movie that was finally made by another studio…) We ended up writing about 57,000 drafts of the Vigilante script—which turned out to be as great a learning experience as film school. And then we spent the next 20 years working in TV together.
What's it like writing books based on a TV show? How is different and/or similar to writing a teleplay?
The psychology is a lot like writing a TV script. You're working with someone else's franchise and characters, and you've got to stay true to their vision. For me, the big difference is that a TV episode is rigorously outlined. It's got to be, because you've got executive producers, production people, a studio, and a network who need to sign off early in the process—there's a lot at stake when an episode costs a couple million dollars to produce. With the books, once the EPs approve my loose story—usually about ten pages of narrative—I dive right in, making it up as I go along. After 20 years of outlining, it's immensely freeing.
How do you get started in your creative process when working on a book, screenplay, or teleplay?
It's different every time. Sometimes a story pops into my head almost completely formed. (Although that doesn't happen nearly often enough…) Sometimes I have an idea for a character or a logline or even a plot twist, and I let that percolate in the back of my head for a while. If it keeps growing, then I know I've got something. After a while—sometimes a week, sometimes it's years—I find myself getting so excited about the idea that I have to start actually plotting it. That's when the hard work starts.
How do you balance the different facets of your career? How do you keep organized?
I don't keep organized, as anyone who knows me will attest. Balance isn't too hard, as long as I have deadlines—I do what needs to be done now. But as soon as the current Psych book is done, I'm going to be doing something I've never tried before — balancing three spec projects, a novel, a screenplay, and a non-fiction film book. I've given myself a set amount to finish on each before my new semester starts at UC Riverside-Palm Desert, where I teach screenwriting in the low-residency creative writing MFA program. Curious to see how it all works out.
How important is diversification for a writer?
I'm a big advocate of diversification. Right now, all our markets are shrinking—not a great problem if you're, say, the showrunner of Desperate Housewives. But for the rest of us, we're watching TV staffs shrinking, original screenplay sales diving, publishing in serious trouble. We can't know where the next opportunity is going to come from—so it's best to make yourself available for as many opportunities as possible.
How can a writer best get his or her work noticed?
Write really well. Oh, and if you can show up in a sex tape with a celebrity, that would help, too.
Any additional advice for writers?
You've got to find a way to stand out. To make yourself a brand. There are too many other people out there who are also good writers, and they're all going for the same jobs you are. You've got to find a way to sell yourself so people know who you are and want to meet you. Look at Diablo Cody. She was the hot chick who took off her clothes and wrote about it. I'm sure she could get a meeting with any executive in town based on that—they all wanted to sit there and picture her naked. If she hadn't been able to write as well as she does, she might not have gotten any further than the first meetings. But would her scripts alone have taken her where she is now? Maybe—but not as fast…
What do you know now that you wish you knew at the beginning of your career?
That a writer's career resembles an athlete's more than, say, a doctor's or a lawyer's. You can hit it big right out of the box, but unless you're incredibly lucky, it could all be over in five or ten or fifteen years. Pro football players make pretty good money while they're in the game—the smart ones know their playing days are numbered and use that money to build their next life. Writers should do that, too.
Tags:
Author Q&A
Debra Eckerling
Psych
Screenwriting
Television
William Rabkin
Writers University