The 61st Primetime Emmy Awards are this Sunday, September 20, on CBS.
Write On! caught up with Emmy nominee Jack Burditt, NBC's 30 Rock, at Sublime Primetime at the Writers Guild of America in Los Angeles. Burditt co-wrote "Kidney Now!" with Robert Carlock, which is nominated for Outstanding Writing for a Comedy Series—along with three other episodes of 30 Rock and an episode of HBO's Flight of the Concords.
"I feel so fortunate," Burditt says. "I don't know why Tina Fey picked me to be on the 30 Rock staff, but I am forever grateful to that lady.
"I've been doing this for 16, 17 years. My first show was Mad About You. Before that I was a journalist."
Burditt recently moved back to Los Angeles after three seasons on 30 Rock in New York. He will continue writing for the show, and is also now writing for CBS' The New Adventures of Old Christine. Burditt's previous sitcom experience includes Frasier, Just Shoot Me, and I'm With Her.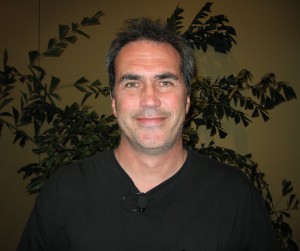 How did you make the switch from journalism to writing for television?
I tried writing scripts for a bunch of years on the side I had a partner for a while, and we tried to do feature stuff and that wasn't working. I wanted to do TV and he didn't. He never watched TV, he didn't own a TV.
It wasn't an easy transition. I went back and forth. I became a a script reader for a while just to learn more about the whole process and still did journalism.

Why the move back to Los Angeles?
I did three years in New York for 30 Rock, and my family stayed out here. … My wife's name is Cindy and I think in a two-week period I called Tina Fey "Cindy" about four times. And I thought, "I have to get back home."
I'm still going to write some 30 Rock from here and also The New Adventures of Old Christine, starring Julie Louis-Dreyfus.

What's it like writing for women?
Writing for women like Tina Fey and Julia Louis-Dreyfus is unbelievable, because it's two women who all they care about is the joke and being funny. They don't mind looking bad and being the butt of the joke. I've worked with some actresses who aren't that way.

How different is being a journalist to writing TV comedy?
As a journalist, what I liked was you can do so many different stories in one week. You are constantly having a lot of different experiences, which is always fun. And I miss that sometimes. I've been very fortunate—the pay in television writing is pretty fantastic.
What do you know now that you wish you knew when you first started out in this business?
It's funny, because I keep thinking I'm going to be smarter about this business.
I was on Frasier [for one season], and I left Frasier as a favor to another friend—a guy who helped me on Mad About You. Frasier was a great show, well-run. … There was a lot of regret later, [I felt] like I shouldn't have left, because it is very rare to get on a show that's that good. I worked on a lot of bad shows.
With 30 Rock, as soon as I landed there, I [knew I wanted] to stay there as long as I could. And if I could have talked my family into moving to New York, I'd still be there. … I enjoyed every second of it. I appreciated it a lot more, I think, than I would have as a young writer. I knew how special every moment on that show was.

Advice for writers?
The old cliche is "keep writing," but I really believe that's a huge part of it. I'm so much better now than I was three years ago when I started 30 Rock. I feel like it's a continual learning process, the muscle that has to be exercised.
Keep working at it. And try and learn your craft. It is a craft. There are great courses and good books on it. Devour everything.
Tags:
30 Rock
Author Q&A
Debra Eckerling
Emmy Awards
Frasier
Jack Burditt
Julia Louis-Dreyfus
Kidney Now!
Mad About You
Robert Carlock
Sublime Primetime
The New Adventures of Old Christine
Tina Fey
TV Writing
Write On!
Writers Guild of America