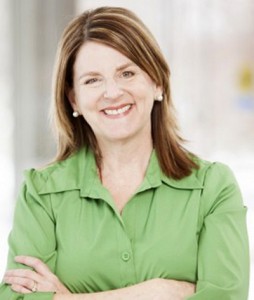 Wendy MacLeod's play "The House of Yes" has been done at Soho Rep, The Maxim Gorki Theater in Berlin, The Washington Shakespeare Company and The Gate Theater in London, where it was published in Plays International. It became an award-winning Miramax film starring Parker Posey, earning a Special Jury Award at Sundance. "The House of Yes" is just one of Wendy's many works. A New Dramatist alumna and a graduate of the Yale School of Drama, Wendy is the James E. Michael playwright-in-residence at her alma mater, Kenyon College, and has been a guest professor at Northwestern University's film and theater departments.
"The House of Yes" takes place Thanksgiving, 1983. As a violent hurricane swirls outside the Pascal's Kennedy estate-adjacent home in McLean, VA, the storm of the century — brewing since JFK's assassination — is about to erupt inside. Mrs. Pascal, daughter Jackie-O and younger son Anthony await the arrival of Jackie's twin brother for the holiday. But when Marty brings along his new fiancée, secrets unravel and the family's elegant veneer begins to crack.
The 25th Anniversary revival of "The House of Yes" runs Fridays, Saturdays and Sundays through June 14 at the Zephyr Theatre in Los Angeles. Get tickets and more information.
How does it feel to have such a significant anniversary of one of your plays?
It feels like I'm super-old, but I'm also very glad that it's a play that people continue to produce.
What is your favorite memory from the original production?
After the first performance at the Magic Theater the audience stayed in their seats; nobody wanted to leave. Everybody wanted to talk about the play. They'd had an experience and needed to process it. I was ready to get yelled at for using the Kennedy assassination in the play but instead people were moved by it.
One of the actors told me his psychic had seen the play in front of cameras. When I got to the Las Palmas Theater on the opening night in LA, there was a van there from a local television station. My heart sank and I thought, "Oh, those cameras." Then later of course it became a movie that was a big hit at Sundance.
You are constantly writing new works? How do you stay motivated and inspired?
I have no shortage of ideas and no shortage of works in progress. The challenge is to find the time to write those ideas or fully realize what I've started. That's what people don't get when they tell you they "have a great idea for you." The idea is the easy part.
What is your favorite part of being a playwright?
My favorite part of being a playwright is making an audience laugh. I also love watching good actors bring my material to life. Suddenly what was in my head is in the world.
Any tips for writing dark comedy?
Subvert the conventional thinking about things. There is a relationship between laughter and surprise. I love Freud's essay "The Joke and the Unconscious," where he writes that laughter comes from bringing the repressed into the light.
What common mistakes do new playwrights make and how can they fix them?
Writers new to playwriting think that plays are a serious of conversations. Good plays should involve a series of events, with a cause and effect propulsion. (A playwright like Annie Baker is so good at capturing the texture of daily life that audiences think that nothing happens when in fact a lot happens). Characters should not speak exactly what they are thinking and feeling or the tension between text and subtext is lost. And if you can cut it, you must cut it. It's a stringent form.
Additional advice for playwrights?
Keep writing; the more you do it the better you'll get at your craft. Whether the reviews are good or bad, keep writing. Also do some acting so you know what actors need and how they work.
What do you know now that you wish you knew when you first started writing?
Young writers should know that you can't make a living at playwriting, even when your plays are being regularly produced. They will have to wait tables or teach or write for television. That's not always a bad thing since those jobs keep you from being lonely in between productions.
The other thing I wished I'd known is that most theaters don't produce the plays they commission; I always took the "no's" personally.
Tags:
Author Q&A
Plays
Playwriting
The House of Yes
Wendy MacLeod
Write On! Online