Julie Spira is the author of the bestseller, The Perils of Cyber-Dating: Confessions of a Hopeful Romantic Looking for Love Online. Julie is a frequent guest in the media, and has been quoted in/on ABC News, CBS News, FOX News, Smart Money, Woman's Day, Men's Health, Cosmo Radio, Los Angeles Times, and The New York Times. Her dating advice appears on Huffington Post, Date Daily, JDate, eHarmony Advice, Match.com, and Your Tango.
Spria discusses how she became a online-dating and social-media expert, reveals her writing process, and offers advice for daters, marketers, and writers!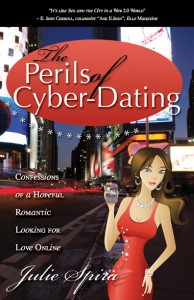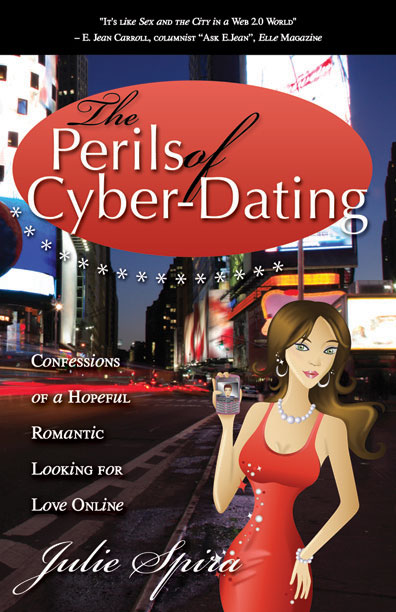 How did you become the cyber-dating expert?
I was an early adopter of the Internet and online dating. I created my first online dating profile in 1994 and quickly learned the art of crafting an irresistible profile. Shortly thereafter, I started helping friends with their profiles and with the dating process. In the course of 15 years, I went on several hundred dates, received a handful of marriage proposals and formerly started working with other singles to help them in the crowded playing field of cyber dating.
Why did you write The Perils of Cyber Dating?
I wrote The Perils of Cyber-Dating because I felt I had a compelling story to share. I came up with the title of the book in 1995, when I found out that a man who proposed marriage to me had a wife at home. I laughed it off and became an expert at spotting the red flags after this experience. I did end up marrying someone I met online and the outcome was quite perilous. I believed that writing the book was like turning lemons into lemonade. I wanted to share both my heartwarming stories and fairytale courtships along with my heartbreaks to help other singles on the cyber-dating journeys. With over 40 million singles who have visited online dating sites, I knew that I could make a difference in their lives by taking a humorous and witty approach to online dating.
What was your process for writing it? Getting it out there?
Writing the book was extremely cathartic. I had collected stories from almost 15 years. During this time period I received four marriage proposals, which included one husband, and one fiance. It was a very personal story. I poured out my heart and soul in this book, knowing I would make a difference in the lives of other singles. I wrote every day for several months and edited the copy every evening. I kept a notebook in my purse, where I would write down my thoughts during the day and continue writing the book when I got home. I became very passionate about my book and single focused. The experience was very creative for me and very entrepreneurial. I looked at it like starting an entrepreneurial business that needed a dynamic marketing plan. As I had been a marketing executive for several Internet companies, it went from writing a personal story to creating a business model where I could use my expertise in creating a brand for Cyber-Dating Expert.
Once the book was completed, I asked everyone I knew if they could introduce me to agents and publishers. I wrote the book proposal after my book was completed. It was during this process that I realized the market potential for an online dating memoir. There were many "how to" books, but there weren't many books about a woman's romantic journey in cyberspace. There was the film, You've Got Mail, but it only focused on one love story. The Perils of Cyber-Dating contained many stories and reads like a romantic comedy or a script for a sitcom. Friends and editors quickly realized that my real-life story was similar to Carrie Bradshaw's. I sent my manuscript to an editor in New York who told me it was in the top 10% of anything he had seen that had crossed his desk. He said he'd be surprised if it didn't get sold. I then realized that I needed to move forward with getting my book published. To a certain degree, I was ahead of my time. Blogs were just getting popular. Facebook had about 70 million users then. Now Facebook has approximately 500 million users and singles worldwide are sharing their dating stories on Facebook, Twitter, and on the Web. I felt that authenticity was important in expressing my stories and hoped the world was ready to hear them. I used my own social media strategies to help the book become a bestseller and to extend the shelf-life of the title.
What are the top three lessons you hope people learn from your book?
Be authentic. Never settle. Follow your passion and your dreams.
How was writing a book different than writing for the web? Were there any similarities?
Writing my book was very different than writing for the web. I write almost daily on CyberDatingExpert.com, but they are short stories, stories about others, and trusted dating advice. Writing my memoir was like writing a novel. It had a beginning, a middle, and an end. There was a build up of excitement, a hero, and a heartbreak. It spanned my 30s, 40s, and 50s and was filled with emotion. It was a very personal story about a woman seeking love on the web. The woman could have been anyone, it just happened to be me. I enjoy writing my various columns on the Web, but my online writing comes from a position of being an expert in the online dating industry. The book is very personal and it encourages other women to be hopeful about love.
What was your favorite pat of writing The Perils of Cyber Dating? The greatest challenge?
I enjoy marrying love and technology and this book accomplished that. My favorite parts about writing the book were the times that I reflected back into my youth. Expressing my hopes and dreams as a child who wanted to see her wedding announcement someday in the New York Times and the aftermath of the now very famous New York Times Wedding Announcement which still appears on Google to this day was an example of this.
The most challenging part about writing the book was worrying about what others would think of me. I had to come to grips with the fact that my very private protected life was about to become very public. It was worth it.
How important is it for a writer to have a niche?
Building your brand as a writer is very important. I have two brands which overlap; as a Social Media Expert and a Dating Expert. I am writing two additional books now. One is a social media book called The Rules of Netiquette and the other is a relationship book, Are You Too Picky? Both books are about relationships even though their markets differ. Your fans and readers need to know what to expect from you and your style should be consistent.
Advice for writers?
Follow your passion. If you have a story in you, go ahead and start writing it. It has never been easier to write and get a book published before than now. Print on demand services and the ability to sell online should be fully embraced. Start building your platform with social media marketing so you can create an anticipation for your book release. The publishing world is changing. If you have good content, it can be delivered in a variety of ways.
What do you know now that you wish you knew when you first started writing?
Writing the book was the easy part. The constant promotion of your brand takes a lot more effort and money than you will ever imagine. Being a published author can truly change your life, but it shouldn't take over your life. It opens doors for many opportunities, but in reality, it's a glamorous, expensive, business card.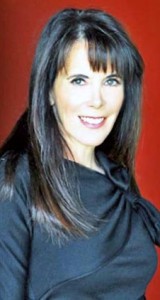 Tags:
Author Q&A
Debra Eckerling
Julie Spira
Non-fiction
The Perils of Cyber Dating
Write On!