This week, Write On! Online speaks with Jane Boursaw, Reel Life with Jane, who has been a freelance writer for 25 years, and a blogger for 5 years. She's the co-lead blogger for two TV blogs: AOL's TVSquad.com and CliqueClack.com/tv. Her movie blog is FilmGecko.com, which is part of the b5media blogging network. She's also blogged for People.com and SoapNet.com, and teaches an online blogging class through Renegade Writers. Her articles have appeared in Family Circle, Woman's Day, Ladies' Home Journal, Fitness, USA Weekend, Christian Science Monitor, AARP, iVillage.com, and many other print and online publications. Her celebrity profiles have appeared in American Eagle Latitudes, Emmy Magazine, Valley Life, magazine, and others.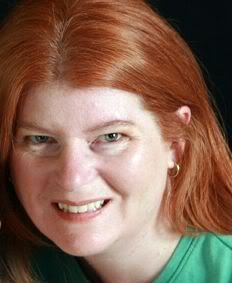 How did you get started writing entertainment from the Midwest? Are there specific challenges to living—and writing—outside of "Hollywood"?
I've always loved movies, TV, and celebrities, and I had one of those "If I could do anything, what would it be?" moments years ago that nudged me into this niche. You don't need to live in L.A. or NYC to be an entertainment writer. You just have to have good contacts with publicists, TV networks, and movie production and distribution companies. I've spent years building those contacts, and feel like I have a pretty good handle on the inside track. I'm a phone call away from any celebrity, so I don't think you necessarily have to meet with profile subjects face to face. Editors are mainly looking for good writers who deliver clean copy on time.
Why are blogs important?
Any writer would benefit from adding online publications and blogs to their mix of work. Not only are blogs a way for publications to offer up-to-the-minute info on anything, they also offer writers a way to get their thoughts published within minutes. Whether you're promoting a book, writing about something that's important to you, or blogging for pay, blogs are definitely the trend right now, and I don't think they're going to go away anytime soon.
How and why did you start self-syndicating?
I saw a need for a good family movie column—an affordable, down-to-earth column that would tell parents which movies are ok and which are NOT ok for their kids. Parents can't see every movie before their kids do, and I love helping parents make wise movie choices for their kids. The MPAA ratings system isn't always black and white, and oftentimes, PG-rated movies aren't appropriate for kids. That's why my reviews include detailed info on profanity, violence, and sexual innuendos. It's amazing how many PG-rated animated movies contain all of these elements. I love family movies and enjoy seeing them with my own kids, so it seemed like a natural path for me. My first column was on www.mommasaid.net, run by Jen Singer. Jen has been my loyal supporter from the beginning, and she was more than happy to launch my column on her wonderful parenting site. Now my column runs in anywhere from 200 to 300 publications at any given time.
What is your favorite part of the process?
With the syndicated column, it's always exciting to think that I'm in publications all over the country. And as mentioned, I love helping parents make good movie choices for their kids. I'm a mom, so I get that.
What is the one thing you know now that you wish you knew when you first started writing?
Even if you're really busy, keep marketing all the time and try to diversify as much as possible. During the past few years, I've focused on having a variety of clients for movie, TV and celebrity stories. Good markets end all the time, for reasons beyond our control. You don't ever want to be in a position of having all your eggs in one or two baskets
Any advice for writers looking to break into writing entertainment
Be patient, troll the job boards for good entertainment-writing jobs (yes, they're out there), stay connected through social media sites like Twitter and Facebook, and don't expect it to happen overnight. Some of my early entertainment-writing jobs didn't pay all that well, but they were all stepping stones to the work I do now. Just keep the big picture in mind.
Tags:
Author Q&A
Jane Boursaw
Reel Life with Jane
Write On!