Brandon Stauber co-founded The Wine Spies with long-time business colleague and friend Jason Seeber in 2007. The site, which introduces readers to new wines through reviews, articles, and interviews, is proof of the necessity of content in any online business. Stauber—aka "Agent White"—is a pilot, kick-boxer, an avid foodie, and wineaux, and enjoys traveling the world in search of adventure, new friends, food, and drink. Seeber is "Agent Red."
Stauber talks about his journey from tech to wine, shares his experience developing content for the site, and offers advice to writers who have and/or our starting a website.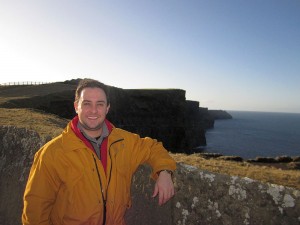 How did The Wine Spies come about?
A few years back, after selling an internet business I founded, I occupied my time doing technology and start-up consulting. A former colleague from my time in Silicon Valley approached me with an idea to export California wines to Europe; he asked me to help prepare the financial and business model.  After exploring the idea, we came to the conclusion that there was no way to make his idea work, but we  also started exploring other ideas… It was then that it hit us, one of the most enjoyable experiences in wine is finding great small production wines, meeting winemakers, and learning about each winery's, winemaker's, and bottle's "story."  From that idea, The Wine Spies was born.
How did your wine site turn into basically "Daily Candy" for wine?
From our collective experience enjoying wines in Napa and Sonoma, we decided we wanted to try to provide an experience similar to visiting a tasting room. … In essence, developing a strong visceral connection between wine consumer and winemaker.  With so many great wines, we decided that the one-deal-a-day model was one that worked well with our concept.
By telling the story behind each wine, its varietal background, a little about the region and vineyard, and then either interviewing the winemaker or telling a story about the winery, people not only get an opportunity to learn but to also develop a stronger connection to the art and joy of wine.  Each bottle has a story behind it, and when you open a great bottle with friends, you are adding your own story to that bottle as well!
Were you a writer before you launched The Wine Spies?
No, my education is in political science and economics and I ended up in the Internet/online world where I learned a bit about business through trail and error. From there, I decided it was better to work for myself and controlling my own destiny, even though the hours and pay may be lower, the mental freedom is much better and more fulfilling.  By the way, it is not that easy to write after a glass or two; I usually do our written reviews the following morning.
What is your writing and production process for your site?
For each wine that is featured on the site a couple wines are rejected.  Once we review the wine, if we decide to feature it, we then write up our tasting-notes in plain, understandable English (as best as possible). We then talk a bit about the region or grapes in the wine and then we do an interview with the winemaker (similar to this) or tell the story of the winery.  From there, the article is scheduled in our backend (a custom build e-commerce system that I designed—we are selling the wines that we love), so that each day a new wine is featured. A good portion of our day is spent organizing our future wine calendar, working with our wineries, and keeping the day-by-day warehouse and logistics operations running smoothly, which we fully manage in an online CRM system.
How do you decide which products to feature?
Lots and lots of tasting…  but each wine must also make sense in terms of its economics and marketability. We only feature and talk about wines that either or both myself and my partner have personally tasted and reviewed. We try to find a good balance of regions and varietals each week, but its clear that Pinot Noir and Cabernet are the big hitters. I really enjoy featuring international wines too, since many have great stories behind them. It also opens up some great travel destinations—I recently spent some time in Champagne and Burgundy where I was able to taste some great wines where they are made.
How important is it for business to have a strong internet presence?
In our case it is critical—we are an entirely online business and our California liquor license requires that we only sell online and ship via UPS (or other "common carrier").  In general, most online presences are only brochures or lead generation programs. It is important that your online efforts involve all aspects of your businesses strategy. With the exception of our logistics and fulfillment at our Santa Rosa warehouse, all of our operations are online, including customer service, accounting and banking, general operations, etc.  As long as I can connect to the internet, I can basically run all aspects of this business, regardless of where I am in the world.
Over the past few years marketing online has also changed dramatically. With the explosion of social networking, people are looking for communities around the products and services they enjoy. As a business it is very important to tap into those communities.
What are the top mistakes people make in writing a website?
The biggest mistake is not understanding and presenting your work from the perspective of your reader or customer. In our case, we found that many people are either intimidated or just less than knowledgeable about wine. We wanted to present great content in a format that made it approachable, fun, and easy to learn, allowing people to develop and trust their own taste-preferences and give them the "hooks," so they remember each wine, grape, or region's story.  That way, when visiting a wine shop or asked to pick a wine off a wine list, they trust in their taste buds to make a great selection.
What are the key elements that every website should include?
When working on your website, make sure that you are focusing on your primary goal.  If that is a business transaction, then that's where your focus needs to be; if it is content, well, then your content must be great.  Too often we focus on the "bells and whistles" at the sacrifice of providing real value… Focus on the providing functional value and you'll be in good shape.
Additional advice?
Do what makes you happy in life. If you're passionate about something, it will show and people are naturally attracted to passionate people.
What do you know now that you wish you knew when you first started your site?
Being a business person, I wish we had a better handle on the financial projections for the business when we started—but its not uncommon for every businesses model to be tested. Thankfully for us, we were tested early and we were prepared. We made our adjustments, adapted where we needed it, improvised when necessary, and have created a fun little corner on the internet and also have become a very well respected wine website.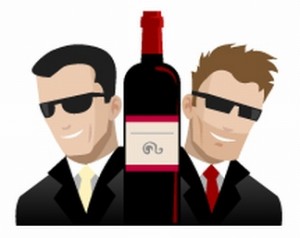 Tags:
Brandon Stauber
Jason Seeber
The Wine Spies
Web Writing
Wine Website
Writing About Wine
Writing for Business
Writing for the Web