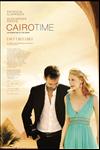 Cairo Time is a beautiful postcard from Egypt—so much so that it might become Cairo's Sideways, beckoning travelers with the enticements of city bazaars, emblematic pyramids, the storied Nile and the stark White Desert. Perhaps romance too.
Capturing the chaos, vibrancy and danger of a complex city of 17 million people that's an intersection of the ancient and modern, Cairo Time is densely packed with the bright colors and unfamiliar images of travel to an exotic land.
Into this abundance lands Juliette (Patricia Clarkson of Good Night and Good Luck, The Station Agent, and Six Feet Under), a Western editor of a women's magazine. She's come to Cairo for the first time to meet her husband of many years, a UN worker unexpectedly delayed in meeting her for what ends up being an extended time by a flare-up in the Gaza. He sends one of his close former colleagues, Tareq (Sudanese-born British actor Alexander Siddig of Kingdom of Heaven, Syriana, and Star Trek: Deep Space Nine) to meet her upon arrival. Juliette initially is drawn to Tareq out of practicality—she knows no one in Cairo—and then a mutual affection develops.
Ruba Nadda, the Canadian director with Syrian-Palestinian roots, yields the story indulgently slowly and thoughtfully—on Cairo Time. As native New Orleanian Clarkson described it in an interview, "The timbre of the film is soft." There's an overall feel of a movie from another time and place, even though it's a contemporary film.
Clarkson's Juliette is beautiful and Siddig's Tareq handsome, and both have a lovely mannered, graceful elegance and serenity that recalls a sorely missed civilized approach to living. Supporting performances from the gorgeous Spanish actress Elena Anaya (Kathryn) and equally stunning French-Tunisian actress Amina Annabi (Yasmeen) add to the director's creation of gentility, while pointing to cultural differences.
The film, named Best Canadian Feature Film at the Toronto Film Festival, doesn't resolve in the manner most American-moviegoers have come to expect, but life usually doesn't either, making Cairo Time all the more authentic in feel.
5 of 5 Purple Pencils

Tags:
Alexander Siddig
Best Canadian Feature Film
Cairo Time
Maria Fotopoulos
Patricia Clarkson
Toronto Film Festival