It's been widely trashed by the critics, unfairly I'd say. When it comes right down to it, for a superstar-driven movie such as this, aren't you really just going to see it expecting some light entertainment and to watch two really attractive people light up the big screen? If you get more than that, you've got your icing too.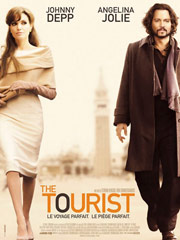 I am happy to say up front though that I found The Tourist—starring Johnny Depp and Angelina Jolie—a good, fun and entertaining romp through Paris and Venice. It had enough of a storyline to keep me guessing and engaged, and has some decent repartee. It's a very nice tribute in style and sensibility to films from an earlier era. Think adventure, romance, and glamour from the 1950s and 60s. To Catch a Thief and North by Northwest come to mind, or even 1963's The Pink Panther, and more, recently, remakes of The Thomas Crown Affair and The Saint.
For a few minutes, Johnny Depp in pajamas, running over rooftops in Venice, may be channeling more of Jack Sparrow than his Tourist character, Frank Tupelo, but that's okay. He's Johnny Depp, and we just love watching him. Whether in pj's or a white dinner jacket, he has such a charming casual elegance.
Then there's Angelina Jolie who is just incredibly beautiful and mesmerizing to watch. For Tourist, she must have channeled Audrey Hepburn, Grace Kelly, and Sophia Loren for her character, Elise Ward, who epitomizes extreme elegance. Add a backdrop of two romantic cities and a gorgeous wardrobe, and I'm happy to watch her sashay through an hour and 43 minutes of film.
As to story, briefly, Tupelo meets Ward on a train to Venice that she's boarded at the behest of her mysterious lover, Alexander Pierce, who she has not seen for a very long time. Then the intrigue and chases begin! Again, in homage to earlier romantic adventuring thrillers, Tourist has a sophisticated casino scene and a fancy dress ball with a little bit of Venice history thrown in to keep it high brow.
Tourist also has requisite Russian bad guys (Russians seem to be the one ethnic group that doesn't protest their stereotypical portrayals; they even seem to love cultivating the stereotype) and a bevy of handsome males—from men on the train to Rufus Sewell (Alexander Hamilton in John Adams) and Paul Bettany (Creation and Master and Commander), the Scotland Yard investigator continuously flummoxed by Pierce. Two-time Bond man Timothy Dalton brings more elegance to the cast, while Steven Berkoff (A Clockwork Orange, Octopussy, and a long list of other films) plays the bad British gangster (the Russians work for him).
With unending economic and political doom and gloom in the real world, I'm happy there's a little bit of throwback on film to imagined international men and women of mystery where the attractive and basically good guy and gal get away with the loot, and the bad guys get their just desserts.
Other Thoughts:
–    There are a lot of cracks about Americans in Tourist, but we are such easy targets these days.
–    Tourist is based on a 2005 French film, Anthony Zimmer (I've not seen it, but it's on my NetFlix cue for a post-Tourist compare/contrast).
–    Maybe it was a shameless ploy to get Jolie and Depp to the awards show, as has been reported. But, the film and its two stars have been nominated in the Best Motion Picture—Comedy or Musical and Best Actress and Best Actor categories for the Golden Globe Awards.
4 of 5 Purple Pencils

Tags:
Angelina Jolie
Anthony Zimmer
Golden Globes
Johnny Depp
Maria Fotopoulos
Movie Review
North by Northwest
The Pink Panther
The Saint
The Thomas Crown Affair
The Tourist
To Catch a Thief
Write On! Reviews