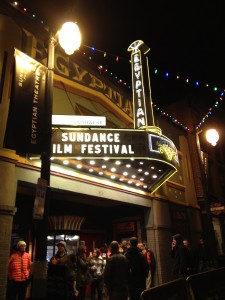 Blizzards, films, altitude sickness, networking and parties… not necessarily in that order.  Welcome to the world of Sundance.
A first-time attendee of the famous Sundance Film Festival can easily get swept away with the frenzy and carried off into what feels like an alternate universe. Last month, I was that Sundance virgin.
Once I got over my altitude migraine, the strategies to navigating the circus event became clearer.
There are four basic reasons for going to Sundance. And each requires a different approach to get the most out of the festival:
1. Friendly Competition: It's best to go as part of a film chosen to compete at the festival … easier said than done. The buzz and party invitations will find you instead of you having to squeeze a golden egg out of a goose yourself.
– If you get a film into Sundance, it's imperative to hire a PR person to join you. He or she will work all the angles behind the scenes, get you party invitations and interviews, all while you plaster on that smile and hand out business cards, promoting your film and yourself.
– The all-important first half of the festival is a must. That's when the movers and shakers are there. Deals will be made.
– If your budget allows, plan on staying the entire 10 days. Every screening will have a Q&A afterward. That's key to winning the audience vote.
– Movies will not be seen. Not only is time limited between meetings, there are also very few movie tickets available with the massive crowds in attendance.
2. Network: If you're a screenwriter, director, editor, or anyone in the industry, but don't have a film at the festival, it's still possible to make great connections.
– Like the filmmakers who are trying to get distributors for their films, you need to attend the first half of the festival. But keep your expectations in check. You won't be on the A list of must-see people.
– Skip the movies and make sure you have a pass to the Filmmakers Lounge, Music Café, etc. The festival wannabes won't be allowed in these venues, raising your odds of rubbing elbows with other industry people.
– Contact people prior to leaving for Park City and try to set up meetings ahead of time. It's comforting to sit on the plane with a guarantee of at least some meetings.
3. Movies: As shocking as it may seem, some people actually go to Sundance just to watch films! If soaking in as many films as possible is your number one goal, then do not attend the festival the first half, unless you have a pass that includes film tickets. Wait until Tuesday or Wednesday to arrive, when the majority of industry insiders clear out. It's far easier to attend most of the films at that time. One great value in seeing films at festivals is the Q&A with filmmakers after each screening. That alone ups the value of any film-going experience.
4. Vacation: While vacations are foreign to most filmmakers, Sundance provides a great excuse to grab your skis and hit the slopes. With a chairlift overhead as you stroll through Park City, the reminder is constantly present to take time off and breathe in the mountain air.
Overall, the excitement of the Sundance Film Festival will exhaust your body, mind, and wallet, but the benefits of being in the Utah mountains, breathing fresh air, surrounded by the energy of a filmmaking community is priceless.
Two recommendations: Buy Sundance: A Festival Virgin's Guide before attending and read it cover-to-cover, and get your passes early. They sell out fast!
5 Purple Pencils

Tags:
Film Festivals
Filmmaking
Jeanne Veillette Bowerman
Screenwriting
Sundance
Sundance Film Festival
Write On Review
Write On! Online