The Complete Handbook of Novel Writing, 2nd Edition
from the editors of Writer's Digest Books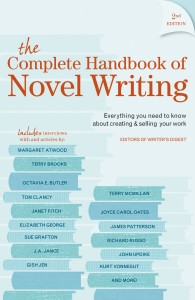 During the last days on the August sun, many writers are daydreaming of a new project for the fast-approaching winter months or even the NaNoWriMo challenge. NaNoWriMo (aka NaNo) is short for National Novel Writing Month, where during the month of November, participants write a 175-page novel (50,000 words). Crazy? Perhaps. But the intensely paced deadline is what many writers need to finish that first draft. Is it too early to start preparations? Absolutely not. Plus, with the kids back in school soon, it's the perfect time to start planning your next big story.
It is against the NaNo rules to write a single word of prose before November 1st, but you may still choose a topic, create dynamic characters, and outline your structure beforehand.
Being my first Nano, I grabbed a copy of The Complete Handbook of Novel Writing to see what kind of advice was hiding in the pages. Upon looking at the table of contents, I knew this book was different than any other. Why? Each chapter is written by a different person. Most instructional books are by a single author, spouting one viewpoint on craft and story structure. However, seeing a variety of advice allows the reader to find his or her own style. Let's face it, no single story analyst or author has all the answers.
Part One of the book gives guidelines for formulating ideas, plot, the setting, POV for your story, details, title, and so much more. In short, the advice in this section creates the foundation for your novel. Even if you've taken creative writing courses, it's always good to get a refresher.
Part Two dives into the writing process of getting the words out of your head and onto the page. Authors and publishing professionals take you beyond knocking out the first draft to editing and handling feedback. Writing is all about the rewriting, after all.
Part Three deals with the many genres and how to best write for each. Perhaps there is one you're comfortable with but others you'd like to explore. Dip your toes into the possibilities. Frankly, I'd probably read this section first in preparation for building the foundation.
Part Four is possibly one of the most valuable: "Finding and Cultivating a Market for Your Work." Professionals in the industry guide you through book proposals, queries, the dreaded synopsis, building a platform, editors, agents, self-publishing, and managing your own expectations. When you read this section, you'll have a clear understanding of the obstacles and solutions.
Part Five is by far my favorite.  You get to crawl in the minds of great novelists with pages full of author interviews conducted by the Writer's Digest staff. It's as close to being a fly on a therapist's wall as you're going to get.
If you are looking for a book on not only craft, but also the business of writing, I recommend The Complete Handbook of Novel Writing. When they say "complete," they mean complete!  Nothing is missing. Grab the book that offers a range of advice from authors and publishing guru, and get your NaNo on!  November will be here before you know it.
5 of 5 Purple Pencils

For more from Jeanne, read her article: Moving Write Along: Advice from the Experts – From Writer to Tweeter.
Tags:
Jeanne Veillette Bowerman
National Novel Writing Month
The Complete Handbook of Novel Writing
Writers Digest
Writers Digest Books