Moving Write Along: Advice from the Experts – Developing Your Writer's Voice
by writer/performer Fielding Edlow, Sugar Daddy
What is the writer's voice: a writer's spirit, heart, and guts? Generally the cadence, rhythm, style, and personality informs someone's voice. A truly defined voice is easily identified throughout a writer's arsenal of works. It is the most valuable of a writer's assets, as this is what makes the artist truly unique. As Martha Graham so aptly put it, "There is a vitality, a life-force, an energy, a quickening that is translated through you into action, and because there is only one of you in all of time this expression is unique … it is your business to keep it yours clearly and directly, to keep the channel open." When the channel is open, the voice is unfettered and penetrating. And more importantly, it must be nurtured and safeguarded from those prying crows, who are thinking dollars and not your priceless spirit.
Tips for developing your voice:
1. Find 3 to 5 people who are FANS of you and your work—people who love your voice and will read your work and give you honest, supportive feedback. Your voice needs a vociferous and fierce cheering squad around at all times. This will make it easier to stand up for your voice in times of opposition. These mentors/friends are paramount because they will instill us with confidence and recharge our resolve.
2. Uncover an emotional event or moment in your life and write from that place. Those indelibly etched events in our lives provide us the creative platform to spin trauma into gold. Write to make sense of your own personal demons and to inform your life. Paula Vogel says, "You become a writer the second your parents stop looking over your shoulder."
3. READ YOUR WORK ALOUD! I am emphatic about this, as it lets your words seep into your skin and allows you to be your own compassionate witness. If you're writing dialogue, the words must feel natural and conversational. Many times in plays, writers have characters finish complete sentences without any interruptions for pages on end. This is unrealistic. People interrupt each other all over the place in real life, and we must be tuned-in to this.
4. Who are your artist heroes and why? Follow their work and ask yourself why you want to emulate them … then do it. Most of our work is generally a respectful pastiche of other fellow artists, and we must be constantly inspired.
5. Fall in love with your characters, and take them on a date. We may be eating, breathing, and sleeping with a project for years, so we want to hopefully never grow tired of our characters. It is essential that they make us want to laugh, cry, be better people, but most of all be their protectors and guardians. Conversely, the renowned playwright, Maria Fornes once said "If your lead character is most like you and she/he's doing a lot of talking, make sure that they shut up once in a while."
6. Self-care. Your voice is an extension of you and the north star of your soul. Are you getting your "safe" outlets? And not necessarily Jack Daniels or Ebay shopping (no judgment), but driving out to the beach and staring uninterrupted at the waves for half an hour. Taking care of yourself? And, most importantly, Anne LaMott always says, "drink plenty of water to hydrate the spirit."
7. Explore your childhood. Where did you grow up? The corn fields of Nebraska or in a mansion in Bel-Air? Write what you know and channel the people and personalities who you grew up with. Fully immerse yourself in the world you know and are writing about.
8. Determine what medium is the best home for your voice. One's voice is best developed in the medium which is the most exciting—and easiest—for you. Most people have a certain proclivity for something and it's important to follow your impulses. And then write every day, turn off the phone, overwrite, and always congratulate yourself for a day's work.
And keep the channel open . . .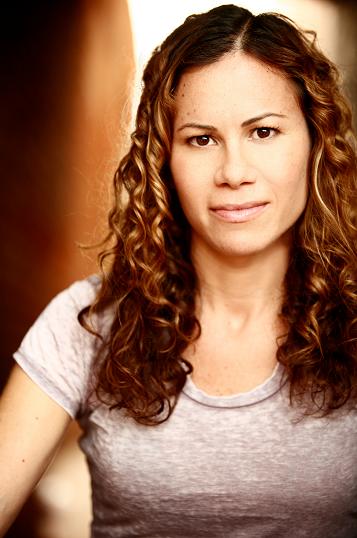 Fielding Edlow is a writer/performer and native New Yorker. Wickedly funny, incisive and hip, Sugar Daddy—Edlow's newest comedy—chronicles one woman's epic battle with frosty cupcakes (not vegan), breaking up with Daddy, and learning to stand the sound of her own heartbeat. Paul Stein directs Sugar Daddy in a five week run, October 22 through November 20 at the Lounge 2 Theatre, 6201 Santa Monica Blvd, Los Angeles, CA 90038. For more information and Reservations call 323.960.7792 or go to: www.plays411.com/sugardaddy.
Edlow's plays have been developed and produced with Naked Angels, NY Stage & Film, PSNBC, Dixon Place, The Culture Project, NY Fringe Festival, and Home for Contemporary Arts. Her first solo show, Coke Free J.A.P., received the "Best of Fringe award" from Backstage at the NYC Fringe Festival. Her full-length play, The Something-Nothing, was recently produced at the Lounge Theatre with the Mineral Theatre Company. She has also written and produced two short films: Cranky Puss and The Longest Nap. Edlow lives in Los Angeles and performs with the UCB indie . Edlow lives in Los Angeles and performs with the UCB indie team, "Sworn to Sedition."
Tags:
Coke Free J.A.P.
Developing Your Voice
Fielding Edlow
Los Angeles
Lounge 2 Theatre
Moving Write Along
NY Fringe Festival
Paul Stein
Sugar Daddy