Creating Web Video by marketing expert/producer Linda Frothingham
Action speaks louder than words. Add a video to your website, and enjoy the benefits of higher visibility with the search engines. Videos are an excellent way to promote your site—and yourself!
Getting Started
Before you film, plan it out. A video should have a beginning, middle, and an end. Write out your video script first. Then, create a storyboard, which is a "drawing" of each section of video with the copy below each picture. If you're deathly afraid of drawing, you can also type a script and write out which visuals you plan to use.
Keep your video short and simple—and your message clear. It's best to keep your video at 1 to 2 minutes or less; 10 minutes max.
If it's a promotional video, be sure to address: who, what, when, where, and how. You can even start with a question or write it in an interview style. Make it entertaining and/or informative.
Once you have your video mapped out, read your script aloud. Time it. Try not to write really long sentences; there will be less chance of flubbing during filming.
Images
Use live video, still images, or a mix of both.
If you are going to film it yourself, make sure you're looking directly at the camera—and not below or above the lens. You want a natural feel; so maybe even consider improvising. Be flexible when you shoot, because, remember, with a digital camera you can always delete!
You will also want to shoot some close-up visuals to mix it up. It's good to have a shot of your logo—you can always use an electronic version of it and edit it in. It can also be a company sign, a picture of your book, props, or products you are talking about in the video.
Speaking of props … consider holding a book, a pencil, or a laptop when you speak on camera. A product or a visual adds interest to the scene. Plus, holding something tends to calm the nerves.
Lighting can be tricky. If you don't have equipment or lights, umbrellas, etc, mainly just watch for shadows, especially around the neck and face area.
Consider wearing a color that coordinates with your logo. Don't wear white and beware of black if the background is dark: you don't want a floating head. The more professional your look, the better—but don't let that stop you from getting it done!
Additional Tips
* Sit or stand, but watch so you don't sway or tap your fingers/feet. Be aware of the "ums," "ands," and "ahs" between sentences. We have habits that we never knew we had!
* Take a breath between sentences so you can edit easily—even if you are doing a voiceover. Once you look at the footage, you might want to cut out or rearrange a section with video editing equipment.
* Write a good title for your video. Keep it short. It should be one of the search words you add when you set up your video on YouTube.
* You can use an additional voiceover or play music under pictures. However, never use music, art, or photos that you do not have the "rights' to. YouTube will check out the music before they approve it to go live, and you do not want to be removed.
* Even if your video is made for your website, you should always have your name and website URL on the screen.
* Create more than one video. People notice change. Give viewers a reason to follow you.
* Get started and have fun!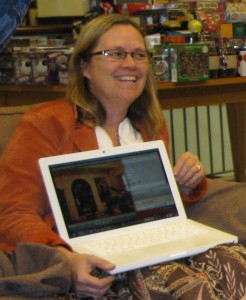 The owner of Frothingham Communications, Linda Frothingham has more than 25 years experience creating marketing campaigns from television commercials to web videos; she has also has produced and directed TV commercials and films. She has worked for advertising agencies, such as J. Walter Thompson in Chicago and Ketchum Advertising in Pittsburgh, and has done commercials for small businesses and large corporations, including Kraft Foods, Discover Card, and other large corporations. Reach Linda at Linda@chicagohollywood.com.
Tags:
ChicagoHollywood.com
Frothingham Communications
Linda Frothingham
Moving Write Along: Advice from the Experts
Promotion
Web Video
Writing