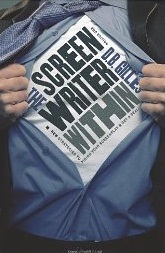 Since a lot of you novelists are involved in NaNoWriMo, this month's challenge is for the screenwriters.
Win a free script consultation with D.B. Gilles, author of The Screenwriter Within, 2nd Edition, New Strategies To Finish Your Screenplay & Get A Deal. D.B. has been a Script Consultant and Writing Coach for many years and is the author of the blog Screenwriters Rehab.
Submit a 2-paragraph synopsis of your idea. D.B. will pick the idea that he feels is the most commercial.
1st Prize: A personal script consultation from D.B. consisting of deep feedback. After receiving D.B.'s notes you will do a rewrite and he will read that and give you further notes.
2nd Prize: D.B. will read your script once and give you general notes
3rd Prize: A copy of The Screenwriter Within, 2nd Edition (Michael Wiese Productions).
Email your submission toDebra@WriteOnOnline.com by Wednesday, November 30. Please also include your name and the type of writing you do along with your submission. Winners will be announced on Tuesday, December 6, on Write On! Online, and in the December Write On! Newsletter.
* * *
Please note: I will send an email confirmation within a few days of receiving a submission. If you submit and do not hear from me, please message me on Facebook, Twitter, or send an email to my alternate address. Thanks!
Tags:
D.B. Gilles
Michael Wiese Productions
October Contest
Screenwriter
Screenwriter Within
Screenwriting
Write On! Online