Moving Write Along: You and Your EBook. The Time Is Now
By D.B. Gilles, author of I Hate My Book Club
There are few greater thrills for a writer than to have a book published, to hold it in your hands, to see it in a bookstore. I'm luckier than most. I've enjoyed this experience five times.
But like thousands of other writers, I've entered the world of eBooks. When I initially heard about digital books, I viewed them as a high-tech form of old school vanity publishing: pay some fake publisher to print out a few hundred copies, give them to your friends and family, and consider yourself a published author.
But publishing your work as an eBook is different, and it just might be the wave of the future for many authors because there are so many variables in the publishing zeitgeist.
Fewer people are buying books. Publishers have been merging and trimming their editorial ranks. Taking a chance on a new novelist is becoming riskier, making it easier for an editor to say "no" than "yes." Advances are getting smaller, even for established authors.
And just as publishing is changing, literary agencies are also adapting to the new world of eBooks by helping clients get their books published digitally. This is a huge benefit for authors lucky enough to have an agent.
With an eBook, there is no publisher per se. You are the publisher. You are in charge. Depending upon the way you do it, there will be some costs: you'll need to hire someone to design the cover and you must have a copy editor to make sure there are no typos, repetitions, lapses in logic, etc. You may have to purchase an ISBN number.  Unless you do it yourself, you'll have to hire someone to transfer your Word Document into the proper eBook format.
However …
The decision to publish an eBook should come only after you've exhausted all avenues to get published the conventional way.  So if you've sent out queries to a bunch of agents and none of them bit, or you can't get an editor to read your manuscript, it's time to consider doing an eBook. Likewise, if you have an agent who went out with your book, but couldn't get a contract.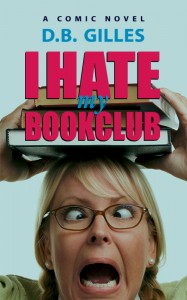 That's what happened to my novel I Hate My Book Club, which I wrote seven years ago. Unfortunately, at the same time, a book called The Jane Austen Book Club was making some noise.  It had a different plot and a more serious tone than mine, which was comedic, but it beat me to the punch. There may have been 500 other novels about book clubs making the rounds, but we all got there too late.
So it goes. I Hate My Book Club stayed in a file on my hard drive until July 2012, when an email exchange with my agent prompted me to publish it as an eBook. After rereading it, doing some tweaking and updating, it was reborn on July 30, 2012.
And I do mean reborn.
A novel I thought would never have a life now has one.
Am I suggesting that you dig out an old novel and publish it as an eBook? Yes. Why not? You spent a lot of time writing it. Why shouldn't it be out there waiting for readers to discover it and you?
There are thousands upon thousands of people who've written novels that didn't get published. And there are numerous reasons why: it's too similar to another book, the genre you wrote for is fading, it's too long and would cost too much, you don't have a strong enough platform, it's hard to pinpoint the market, editors your agent thought might like your book have left the business or the company is going in another direction. And, of course, it could be pretty awful.
But if you went digital, you would have a reason to take another look at your novel and rewrite it. Distance does wonderful things for creativity.
All that matters now is that a book you wrote (or a book you're writing) can have a chance to reach an audience and have a life if it doesn't work out the conventional way.
A final thought: I can't emphasize enough the importance of having a great cover for your eBook. Hire a professional. It'll be well worth the investment. Check out the cover of I Hate My Book Club.
Every time I look at it I smile.
* * *
D.B. Gilles is also the author of Colder Than Death, You're Funny, The Screenwriter Within 2nd Edition, and The Portable Film School. He teaches screenwriting and comedy writing at NYU, Tisch School of the Arts. He writes the blogScreenwriters Rehab: For Screenwriters Who Can't Get Their Acts Together. Follow him on Twitter: @dbgilles
Read D.B. Gilles article about writing comedy.
Tags:
Colder Than Death
D.B. Gilles
eBooks
Fiction
I Hate My Book Club
Nonfiction
The Portable Film School
The Screenwriter Within
Write On! Online
Writing
You're Funny