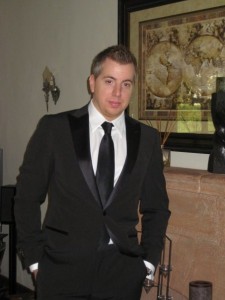 Now that award-season wrapped, and 2013 is in full-swing, we spoke with Los Angeles literary agent David Boxerbaum of Paradigm.
Boxerbaum represents a myriad of motion picture and television writers, directors, and producers, including David Guggenheim, writer of Universal's Safehouse and upcoming Safehouse 2; Ken Marino, writer/producer of Universal's Wanderlust, writer of Universal's Role Models, and writer/executive producer/star of Yahoo!'s hit online comedy series, Burning Love; Maria Maggenti, writer of ABC's upcoming Park Lex; Carter Blanchard, writer of Dreamworks' upcoming Glimmer; and Ransom Riggs, writer/co-executive producer of the upcoming supernatural horror thriller Black River.
A graduate of NYU's Tisch School of the Arts, Boxerbaum began his career as an assistant at Jerry Bruckheimer Films. At the age of 26, David was listed as one of The Hollywood Reporter's "Next Generation Top 35 Under 35" people in the business, one of the youngest ever to receive the honor.
What can new screenwriters learn from this year's Oscar winners and nominees?
Great storytelling will always be what movie goers want to see … rich and layered characters will always be sought after.
What are current trends for writers?
People are still into action thrillers, two-man action films. Also, female-driven comedies seem to be hot. Women are getting edgier with their writing. Stay away from horror-westerns. New approaches to traditional genres are also good.
What is your favorite part about your career?
The excitement level. An agent is the hub of it all. I love to break someone talent-wise and take them to the next level.
With all the new media how have things changed for a writer looking to be discovered?
I think there are more opportunities these days for people to see your work. Festivals, websites, these are places I now check that I wouldn't have looked at 10 years ago.
What are some pitfalls for writers?
Trying to chase trends and not write from passion.
Additional advice for writers?
Just write, be passionate.
What do you know now that you wish you knew when you first started your career?
Never take "No" as the final answer
Also check out our Q&A with Jason Allen Ashlock of Movable Type Management.
Tags:
David Boxerbaum
Paradigm
Screenwriting
Trends
Writing