Charmaine Hammond is the author of On Toby's Terms, which has been signed to become a motion picture. Toby, a Chesapeake Bay retriever with "personality plus," has his own website in addition to the book. Hammond has been featured on many print, radio, and TV mediums, including CTV, CTSTV, SHAW, Edmonton Journal. She is in the process of co-authoring a book titled GPS Your Best Life with colleague Debra Kasowski, and is writing several children's books based on Toby.
President of Hammond International Inc., she has her feet planted firmly in the business world. Through keynote addresses, professional development seminars, and corporate training programs, Hammond helps businesses and corporations bounce forward™ to build resilient and inspired teams.
Hammond talks about her writing process, how talking about Toby led to writing about him, and more.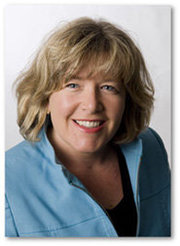 What inspired you to write On Toby's Terms?
I think in one sense Toby reconnected me with my passion for writing. As a youngster I kept a journal, and wrote a lot of short stories and poems. The more aware I became that Toby was teaching us valuable lessons, I shared them with others in my presentations and I built them into my speaking materials. I watched the reactions from the audience and knew the stories needed to be shared. Toby's stories have a way of connecting people through the heart.
What was your process for writing it? Getting it published?
I wrote the book in a very condensed time period; it was written and in bookstores in 9 months. I wrote my book on the computer, and also by voice recognition software. I believe that when I "spoke" my book, it was more powerful, heartfelt, and seemed to flow better. My team (editors, writing coach, and my supporters) were helpful and inspiring. I was fortunate to meet the publisher of my book, prior to writing On Toby's Terms, and presented the concept to her. Everything simply fell into place. I have the upmost respect for my publisher; Bettie Youngs has been an incredible guide and support throughout the process, and continues to be now that the book is out.
What was your favorite part of writing On Toby's Terms? The greatest challenge?
My favorite part was the first day I started writing the book, the day I told the hospital patients and Lauren about the book, and the day my husband and I held it in our hands for the first time. The greatest challenge? There were several… The first being time-managing my business, life, and writing a book. The second challenge was learning how to be more succinct and powerful with my writing.
How do you keep up a website from Toby's point of view?
Toby's website, and facebook give me joy! I find that having a website from Toby's point of view sparks my creativity. We constantly look for lessons we continue to learn (or be reminded of by Toby) to use as content. I often have him sitting by my side as I write his blog and I think about what his behavior or facial expressions might mean in that moment.
How important are websites for writers?
I believe that a website and facebook presence for writer's is essential. It is a way of building a platform. We had Toby's website up about a year before the book came out. He had a facebook and web fan base long before the book came out, and this was very helpful on many levels. Your website allows you to build a relationship with readers, media, the public and also provides you a forum to market your book, and stay in touch with people.
In what way has your career as a speaker and consultant helped you as an author? Or is it the other way around?
Being a speaker is definitely an asset, I am most comfortable and passionate when I speak to audiences so am very comfortable doing readings, presentations, and media. I have had some media coaching, which has been very useful. At book signings, it is so very important to engage people coming in the store, and that is something I enjoy. I must say that having Toby with us at many events is a very powerful way to connect with people. As a speaker and business owner, I am already promoting and marketing our services so marketing our book is very comfortable for me, speaking also provides me other arenas to promote On Toby's Terms. And, the book is helping my speaking career as well.
What are the most important things a writer needs to know from a business perspective?
One is that writing a book is really not where all the work happens. Once the book is written, it is a lot of work to promote your book, find speaking opportunities, be available to media (and find media opportunities), attend booksignings, and keep the book in the public eye. There are expenses to writing and marketing a book that are in a sense an investment because the return is delayed.
Advice for non-fiction writers?
Write what you are passionate about. Begin with an end in mind, always have the goal of the book, goal of the chapter in mind, seek support (coaching, editing, etc.) to make your book a high quality book, and have fun! Your passion for your book is very very important when you are selling your book. Think in advance about how you will market your book. Seek endorsements and testimonials from people (on Facebook, for your webpage, on Amazon and Barnes & Noble websites). And, to have fun.
What do you know now that you wish you knew at the beginning of your career?
To know and appreciate my worth and value!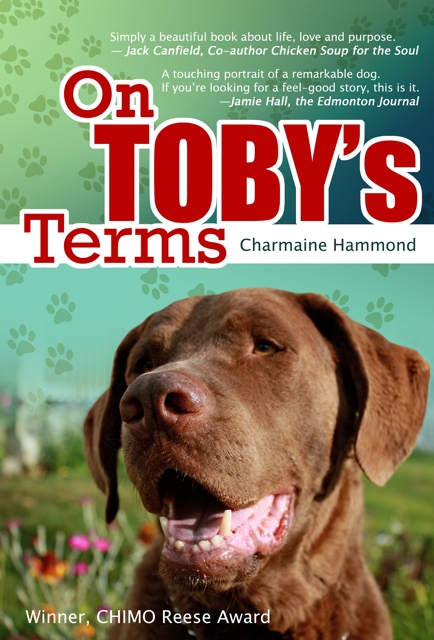 Tags:
Author Q&A
Business
Charmain Hammond
Debra Eckerling
Dogs
Hammond Business Group
On Toby's Terms
Toby Tales
Writing