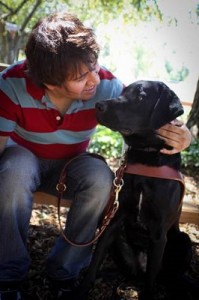 Belo Cipriani is the author of Blind: A Memoir, a multiple award-winning book, which has been listed on various high school and college reading lists. He is the writer-in-residence at Holy Names University. His writing has appeared in Business Insider, Yahoo, Matador, The Good Men Project, and more. He keynoted the 2011 A.D.A celebration in San Francisco, has guest lectured at Yale University, and is a sought speaker at GLBT, disability, latino, and literary organizations around the country.
What inspired you to write your memoir: Blind?
When I lost my sight, I sought comfort in literature and found some great memoirs about blind people. Nonetheless, individuals who were born blind authored many of the books I read; this left me with many unanswered questions. For that reason, I focused my memoir on the assimilation period, which took place in the two years following the assault. I purposely wrote short chapters to walk sighted people through different aspects of learning to do things when a person loses their sight. I think that people with vision are most curious about how the blind deal with mundane tasks. Therefore, I focus on topics such as cooking, grooming, learning Braille, getting a guide dog, and dating.
What was your process for writing it?
Before writing my memoir, my writing experience was limited to technical documentation. I knew I needed guidance and applied to graduate writing programs. Blind was written out of chronological order because some topics were more challenging to write about than others. Each essay was work-shopped heavily and the book grew thicker every month, while a graduate student at Notre dame de Namur University. The tools I used to actually write it were a laptop with software for the blind, a talking dictionary, a digital recorder, and a scanner.
Getting it published?
Professors in the creative writing program at Notre Dame de Namur University encouraged me to submit my work to literary journals, so I did. An agent read my work on one of the magazines that published my work and contacted me. I chose not to go with a big publisher because they would not give me the audio book rights, which was a deal breaker for me. I wanted an audio version so that blind people could access the material, so I went with a small press.
How did you decide what to include in the book?
I was a 28-year-old guy writing a memoir. I was perfectly aware that the only reason I had stuff to say was because of my assault. So, I focused my book on the rehabilitation period and only brought my past into each chapter in small doses.
In what ways was writing the book more challenging given your loss of sight?
I wasn't just knew to blindness, but also to adaptive technology. I struggled with remembering commands for word processing and could not handle listening to the robotic voices that came from the devices I was using for very long. I recall napping between writing sessions and growing restless with the software quite often while in graduate school.
How has the your loss of sight benefited you – in terms of your enhanced senses – in your writing?
I think that as a blind writer, I pay a lot more attention to all the senses. Good writers make a reader smell, feel, and taste things with their words.
What are certain things people writing a memoir need to keep in mind while writing?
I would suggest not to edit as they write. It is always easier to edit a larger body of work at the end of the project than to have to go back to expand it for the sake of word count.
Additional advice for writers?
I suggest they read, read, and always read. It always baffles me when I teach a memoir class and I find out that no one in the course even reads memoirs. I believe that if a writer is not writing, he should be reading.
What do you know now that you wish you knew before writing this book?
I wish I would have known more about social media. I recently became more active on Facebook and Twitter and I'm already experiencing more opportunities in the form of speaking engagements and readership.
Tags:
Author Q&A
Bela Cipriani
Blind: A Memoir
Memoir
Non-fiction
Write On! Online