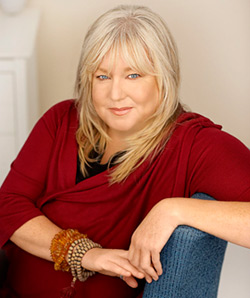 Many thanks to lifestylist and author, Ellen Whitehurst, Make this your Lucky Day, for sharing tips for reigniting the spark in your projects during last week's March virtual meeting! For more from Ellen, subscribe to her newsletter, "like" her Facebook page, and follow @EllenWhitehurst on Twitter.
* * *
Here are three of Ellen's tips from this show:
1. If you are feeling blocked as a writer, then put down the pen and do something creatively different. Paint or draw or sing or dance or….or…or….just do something that isn't writing and do something you normally don't do. Then return to your writing and you'll be good to go.
2. If you are finding that making money from writing isn't flowing, then try an ages-old and powerful focusing exercise. Get completely clear about how much money you want to make and do be sure to DREAM BIG. Now get four index cards and a red pen and write that figure on all four cards in red ink. Put one card by your bedside so you can see it first thing in the morning and last thing at night. Put one on the mirror in your bathroom. Put one where you spend the most time during the day and put the last one somewhere in the kitchen (the room of abundance) where you can see it. Leave them there for 27 days at least and expect to start making headway to garnering that income.
3. If you are blocked, then switch it up. Wear clothes you normally wouldn't wear or shake up your routine. Take a different route to the grocery store or make calls when you wouldn't normally. Whatever you do, simply shake and switch it up and things will start to shift immediately.
This is just a fraction of Ellen's awesome advice. Listen to our entire conversation:
* * *
Post your April Goals on Write On Online or Facebook and be entered in a drawing to win a book from Michael Wiese Productions. Congratulations to our March goal-posting winner Nathasha Alverez, who won a copy of Getting it Write: A Insider's Guide to a Screenwriting Career by Lee Zahavi Jessup.
Join us on Wednesday, March 19, from 1 – 3pm for our March Write On!/Guided Goals Hangout at Capital One 360 – Los Angeles Café, 11175 Santa Monica Blvd, Los Angeles. Swing by the cafe for coffee and conversation. RSVP on Facebook. (Parking is free in the building. Space is now limited to 6 cafe spots, so get there early. There is also metered parking nearby.) Love the Café? Write a  review on Yelp!
Tags:
Ellen Whitehurst
Goals
Guided Goals
Make this your Lucky Day
Passion Project
Write On! Meeting
Write On! Online
Writing