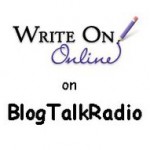 Thanks, Carolyn Howard-Johnson, author of The Frugal Book Promoter and  The Frugal Editor, for joining us for the June virtual meeting!
We talked about self-publishing with a little marketing and social media thrown in for good measure. Writers, especially the self-published ones, need to be good at promoting and marketing themselves in order to be successful.
Some of Carolyn's tips from the show:
• Practice writer social karma. Connect with writers and communities online and support each other's work.
• Follow through when you meet new people, whether online or in real life. Don't concentrate on the numbers of social followers, focus on developing relationships with the people in your community.
• Before you publish, educate yourself. Do your research, find good people (editors, designers) to help you (at least for the first one), and create something professional.
• Know the rules or writing and editing, so you can break them!
• Sign up for three new newsletters and buy one new book on writing. Read the book, don't skim,
Sign up for Carolyn's Newsletter on HowToDoItFrugally.com for more writing tips, as well as news and events. Subscribe to her SharingwithWriters blog for occasional injections of inspiration and resources.
* * *
Listen to our entire conversation:
* * *
June 18: June Write On!/Guided Goals Hangout at Capital One 360 – Los Angeles Café, 11175 Santa Monica Blvd, Los Angeles. Swing by the cafe for coffee and conversation. RSVP on Facebook. (Parking is free in the building. Space is now limited to 6 cafe spots, so get there early. There is also metered parking nearby.) Love the Café? Write a review on Yelp!
Post your July Goals on Write On Online or Facebook and be entered in a drawing to win a book from Michael Wiese Productions.
Write on!
Tags:
Carolyn Howard-Johnson
Debra Eckerling
Goals
How to Do It Frugally
The Frugal Book Promoter
The Frugal Editor
Write On! Meeting
Write On! Online
Writing