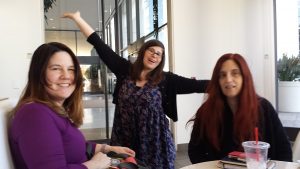 We held the March 2017 meeting at our new location C&M Coffee and Milk Westwood Gateway in West Los Angeles. Thanks, Brandon, for your hospitality.
We had 14 peeps last week, several of whom were new, while another returned to the fold. Stephanie had been part of the evening meetings of Write On that we did for many years at Barnes & Noble in Santa Monica. Welcome back!
There was lots of good energy, as we went around the table reporting on goals and setting new ones. Many gold stars were handed out.
Also, during the hangout, I asked those in attendance what they were seeking. Here's what some of them had to say, should you know of a fit for them.
Michele Weisbart, MicheleDesigns.com, is looking for strategic clients.
Lena Anani, host of the SheWroteABook podcast, needs female authors, comedians, and entrepreneurs to interview.
Gerald Everett Jones is seeking sponsors for the GetPublishedRadio.com show.
Liz Entin, RunwayPassports.com, is looking for clients for fashion-consulting, wardrobe, etc.
Jean Roth, RotemStudio.com, is seeking small business web/graphic design clients.
If you know of a fit for any of these Write On Members, please send their links along. Thanks!
Last week, I relaunched the Facebook group for Write On Online in order to facilitate conversations, as well as encourage community and connection among members. There are daily threads where people can chime in, share their thoughts and links, and so on. I look forward to watching the group evolve and see how it grows. Like the live hangouts, the group is for writers, creatives, and entrepreneurs. Feel free to invite your friends and peers to join.
The next LA meeting is on April 5 at C&M Coffee and Milk. RSVP on Facebook.
New Giveaway: Each month, I will give away a book by one of the Q&A Authors. All you have to do is be present at the meeting and enter your name in the drawing. In March, Gerald Everett Jones won a copy of Pamela Jaye Smith's book: Romantic Comedies: These Films Can Save Your Love Life." Read my Q&A with Pamela Jaye. The April giveaway book is  Journaling Power: How to Create the Happy, Healthy Life You Want to Live by Mari L. McCarthy. Check out my Q&A with Mari.
Don't forget to post March 2017 Goals. #WriteOn
Tags:
Goals
Los Angeles
Write On! Meeting
Write On! Online
Writing