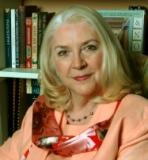 Pamela Jaye Smith, author of Romantic Comedies: These Films Can Save Your Love Life, loves both romance and adventure in myths and movies. She's a mythologist, international speaker-consultant, award-winning writer-producer-director, and has written five books for writers.
Pamela Jaye Smith talks about the effect of romantic comedies on couples, how the concept for her book emerged, and her process for pulling it all together.
What inspired you to write a book on such a unique concept?
Actually, it was a mutual inspiration. I was chatting with my publisher about new book ideas when he shared this intriguing article about a study that purported to show that romantic comedies had the same effectiveness as therapy for couples.
First we laughed about it, and then it triggered several weeks of conversation. We decided to explore the concept within the framework of a book about how romantic comedies might possibly offer advice about relationships.
It was a collaboration. We wanted quotes and images and a movie-guide-type short synopsis for each film. When I turned in sample chapters, publishers Michael Wiese and Ken Lee came back with some challenges to make it more humorous, and playing upon some of my other books and interests, to add in lover archetypes and love lessons. They were really great ideas, so I set about following their suggestions.
Now the book is out, and the timing couldn't be better. Politics, radical weather, wars…all of that is pretty upsetting. Not that we shouldn't keep on taking real-world action to better things, but Valentine's Day is on the way, and maybe a little romance will help lighten the load.
What was your favorite part of writing the book? The greatest challenge?
My favorite part was watching the movies. The greatest challenge was, since the heart of the book is to help all sorts of people with their relationships, that it had to appeal to more than just the typical chick-flick audience.
How did you decide what to include (and what to leave out)?
I wanted to select films that showed positive aspects of many different types of love: from the male-female to the familial, the non-heterosexual, the friends-based, and those of diverse ages and genders. I left out raunchy films, any with excessive offensive language, or any that seemed rather shallow (not that some of those can't be entertaining). Mostly, though, I wanted the films to reflect the higher aspects of love.
What makes a good romantic comedy?
Idealism, joy, passion, and dignity. As to the "good" part, what is the goal? I wanted to include rom-coms that touched the better angels of our nature and showed characters striving to become better people in order to be worthy of the beloved–be that a romantic partner, a friend, or a family member. Uplifting, inspiring, heartwarming, thought-provoking…these make a good romantic comedy to me.
What is your favorite romantic comedy, and why?
Love Actually is my very favorite. It explores so many different aspects and types of love, I think most people can find something to identify with in it.
Advice for those writing a romantic comedy?
Give us the higher ideals of romance–the type of chivalric love that makes you want to be a better person to be worthy of the beloved. There's plenty of sex out there, there's plenty of shallowness, plenty of raunchy comedies, and quite enough narcissism. It couldn't hurt to infuse our stories and our lives with some idealism.
Advice for non-fiction book authors?
Get very clear on your theme. Mine is "The Search for the Soul Mate." Be very clear on the message you want to convey, and then be sure it resonates throughout the book. That's often a challenge; but cohesiveness of message, even when exploring many aspects of a topic, strengthens your appeal to and your affect on your readers. My message is: idealism, joy, passion, and dignity are vital components to a good love life.
What do you know now that you wish you knew before you wrote this book?
How many hours it actually takes to watch a movie, select and write out the quotes, search for just the right images, get all the names correctly spelled, get the dates right, and come up with the archetypes and the lessons. Times a hundred! But I'm so glad to have discovered some new films, re-watched some favorites, and now be able to pass on suggestions to others for what to watch for inspiration to improve your love life.
Tags:
Author Q&A
Film
Pamela Jaye Smith
Romance
Romantic Comedies: These Films Can Save Your Love Life
Romantic Comedy