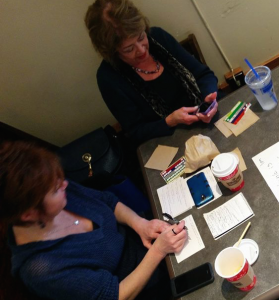 We gathered at Peet's today for the last Los Angeles Hangout of 2016.
Over the course of the meeting, attendees (Jean, Michele, Dennis, Greg, Debbie, Peggy, Arlene, and I) shared tips for more successful freelancing in the new year.
For instance:
Value your work. If you don't, no one else will.
Raise your rates.
Don't do any work without a contract.
Be aggressive about getting paid. Add penalties for late payments and kill fees should a project not go through.
Showing up is 90% of the job. Show up and get the work.
Calendar what you don't want to do, so your "move forward tasks" get done.
Write down and review your successes. Include the dates, so you see how productive you were and when.
Enjoy your projects. It makes a difference when you love what you do.
In response to requests to record the meetings, we did a quick Facebook Live video, where many of today's attendees shared their goals for the end of this year … and some plans for 2017.
Watch the video:
Here's to a productive rest of the year and a successful 2017!
Please share your goals in the comments!
Tags:
Freelance Tips
Goals
Los Angeles
Write On! Meeting
Writing