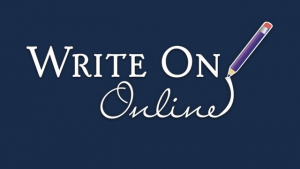 WRITE ON!
The year may be winding down, but there's still plenty going on. Check out the December 2016 Newsletter for info on this month's hangout, other events, news, and more. #WriteOn
LA writers/creatives/entrepreneurs, stop by our December Write On/Guided Goals Hangout on Wednesday, December 7, from 1 – 3pm at Peet's, 1854 Westwood Blvd., Los Angeles. RSVP on Facebook. Also, we're going to start doing Hangouts on Facebook Live, including one on goal setting for the new year. Keep an eye on the Write On Online Facebook Page for notifications.
I am pleased to announce the release of my latest book: Write On Blogging: 51 Tips to Create, Write & Promote Your Blog. Want to start a new blog, refresh an old one, or know someone who does? Please check it out. (Promo day is December 8, if you want a free copy on Amazon!)
Post your December Goals on Write On Online or Facebook and be entered in a drawing to win a book from Michael Wiese Productions. Congratulations to this month's goal-posting winner Diana Brebrich, who won a copy of  Making it Big in Shorts by Kim Adelman.
Write On Online has regular, ongoing content, including Q&As (check out recent interviews with Karen Putz, Living with Passion; Jay Ivy, Dear Father: Breaking the Cycle of Pain; and Lori McNee, Fine Art Tips); Write On! Wednesdays; Meeting Recaps, and more. Also, read the recap and watch my Writers Panel with Amy Friedman and Jen Jones Donatelli from #140conf.
Do you have a new book or an upcoming book release? Want to be featured in a Write On Online Author Q&A? For consideration email deckerling@gmail.com or submit your info here.
NEWS
Write On Online's Facebook page has again been included in The Write Life's Top Facebook Groups for Writers. Thanks, The Write Life! Check out the entire list.
Check out C.M. Mayo's article: Consider the Typewriter (Am I kidding? No, I am not kidding).
Susan Mihalic's essay "Relative Sorrow" was accepted for Volume 2 of an anthology called These Winter Months: The Late Orphan Project, due out sometime in 2017 from Backpack Press.
Just Released: Author Susan Van Allen's 3rd Edition of her bestselling book 100 Places in Italy Every Woman Should Go. This makes a great gift for the Italophile in your life! Susan is leading a travel journal writing workshop at the Studio City Library on December 7.
Sandra de Helen will present her book Till Darkness Comes at the Local Author Meet & Greet event at Mysterious Galaxy Bookstore in San Diego, Sunday, December 11, 12 – 3pm.
Announcing, "Talking With Authors," a new weekly podcast that features interviews with independent and small press authors. Please them us about your books here.
* * *
Want help getting publicity for your book? You're in luck. Cheryl Tan is extending her Black Friday deal for the Write On Online community. Try out the PR Pro trainings and learn how to get featured in the media for just $1. Available through December 7.
The Todos Santos Writers Workshop is coming up February 5 – 11 in Baja. Classes in Fiction, Nonfiction, Memoir, with craft seminars and special guest speakers. Join us in our Pueblo Magico by the sea for the story of your life.
Ongoing:
Starting in September, on the 2nd and 4th Tuesdays of each month, writers are welcome to come to the Santa Monica Bay Woman's Club to write from 6:30 to 10pm. The club, at 1210 4th St, asks for a $3 donation. RSVP to MAnnapav@aol.com.
The Tahoma Literary Review is accepting narrative nonfiction submissions on any subject. Full guidelines are here. Also accepting fiction and poetry submissions. They currently pay between $30 and $100.
Female Authors wanted for interviews on the #SheWroteABook podcast with Lena Anani. If interested, please inquire here and please allow up to 24 hours for a response.
Writers, pen won't budge? Read The Morning Nudge! Get your free subscription.
* * *
Do your kids love to write? Want to encourage them to hone and expand their writing skills? Check out Purple Pencil Adventures: Writing Prompts for Kids of All Ages. Although it's geared towards kids, there are plenty of prompts adults can use to exercise those writing muscles! Write on! To learn more listen to my interview on the She Wrote a Book Podcast with Lena Anani.
Write On Online's Guided Goals Podcast is a series of expert interviews, designed to help people pursue their passion projects. Each episode wraps with action items, so listeners can take what they heard, and move forward right away. We are taking a break, but you can listen to previous podcasts on GuidedGoals.com. Also, watch on YouTube, listen, and subscribe on iTunes, listen on Stitcher, or listen on Google Play.
* * *
December 7: December LA Hangout from 1 – 3pm at Peet's, 1854 Westwood Blvd., Los Angeles. RSVP on Facebook.
December 8: Grab a free copy of Write On Blogging on Amazon December 8 only.
December 13: A panel of young adult authors will talk about all things YA at the Studio City Library from 6:30 – 7:30pm. Panelists scheduled to appear include Jennifer Brody (Continuum series), Julie Buxbaum (NY Timesbestselling author of Tell Me Three Things),  Romina Russell (NY Times bestselling author of the Zodiac series), Charlotte Huang (For the Record), and Constantine Singer (debut YA novel just sold to Putnam).
December 19: The 9th Annual Digital Family Reunion at Wokano Restaurant in Santa Monica, CA, from 6 – 10pm. Get tickets.
January 1: Happy New Year!
January 4: January LA Hangout at Peet's in Westwood. RSVP on Facebook.
January 13: Start the year off right with a goal-setting Lunch N Learn with Debra Eckerling at LAX Coworking. Come up with a mission statement, set short and long-term goals, prioritize, make a plan, and get ready to take on 2017! Details on Facebook and the website.
January 28: TECHMunch LA Food Blogger Conference at Cross Campus in Santa Monica. Details and tickets here.
Plus, lots of upcoming Writing Workshops from Los Angeles Writers Group.
Write On! Members: Let me know if you have a book being released or some awesome news, so we can include it in the next newsletter. Also, check out the Write On Online Facebook Page for regular opportunities to share your books and blogs.
FRIENDS OF WRITE ON!
For even more writing support, check out BookPod, an online social platform for authors and aspiring authors centered around the world of books and publishing. Interested in joining BookPod? Email Jennifer Brody.
Subscribe to Carolyn Howard-Johnson's How to Do it Frugally Newsletter for great tips, how-to articles, bonuses and more! Also check out the resources for writers on her website.
Trying to get media attention for your upcoming project? Learn how to connect with reporters and get great press. Learn more about Cheryl Tan's online PR Pro community. Also, get Cheryl's free press release template.
Need a transcriber? CLK Transcription can help! CLK employs more than 30 highly trained transcriptionists … and has great rates. Email carollee@clktranscription.com for more information.
Does your website or blog need a new look?  Does it work the way it's supposed to on desktops, smartphones, and tablets? Our friend Dennis Wilen can help. Email dwilen@yahoo.com and tell him Deb sent you!
iScript.com has added a new audiobook component to their offerings. Now, you can get high-quality audiobooks made of your writing!
Orange County Writers, check out Lit Central OC, an online magazine for news, reviews, craft articles and more for writers in the Orange County area.
Like Michael Wiese Productions on Facebook to learn about contests, workshops, special events, and new releases from the number one publisher of film books in the world. Download the 2016 MWP catalog.
Need book covers, illustrations, or other book design elements? Contact michele@micheledesigns.com, graphic designer and illustrator.
Why produce one podcast when you can do three? Listen to the One Cool Thing, Battlestar Recaptica, and Challenge of the Week podcasts from Dave Johnson and Rick Broida.
For quality printing at affordable prices, check out PRINT-Xpress. From banners and posters to brochures and business cards and everything in between, they've got you covered. Contact Sam or Carolyn for more information.
She Takes on the World is a top blog for women entrepreneurs, career women, and young women professionals.
Are you a startup, nonprofit or personality in need of digital strategy like social, email, content? Email Tara of Poodle Mafia – Elegantly Aggressive Digital Marketing & Branding.
Guided Goals: Define, Plan & Achieve Your Goals. Guided Goals offers coaching and project management services, as well as tools and advice to put you on the path to success. Sign up for the newsletter, and receive "5 Ways to Improve Your Productivity. Like Guided Goals on Facebook and follow on Twitter, and check out the Guided Goals Podcast. Email Deckerling@gmail.com or call 310.908.8980 for more information!
Tags:
#140conf
Digital Family Reunion
Goals
Guided Goals
Los Angeles
Newsletter
The Write Life
Write On! Online
Writing