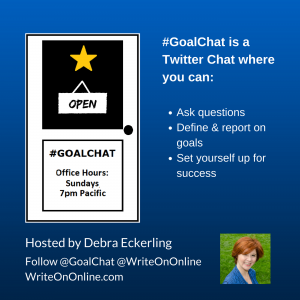 Thanks to everyone who joined us for the 3/18 #GoalChat on Personal Goals. What a fun and lively conversation.
#GoalChat takes place Sundays at 7pm Pacific/10pm Eastern to set goals, ask questions, and get support. Feel free to tweet to @GoalChat throughout the week.
And join us on March 25 for #GoalChat at 7pm Pt/10pm ET. Special Topic: LinkedIn. Tweet topic suggestions to @GoalChat.
Below is a recap with tweets from last night's chat.
Welcome to #GoalChat. This week's special topic is Personal Goals @writeononline pic.twitter.com/OPRcqWjrJt

— ⭐ #GoalChat ⭐ (@GoalChat) March 19, 2018
Introduce Yourselves: Who are you? Where do you live? What do you do? @WriteOnOnline #GoalChat pic.twitter.com/scr861oEdq

— ⭐ #GoalChat ⭐ (@GoalChat) March 19, 2018
I'm Deb. I live in West LA. I help people set, plan, and achieve their goals through coaching and workshops. Am the author of "Write On Blogging" and founder of @WriteOnOnline, a website and community for writers, creatives & entrepreneurs. https://t.co/BKv5f2Aw0h #goalchat

— ⭐ #GoalChat ⭐ (@GoalChat) March 19, 2018
I'm Tony I live in NYC and I'm interviewing for social media positions and write and podcast for fun. #GoalChat

— Annoyin' Observer (@SirKingofGifs) March 19, 2018
Hi, I'm Mel, I live in Toronto and I'm currently working towards a social media certificate. #GoalChat

— Mel Sanchez (@MelSanc78253607) March 19, 2018
Kevin W. here (sorry 4 hopping on late). I live in Alexandria, VA, & I work as a Investigative Analyst who is looking to make a career transition. #GoalChat

— Kevin Wilson (@KWilson805) March 19, 2018
Intro: I am me. Just kidding! I'm Ben Sailors, I live in Austin, Texas. I'm an Integration Engineer, avid reader, obsessed with learning everything I can about business and entrepreneurship and all kinds of other fun facts. #GoalChat https://t.co/JHIUQnYnWw

— Ben Sailors (@SailorsBen) March 19, 2018
Q1. What was your biggest win last week? @WriteOnOnline #GoalChat pic.twitter.com/31H5pPc0SI

— ⭐ #GoalChat ⭐ (@GoalChat) March 19, 2018
A1 recording a podcast and getting some assignments done for the digital marketing program I'm in. #GoalChat

— Annoyin' Observer (@SirKingofGifs) March 19, 2018
A1. My biggest win last week? Oh jeeze… in what area?

I would say getting back into playing guitar and cycling.#GoalChat https://t.co/bqNYkfTqLk

— Ben Sailors (@SailorsBen) March 19, 2018
A1. Taking a cue from @SailorsBen … Went back to dance class. First one since #SMMW18. Fun! And I made progress on my project. #goalchat

— ⭐ #GoalChat ⭐ (@GoalChat) March 19, 2018
A1 My biggest win last week was that I didn't hold myself to having to have a win. It's ok to have a week where life just goes on. #goalchat

— AJ Borowsky (@AskWhatNext) March 19, 2018
She's pretty awesome! I'm working on some storytelling aspects myself as it pertains to building my blog. #GoalChat

— Ben Sailors (@SailorsBen) March 19, 2018
I have fully paid off my credit card bill and set up a standing order to pay off whatever I spend on it in full every month #GoalChat

— AndromedaTrance (@andromedatrance) March 19, 2018
A1 Biggest win? -Surviving the week and making it to the next #GoalChat

— Mel Sanchez (@MelSanc78253607) March 19, 2018
Q2. What are your goals for this week? @WriteOnOnline #GoalChat pic.twitter.com/z7voxTrmnH

— ⭐ #GoalChat ⭐ (@GoalChat) March 19, 2018
A2 My goal for this week is to try to reset. What I've been doing hasn't been working – time to rethink the plan. #goalchat

— AJ Borowsky (@AskWhatNext) March 19, 2018
Etch-a-sketch, huh? Have you tried journaling/free-writing in order to step back and make a plan? #goalchat

— ⭐ #GoalChat ⭐ (@GoalChat) March 19, 2018
Funny- it's something I would recommend to others but what I don't usually do myself. #GoalChat

— AJ Borowsky (@AskWhatNext) March 19, 2018
I'm at the culmination of a plan – a time I have to put up or shut up. Things are moving in slow motion at the moment. #GoalChat

— AJ Borowsky (@AskWhatNext) March 19, 2018
A2. My goal is two publish my second blog post and to work on my #30DS LinkedIn challenge which has been put on the back burner! #GoalChat

— Lainey B. Wellbrock (@HRcupofcoffee) March 19, 2018
I'll have to look into it as I've made my my mind to pursue this blog idea. Even if it bombs. Maybe even especially if it bombs. #GoalChat

— Ben Sailors (@SailorsBen) March 19, 2018
Bonus goal. Who wants to take the LinkedIn challenge? @HRCupOfCoffee Actually, let's make LinkedIn our topic next week #GoalChat

— ⭐ #GoalChat ⭐ (@GoalChat) March 19, 2018
A2 have plans to record 2 episodes. Going to move on from a book I stopped reading. Get some writing done. Apply for some jobs and hope to hear back from one of them. #GoalChat

— Annoyin' Observer (@SirKingofGifs) March 19, 2018
A2. Another draft of the workbook. Continue working on my new biz site. #goalchat

— ⭐ #GoalChat ⭐ (@GoalChat) March 19, 2018
A2. To con't to breakdown my monthly goal (for this week) by calling my @nationalsportsforum #BDSE18 cohort. I want to reach out to at least (2-3) ppl per day. #GoalChat.

— Kevin Wilson (@KWilson805) March 19, 2018
A2: This week, for me, is all about coordinating with my designers to find images for a few blogs I wrote last week. Plus, get some banners done. #GoalChat

— Narmadhaa (@s_narmadhaa) March 19, 2018
A2.

Get caught up on all tickets I have in myJIRA queue. Traveling put me a little behind.

Continue practicing guitar.

Get out cycling.

Reconfigure my website to include my blog.#GoalChat https://t.co/zZSx0I767J

— Ben Sailors (@SailorsBen) March 19, 2018
A2: There's an online course I have to properly start instead of doing random parts of it #GoalChat

— AndromedaTrance (@andromedatrance) March 19, 2018
To try and take 10 minutes out of each day and sit in silence with no distractions. Just my thoughts. #GoalChat

— Mel Sanchez (@MelSanc78253607) March 19, 2018
YES! And set a timer. Then you are not looking at your watch… #goalchat

— ⭐ #GoalChat ⭐ (@GoalChat) March 19, 2018
Tonight's Special Topic: Personal Goals @WriteOnOnline #GoalChat Ready?

— ⭐ #GoalChat ⭐ (@GoalChat) March 19, 2018
Q3. What are your personal goals? @WriteOnOnline #GoalChat pic.twitter.com/wvQWvvk4it

— ⭐ #GoalChat ⭐ (@GoalChat) March 19, 2018
A1) To have a simpler life through decluttering. Our surroundings are filled with so much "noise." One of my personal goals is to declutter, both physically and mentally #GoalChat

— Mel Sanchez (@MelSanc78253607) March 19, 2018
A3: Getting some rest. Eating well. Prioritising my personal well being. I've been too focussed on work, forgetting myself. #GoalChat

— Narmadhaa (@s_narmadhaa) March 19, 2018
A3 It just hit me now – but I have two new books in mind and one is quickly overtaking the other. I want to write a new book! #goalchat

— AJ Borowsky (@AskWhatNext) March 19, 2018
A3. To get into #HR w/ a company that values employees and engages them. Also want to write more. My personal goal also is to get back into exercising again and lose weight (again) #GoalChat

— Lainey B. Wellbrock (@HRcupofcoffee) March 19, 2018
A3 To start going back to the gym. Need to live a healthier lifestyle #GoalChat

— Mel Sanchez (@MelSanc78253607) March 19, 2018
A3. Dance class, cook more, work on my fun fiction project that never gets enough attention. #goalchat

— ⭐ #GoalChat ⭐ (@GoalChat) March 19, 2018
A3.
Hahaha, goals or hopes/wish?

To create an additional revenue stream. Hopefully passive.

Also to be financially independent of my job.

To finish the Alexander Hamilton biography I'm listening to.

To finish the book by @AskWhatNext I'm reading. #GoalChat https://t.co/MQFv4Nzvgt

— Ben Sailors (@SailorsBen) March 19, 2018
Q4. How do personal goals affect professional goals? @WriteOnOnline #GoalChat pic.twitter.com/UAp6cFxYzE

— ⭐ #GoalChat ⭐ (@GoalChat) March 19, 2018
A4. They work in harmony. The things you do to make your personal life better, help your career … and vice versa! #goalchat

— ⭐ #GoalChat ⭐ (@GoalChat) March 19, 2018
I like this idea. Make it a personal goal to advance in your profession. Make it a professional goal to sustain your success. #GoalChat

— Narmadhaa (@s_narmadhaa) March 19, 2018
I also think people measure balance on the wrong scale. It's not a daily balancing, it a balance over years and even decades. #GoalChat

— AJ Borowsky (@AskWhatNext) March 19, 2018
A4. Attaining personal goals will motivate us to attain professional goals. For me, many of my personal goals can also be professional (communication, writing, etc.) My goal of exercising and losing weight affects everything in my life for the better. #GoalChat

— Lainey B. Wellbrock (@HRcupofcoffee) March 19, 2018
A4.(Long answer)…I think the personal goals assist one's professional goals. Hopefully one's prof. goals will allow one to pursue (or accomplish) more of one's personal goals. (Short answer)…hand-in-hand. #GoalChat

— Kevin Wilson (@KWilson805) March 19, 2018
A4 I'd say they both affect each other. If your personal life is going well & you're happy, that's likely to show in your professional life #GoalChat

— Mel Sanchez (@MelSanc78253607) March 19, 2018
A4. In my opinion.

Professional goals are really just means to the end of personal goals.

What we want in our lives outside of work, when we stop working, or when we can't work dictates what we do when we do work.#GoalChat https://t.co/6eqA3gtC31

— Ben Sailors (@SailorsBen) March 19, 2018
A4: Goals are goals whichever bit of your life you need them for. Practising them in your personal life impacts favourably on your professional life. It's still just one life not two. Eg: Doing yoga helps me stand w no back pain at work #GoalChat

— AndromedaTrance (@andromedatrance) March 19, 2018
Q4b. What personal goals are most important for professional success? #goalchat

— ⭐ #GoalChat ⭐ (@GoalChat) March 19, 2018
A4b The long term personal goal should set the stage for the short term professional goals. #goalchat

— AJ Borowsky (@AskWhatNext) March 19, 2018
For sure @AskWhatNext Balance enables you to, for instance, take breaks from accomplishing goals, because sometimes that's exactly what you need. #GoalChat

— ⭐ #GoalChat ⭐ (@GoalChat) March 19, 2018
A4b. I think the personal goals that allow one to work in their strengths and help other people (whether it be: family, friends, co-workers, youth, etc…). #GoalChat

— Kevin Wilson (@KWilson805) March 19, 2018
A4b: Personal health. #GoalChat

— Narmadhaa (@s_narmadhaa) March 19, 2018
Q5. What advice do you have for work-life balance? @WriteOnOnline #GoalChat pic.twitter.com/46iqDRM45M

— ⭐ #GoalChat ⭐ (@GoalChat) March 19, 2018
A5. Knowing you need balance is the first step. Those who only and always work may get results, but that's not sustainable. #goalchat

— ⭐ #GoalChat ⭐ (@GoalChat) March 19, 2018
A5: Balance life first. Settle family issues and personal heath issues before setting professional goals. Work can be stressful and it's important to know that we have an assuring personal life to get back to. #GoalChat

— Narmadhaa (@s_narmadhaa) March 19, 2018
A5 Another think I've written about. Life is long – don't think of work life balance on a scale of days, weeks, or months. Work hard in the early years, find balance in the middle, and emphasize life in the later years. #goalchat

— AJ Borowsky (@AskWhatNext) March 19, 2018
A5 Couldn't have said it better! You should always be first for you. #GoalChat

— Mel Sanchez (@MelSanc78253607) March 19, 2018
A5. Put yourself first. You are your greatest asset. If you need to take care of you, take care of you. No job is worth the loss or damage of that asset. #GoalChat

— Ben Sailors (@SailorsBen) March 19, 2018
#GoalChat love what you do but know when to turn it off. I love #HR, networking, social media, learning, etc but sometimes it's time to turn it off and read Goodnight Moon to my son 15x in a row 😉 #GoalChat pic.twitter.com/2m8BmQHy2z

— Lainey B. Wellbrock (@HRcupofcoffee) March 19, 2018
A5: Remeber that nobody will ever say, I wish I had spent more time at work. #GoalChat https://t.co/C4GH8YvOCh

— Jim Fuhs of Fuhsion Marketing #SMMW18 (@FuhsionMktg) March 19, 2018
So true. This is such a powerful realisation. AT the end of the day, how much we expend on ourselves will matter much more than what we spend on work. #GoalChat

— Narmadhaa (@s_narmadhaa) March 19, 2018
A5. Study your place in the world, life, family, friends, etc… However one studies, when you search for answers on one's importance to or @ work, you might be surprised. Another words, keep 👀ing /searching for perspective of your life & work. #GoalChat

— Kevin Wilson (@KWilson805) March 19, 2018
No one is indispensable don't spend too much time on one one part of your life to the detriment of the other parts #GoalChat

— AndromedaTrance (@andromedatrance) March 19, 2018
Any final words of wisdom on personal goals? #goalchat

— ⭐ #GoalChat ⭐ (@GoalChat) March 19, 2018
Time is valuable. I learned this losing my Mom in 2013 to #PancreaticCancer . Two months from diagnosis. Life is short. Do something that makes the world better and love your family and friends along the way. #GoalChat

— Lainey B. Wellbrock (@HRcupofcoffee) March 19, 2018
It when you hear stories like this that you understand how important it is to set the right priorities in life. We so often give importance to the wrong things. #GoalChat

— Narmadhaa (@s_narmadhaa) March 19, 2018
Final thought that if your career is something that gives you life satisfaction, balance it with your personal life but pursue it! Don't let anyone mold you into who they think you should be! #GoalChat

— Lainey B. Wellbrock (@HRcupofcoffee) March 19, 2018
Is it just me or can #goalchat be two hours and still seem like five minutes?

— AJ Borowsky (@AskWhatNext) March 19, 2018
Thanks all for an amazing #GoalChat. See you next week when we talk LinkedIn. Next Sunday 3/25 at 7pm PT/10pm ET. Feel free to tweet at me throughout the week and again join me on Facebook: https://t.co/D38rtwcgnM!

— ⭐ #GoalChat ⭐ (@GoalChat) March 19, 2018
Btw, you can continue the conversation on FB. Connect on the @WriteOnOnline page https://t.co/tfJqJJxJW3 and group https://t.co/D0VhQ2Dlop #GoalChat

— ⭐ #GoalChat ⭐ (@GoalChat) March 19, 2018
Feel free to also connect with me on LinkedIn https://t.co/iP8j56vbPT And LinkedIn will be next week's topic! #GoalChat

— ⭐ #GoalChat ⭐ (@GoalChat) March 19, 2018
Tags:
#GoalChat
Goals
Personal Goals