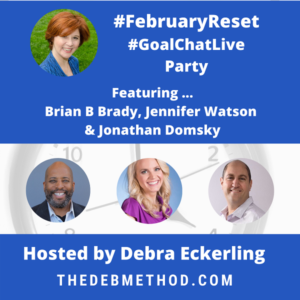 Are you ready for a #FebruaryReset? Goals are an ongoing process! For the February 1st #GoalChatLive party, I invited friends to talk about hitting the reset button!

My guests for the #FebruaryReset #GoalChatLive:
Watch the #FebruaryReset#GoalChatLive Party
Need help with your #FebruaryReset? Get your copy of my latest book, Your Goal Guide: A Roadmap for Setting, Planning and Achieving Your Goals. Then join the Your Goal Guide Facebook group.
Read the complete #FebruaryRest Party recap on TheDEBMethod.com.
Tags:
#FebruaryReset
#GoalChat
#GoalChatLive
Brian Brady
Debra Eckerling
Jennifer Watson
Jonathan Domsky
The D*E*B Method
Your Goal Guide