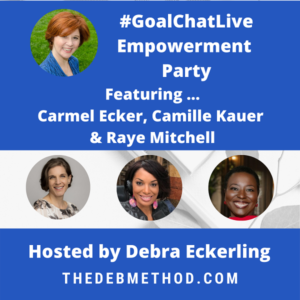 My #GoalChatLive Empowerment party brought together a group of amazing women. Who knew we would laugh our way through a conversation about empowerment!
My guests for the #Empowerment Party #GoalChatLive:
Watch the March #Empowerment #GoalChatLive Party
For more inspiration, motivation, and tips, follow @TheDEBMethod on Twitter, Facebook, and Instagram. And connect on LinkedIn.
And get your copy of my latest book, Your Goal Guide: A Roadmap for Setting, Planning and Achieving Your Goals. Then join the Your Goal Guide Facebook group.
* * *
Read the complete #Empowerment Party recap on TheDEBMethod.com.
Tags:
#GoalChat
#GoalChatLive
Camille Kauer
Carmel Ecker
Debra Eckerling
Empowerment
Raye Mitchell
Women's History Month