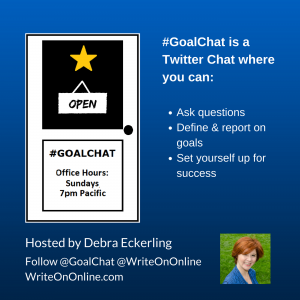 Thanks to everyone who joined us for the 4/22 #GoalChat on Passion Projects. It's great for the spirit to make time to work on things that make you happy and, ideally, also move your mission forward. And our community has lots of exciting projects in progress.
#GoalChat takes place Sundays at 7pm Pacific/10pm Eastern to set goals, ask questions, and get support. Feel free to tweet to @GoalChat throughout the week.
And join us on April 29 for #GoalChat at 7pm Pt/10pm ET. Special topic: YouTube. Tweet topic suggestions to @GoalChat.
Below is a recap with tweets from last night's chat.
Welcome to #GoalChat. This week's special topic is Passion Projects @writeononline pic.twitter.com/xapGEWevGh

— ⭐ #GoalChat ⭐ (@GoalChat) April 23, 2018
Introductions
Introduce Yourselves: Who are you? Where do you live? What do you do? @WriteOnOnline #GoalChat pic.twitter.com/m6dRSlUVzV

— ⭐ #GoalChat ⭐ (@GoalChat) April 23, 2018
I'm Deb. I live in West LA.  I help people and businesses set, plan, and achieve their goals. #goalchat

— ⭐ #GoalChat ⭐ (@GoalChat) April 23, 2018
Am also founder of @WriteOnOnline, a website and community for writers, creatives & entrepreneurs. Like the Facebook Page https://t.co/BKv5f2Aw0h and join the group https://t.co/D38rtwcgnM #goalchat

— ⭐ #GoalChat ⭐ (@GoalChat) April 23, 2018
Jim from Swansboro, NC #GoalChat pic.twitter.com/qMDJA1EHzp

— Jim Fuhs of Fuhsion Marketing #DSATL (@FuhsionMktg) April 23, 2018
I am @trainerchick47 a social media strategist from Redondo Beach CA #goalchat

— Sherry Hayes-Peirce (@trainerchick47) April 23, 2018
Intro: I'm really tired tonight, so I'm just going to let my reputation speak for me. If there is something specific you want to know -please ask. #GoalChat

— Tom Reid (@_TomGReid) April 23, 2018
I'm N, copywriter from Chennai, India. #GoalChat

— Narmadhaa (@s_narmadhaa) April 23, 2018
I am Romy doing the night manager shift in London (not nearly as sexy as Tom Hiddleston's role) so I am actually awake this week 😜🙂 #GoalChat

— AndromedaTrance (@andromedatrance) April 23, 2018
Biggest Win
Q1. What was your biggest win last week? @WriteOnOnline #GoalChat pic.twitter.com/fhAFj2jztF

— ⭐ #GoalChat ⭐ (@GoalChat) April 23, 2018
A1. I beta-launched my new website @TheDEBMethod https://t.co/NzjbO2qdAo #goalchat

— ⭐ #GoalChat ⭐ (@GoalChat) April 23, 2018
A1. My biggest win is I am officially a contributor for a nationally syndicated Catholic publication! #goalchat

— Sherry Hayes-Peirce (@trainerchick47) April 23, 2018
Managed to drag myself out of bed at a reasonable hour – from catching up on night shift sleep – to go on a day out with a friend I hadn't seen in ages. This small act impacted the rest of my week and I was motivated into getting quite a lot done. #GoalChat

— AndromedaTrance (@andromedatrance) April 23, 2018
A1: Attended a speed networking event and already have some new connections and possible clients #GoalChat https://t.co/2UCpZSCTb6

— Jim Fuhs of Fuhsion Marketing #DSATL (@FuhsionMktg) April 23, 2018
A1: Last week was an overall good week. I was in a conference so I guess I would say I walked-away with some good information! #goalchat

— Dan MacDougall (@Dan_MacDougallx) April 23, 2018
A1) The first Sustained Leadership WBS webinar went off without a hitch. I hired a VA, and two newsletters are in the can. #GoalChat

— Tom Reid (@_TomGReid) April 23, 2018
A1: Hosting my first lunch and learn workshop @Rosies_Network #GoalChat https://t.co/sYovKLXB7J

— Marisa Cali (@allthesocial) April 23, 2018
Managed to drag myself out of bed at a reasonable hour – from catching up on night shift sleep – to go on a day out with a friend I hadn't seen in ages. This small act impacted the rest of my week and I was motivated into getting quite a lot done. #GoalChat

— AndromedaTrance (@andromedatrance) April 23, 2018
I incorporate all the tweets – including wins – in my #GoalChat Recap https://t.co/fnnJZbWaPw

— ⭐ #GoalChat ⭐ (@GoalChat) April 23, 2018
Weekly Goals
Q2. What are your goals for this week? @WriteOnOnline #GoalChat pic.twitter.com/fFGlQbIHcs

— ⭐ #GoalChat ⭐ (@GoalChat) April 23, 2018
A2. Now the site for @TheDEBMethod is up, time to focus on blog posts and videos … and my upcoming workbook. #goalchat

— ⭐ #GoalChat ⭐ (@GoalChat) April 23, 2018
A2: with all the crappy weather and my night shifts instead of washing my undies I have just gone out and bought more consequently I have far too much… stuff. My goal next week is to get rid of at least a quarter 🛍 #GoalChat

— AndromedaTrance (@andromedatrance) April 23, 2018
A2: Developing some GIFs using Apple Clips and working on some content revolving around the updates to Google My Business #GoalChat https://t.co/lqsuX2LXnh

— Jim Fuhs of Fuhsion Marketing #DSATL (@FuhsionMktg) April 23, 2018
I am trying to figure out if it is worthwhile to attend the NYC #SmallBizExpo as a #CareerServices pro… #goalchat

— Chaim Shapiro 🎤 Help you MAXIMIZE LinkedIn 💻 (@ChaimShapiro) April 23, 2018
A2) I had 14 actions to work on over the weekend. Not all got done, so the goal is to complete them all while dealing with the others that will pop up. #GoalChat

— Tom Reid (@_TomGReid) April 23, 2018
A2. Revamping my social media pages and starting the first of 7 PowerPoint presentations! #goalchat

— Sherry Hayes-Peirce (@trainerchick47) April 23, 2018
A2: This sounds crazy, but I am trying to convert from being a night person to a morning person to help be a bit more productive. #goalchat

— Dan MacDougall (@Dan_MacDougallx) April 23, 2018
I may start with that. My goal is in bed by 9:00pm, up by 5:00am. #goalchat 🤪

— Dan MacDougall (@Dan_MacDougallx) April 23, 2018
For most of my professional career I had to get up at or around 3AM. More than 20 years. (Broadcasting). Since I left that profession, as much as I see the benefits of being an early morning person, it just repulses me to get up before sunrise.

— Bryan Houston (@bryanhouston) April 23, 2018
Special Topic: Passion Projects
Q3. What is your current passion project? @WriteOnOnline #GoalChat pic.twitter.com/0NWBo2TVVd

— ⭐ #GoalChat ⭐ (@GoalChat) April 23, 2018
A3. My biz is helping others with their passion projects, so my passion project is working on my own stuff. My motto this year is "Create. Launch. Repeat." So working on launches/products – books, etc. – that support my site.

— ⭐ #GoalChat ⭐ (@GoalChat) April 23, 2018
A3. Detective mystery stories. Sherlock Holmes is one of my passions. #GoalChat

— Jon Duckworth (@Duck_n_Pulpit) April 23, 2018
A3) I should like to see if I can move my work into holiday carriers like cruises and the Orient Express. I just have to find the right people to ask…😬👽 #GoalChat

— AndromedaTrance (@andromedatrance) April 23, 2018
A3: Podcast editing, production, content brainstorming, interviewing, etc…. For my podcast @bicoastalpanda #latetothechatbecauseofediting

— Marisa Cali (@allthesocial) April 23, 2018
A3: Implementing Chat Bots in FB Messenger #GoalChat https://t.co/cMN4kFOVGT

— Jim Fuhs of Fuhsion Marketing #DSATL (@FuhsionMktg) April 23, 2018
Q3) Promoting the new book and getting the training engagements under contract. #GoalChat

— Tom Reid (@_TomGReid) April 23, 2018
A3 More speaking gigs, for sure… #goalchat

— Chaim Shapiro 🎤 Help you MAXIMIZE LinkedIn 💻 (@ChaimShapiro) April 23, 2018
https://t.co/PKDuqQ2jlS work to help Catholic Dioceses embrace the power of technology for engaging the next generation! #goalchat

— Sherry Hayes-Peirce (@trainerchick47) April 23, 2018
A3…Current passion project is raising funds for dental care for single moms. #GoalChat

— elizabeth traub (@elizabethtraub) April 23, 2018
Value of Passion Projects
Q4. How will your passion project help you with your professional or personal goals? #GoalChat pic.twitter.com/Km2Nqcd1K9

— ⭐ #GoalChat ⭐ (@GoalChat) April 23, 2018
A4. We talked about mission statements before. So helpful when your passion project relates to your mission. It benefits all! #goalchat

— ⭐ #GoalChat ⭐ (@GoalChat) April 23, 2018
A4. This will not benefit me professionally, but the ability to help in developing a project where there is great need is rewarding to my soul personally. #goalchat

— elizabeth traub (@elizabethtraub) April 23, 2018
A4. Allows me to live out a dream. #GoalChat

— Jon Duckworth (@Duck_n_Pulpit) April 23, 2018
A4) it would improve my skill set and bring more joy to my life #GoalChat

— AndromedaTrance (@andromedatrance) April 23, 2018
A4: It will help me with my professional goal of being an early adapter and help grow my business #GoalChat https://t.co/Vw5eqOxXX5

— Jim Fuhs of Fuhsion Marketing #DSATL (@FuhsionMktg) April 23, 2018
My passion project is wrapping up my first two books so I can move onto the next series of books I have planned! All part of my soft skills biz! #GoalChat A4

— Deborah Thomas (@DTNEtiquette) April 23, 2018
https://t.co/D5lMyAi9if hope is that by speaking at Catholic conferences and writing for Catholic publications I will become an expert in the space #goalchat

— Sherry Hayes-Peirce (@trainerchick47) April 23, 2018
A4) If I have to travel the world at client expense teaching leadership development …well. I'll just have to find a way to be OK with that. #GoalChat

— Tom Reid (@_TomGReid) April 23, 2018
Earning an income while fulfilling a passion is a bonus. #GoalChat

— Jon Duckworth (@Duck_n_Pulpit) April 23, 2018
I think this passion project contributes more to my personal mission statement to use your resources in helping others. #goalchat

— elizabeth traub (@elizabethtraub) April 23, 2018
Steps
Q5. What steps are you taking to work towards that goal? @WriteOnOnline #GoalChat pic.twitter.com/7ZGvv0ZEzM

— ⭐ #GoalChat ⭐ (@GoalChat) April 23, 2018
A5. I have an appointment with myself every day to work on my passion project. Some days get more time than others, tho. #goalchat

— ⭐ #GoalChat ⭐ (@GoalChat) April 23, 2018
A5) I shall look on LinkedIn and Subscribe to holiday magazines for their job sections #GoalChat

— AndromedaTrance (@andromedatrance) April 23, 2018
People claim I think too much. #GoalChat

— Jon Duckworth (@Duck_n_Pulpit) April 23, 2018
Not possible. There is too little thinking these days especially in the areas of Critical Thinking, Strategic Thinking, and Systems Thinking. I wrote some material on this for the book. More convinced than ever. #GoalChat

— Tom Reid (@_TomGReid) April 23, 2018
I think overthinking would make a great #GoalChat topic!

— ⭐ #GoalChat ⭐ (@GoalChat) April 23, 2018
Next Week
Thanks for an amazing chat. The next #GoalChat will be on 4/29. Topic YouTube. Tweet suggestions for topics to @GoalChat

— ⭐ #GoalChat ⭐ (@GoalChat) April 23, 2018
Tweet to @GoalChat throughout the week and continue the conversation on @WriteOnOnline on Facebook page: https://t.co/tfJqJJxJW3 and Group: https://t.co/D0VhQ2Dlop. You can also Connect with @TheDEBMethod on Facebook https://t.co/Z1ukMAkCgL

— ⭐ #GoalChat ⭐ (@GoalChat) April 23, 2018
Also
That's ok Elizabeth, I actually have a goat! (..and a pig!) pic.twitter.com/JHtaPXzeES

— Dan MacDougall (@Dan_MacDougallx) April 22, 2018
I am all for #goatchat! That sounds cute! pic.twitter.com/ZjPHC2mxsg

— Ysmay (@YsmayWalsh) April 23, 2018
Goats are VERY goal-oriented. 🐐They eat. That is their goal. They do it well. They always get it done. They don't deviate much if at all. They will eat just about anything to accomplish the goal.🐐

Maybe there is some deep lesson to be learned here…#goalchat 🥅 #goatchat 🐐

— Dan MacDougall (@Dan_MacDougallx) April 23, 2018
Tags:
#GoalChat
Passion Projects
Projects
Write On! Online
Writing