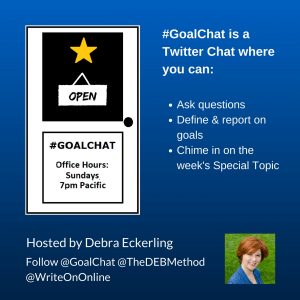 Each week on #GoalChat we explore a special topic. Here are the September #GoalChat recaps via Twitter Moments.
#GoalChat Recap – 9/2/18 – September Goals
#GoalChat Recap – 9/16/18 – Revisions
#GoalChat Recap – 9/23/18 – Freebies to Promote your Biz
#GoalChat takes place Sundays at 7pm Pacific/10pm Eastern to set goals, ask questions, and get support. Please join us! And feel free to tweet to @GoalChat throughout the week.
Tags:
#GoalChat
#GoalChat September
Recaps