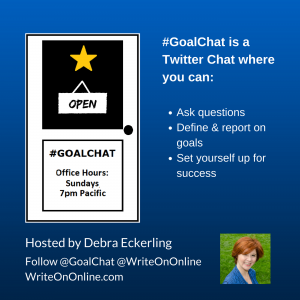 Thanks to everyone who joined us for the 3/4 #GoalChat, where we talked about our weekly and monthly goals.
#GoalChat takes place Sundays at 7pm Pacific/10pm Eastern to set goals, ask questions, and get support. Feel free to tweet to @GoalChat throughout the week.
And join us on March 11 for #GoalChat at 7pm Pt/10pm ET. Special topic: Marketing Goals. Thanks for the rec, @SabrinaCaldini. Tweet topic suggestions to @GoalChat.
Below is a recap with tweets from last night's chat.
Welcome to #GoalChat. This week's special topic is March Goals @writeononline pic.twitter.com/9pP3yXeyLS

— ⭐ #GoalChat ⭐ (@GoalChat) March 5, 2018
Hello everyone #goalchat

— Cheval John (@chevd80) March 5, 2018
Introduce Yourselves: Who are you? Where do you live? What do you do? @WriteOnOnline #GoalChat pic.twitter.com/buX4ryvcNA

— ⭐ #GoalChat ⭐ (@GoalChat) March 5, 2018
I'm Deb. I live in West LA. I help people set, plan, and achieve their goals through coaching and workshops. Am the author of "Write On Blogging" and founder of @WriteOnOnline, a website and community for writers, creatives & entrepreneurs. https://t.co/BKv5f2Aw0h #goalchat

— ⭐ #GoalChat ⭐ (@GoalChat) March 5, 2018
Hello everyone, I am currently juggling my role as the Sports Information Director at Pacific University and the #goalchat conversation.

— Danny Kambel (@DannyKambel) March 5, 2018
Cool @DannyKambel I am juggling watching the #oscars and #goalchat How are you?

— ⭐ #GoalChat ⭐ (@GoalChat) March 5, 2018
I am doing very well…but also very busy. #Blessed #GoalChat

— Danny Kambel (@DannyKambel) March 5, 2018
I missed you all last week but had a blast at #SMMW18! #goalchat

— ⭐ #GoalChat ⭐ (@GoalChat) March 5, 2018
I hope to attend the conference, one of these days. I have read a lot of great tweets and some reviews. #GoalChat

— Danny Kambel (@DannyKambel) March 5, 2018
fortunate and proud to be part of the @SMExaminer team Hope to meet you at #SMMW one of these years! #goalchat

— ⭐ #GoalChat ⭐ (@GoalChat) March 5, 2018
Cheval John, founder and ceo of vallano media, llc, a marketing agency which helps small to mid-sized businesses navigate social media. Tweeting from houston, texas #goalchat

— Cheval John (@chevd80) March 5, 2018
Tweeting from the mountains of Colorado where I teach, write, and consult on Government contracting and leadership. #GoalChat pic.twitter.com/Fqj1qdRsxu

— Tom Reid (@_TomGReid) March 5, 2018
Tom – this is where I'm tweeting from tonight. #YouWin #GoalChat pic.twitter.com/P8J5pysr4k

— Danny Kambel (@DannyKambel) March 5, 2018
Well, it wasn't really a contest, but given the photos, I'll accept the honor! As a consummate introvert, I really am LOVING it up here. #GoalChat Love the sunrises over the lake. pic.twitter.com/skYIF5UHFy

— Tom Reid (@_TomGReid) March 5, 2018
It's going to be a fantastic week, thanks. And you? please share about the conference. #goalchat

— Tom Reid (@_TomGReid) March 5, 2018
I had so much fun @_TomGReid Made some wonderful new connections and got to see some of my favorite peeps IRL! #goalchat

— ⭐ #GoalChat ⭐ (@GoalChat) March 5, 2018
spent the day chilling, so hope to put some things in action this week! #goalchat

— ⭐ #GoalChat ⭐ (@GoalChat) March 5, 2018
Kevin Wilson (@KWilson805), Pursing employment in #SportsBiz , I'm from Alexandria, VA and I'm an Investigative Analyst for the #DoD, #GoalChat

— Kevin Wilson (@KWilson805) March 5, 2018
I'm april. West Coast creative. Writer. Blogger. Imperfect being. Let's see if I posted to the right place 😆 #goalchat

— April (@aprilemaye) March 5, 2018
I think you posted in the right place. Welcome @aprilemaye. #GoalChat

— Danny Kambel (@DannyKambel) March 5, 2018
Q1. What was your biggest win last week? @WriteOnOnline #GoalChat pic.twitter.com/8wPG9KSeEZ

— ⭐ #GoalChat ⭐ (@GoalChat) March 5, 2018
A1. Had a blast at #SMMW18 Met lots of online friends, saw some of my favorite peeps, and met some cool new ones, #goalchat

— ⭐ #GoalChat ⭐ (@GoalChat) March 5, 2018
A1. Seeing the busy sports activities happening in downtown houston #goalchat

— Cheval John (@chevd80) March 5, 2018
A1. My biggest win was I was able to complete an application for the the 2018 @Learfield Minority Academy. #GoalChat

— Kevin Wilson (@KWilson805) March 5, 2018
Thanks Danny! This is actually my (3rd x) applying for this program. After speaking with some people on the #Learfield corporate side, I got a good picture of the kind of candidate their looking for. I hope it helps…thx for the encouragement. #GoalChat #GetSET

— Kevin Wilson (@KWilson805) March 5, 2018
I definitely will, I will hear something by April 1st. Prayers and best wishes are always welcomed by #GoalChat members. Thx everyone…👋😊

— Kevin Wilson (@KWilson805) March 5, 2018
A1. An atypical one, since it was a conference week, but a good win to carry forward nonetheless: Letting my out of office reply do its job & realize that not answering the majority of emails asap due to focusing on the conference is a good boundary! #GoalChat

— Anna Ebert (@Anname12) March 5, 2018
A1. My team of student assistants teamed up with me to produce post-event graphics throughout an away track and field meet for the first time. Me, personally, it was doing lacrosse stats for the first time in my career. #GoalChat

— Danny Kambel (@DannyKambel) March 5, 2018
My biggest wins for last week was going on my first ever #trainride on the @AKRR and we #vlogged the whole way and getting to see the start of the #Iditarod2018 in #Anchorage #Alaska and attend #FurRondy also blogged the whole day that day as well💖 so much to edit #GoalChat

— Shiloh Morrison (@ShilohfrmAlaska) March 5, 2018
A1) Not sure it's really a win, but have watched a long and continuing saga unfold that has been gestating for over a year. Good progress last week. #GoalChat

— Tom Reid (@_TomGReid) March 5, 2018
There were many, but one of the coolest moments at #SMMW18 was meeting @TheWritingDiva after she posted that she read my book and saw that her site @PositivelyWoof was mentioned in it. https://t.co/9fTJCQMEx5 @WriteOnOnline #GoalChat

— ⭐ #GoalChat ⭐ (@GoalChat) March 5, 2018
Q2. What are your goals for this week? @WriteOnOnline #GoalChat pic.twitter.com/l8YrFZtCAc

— ⭐ #GoalChat ⭐ (@GoalChat) March 5, 2018
A2. Get my new project ready to announce at the next #GoalChat

— ⭐ #GoalChat ⭐ (@GoalChat) March 5, 2018
Setting appointments with potential clients who are attending #RECongress conference on the 15th! #goalchat

— Sherry Hayes-Peirce (@trainerchick47) March 5, 2018
A2. Making money this week #goalchat

— Cheval John (@chevd80) March 5, 2018
A2 upload the #matsupolarplunge video that's finished and schedule my next #ThriftingThursday video the start editing the footage I have for the #irondog and the #Iditarod / #FurRondy footage. So much to do never a dull moment #GoalChat pic.twitter.com/3a40tD5oY0

— Shiloh Morrison (@ShilohfrmAlaska) March 5, 2018
I am still working on the uploads but this is the link to my YouTube I'm trying to get to 500 subs by June and go to more and more events👍💖👍 https://t.co/X8ZCgtmfKy #goalchat

— Shiloh Morrison (@ShilohfrmAlaska) March 5, 2018
A2. Wrap up outstanding February projects to make room for what's ahead in March! #goalchat

— Anna Ebert (@Anname12) March 5, 2018
A2. Manage two events at the same time and within 50 feet of each other with a great team of student assistants and support staff around me. #goalchat

— Danny Kambel (@DannyKambel) March 5, 2018
A2) Successfully navigate a significant complex matter on Monday and Tuesday, still meet a client deliverable for Thursday, and complete preparations for three client deliverables the following week. Busy week ahead. #GoalChat

— Tom Reid (@_TomGReid) March 5, 2018
A2. My goal for the month is to start calling everyone in my new #BDSE 2018 Cohort from the @NatlSportsForum or #NSF18. *This week in particular, is to call (& hopefully talk) to 2 people a day to check-in & see if there is anything I can do to add value to their life. #GoalChat

— Kevin Wilson (@KWilson805) March 5, 2018
@KWilson805 great plan. I use LinkedIn to reach out to contacts and it has been so valuable and human to human! It works! Do it! #GoalChat

— Sherry Hayes-Peirce (@trainerchick47) March 5, 2018
Thanks for the encouragement Sherry! I wanted to add a personal phone call after I reach out to my #BDSE18 Cohort (#NatlSportsForum). #LinkedIn and #Twitter I agree with you are a must. #GoalChat

— Kevin Wilson (@KWilson805) March 5, 2018
Special Topic: March Goals @WriteOnOnline #GoalChat Ready?

— ⭐ #GoalChat ⭐ (@GoalChat) March 5, 2018
Q3. What are your professional goals for March? @WriteOnOnline #GoalChat pic.twitter.com/zx8ibM6Kjj

— ⭐ #GoalChat ⭐ (@GoalChat) March 5, 2018
A3. Launch my new biz website/brand. So excited! #goalchat

— ⭐ #GoalChat ⭐ (@GoalChat) March 5, 2018
Will you post a screen shot of the new biz website/brand when it's done? #GoalChat. pic.twitter.com/kFzUVdRH1B

— Kevin Wilson (@KWilson805) March 5, 2018
Of course @KWilson805 I will share it as soon as it's launched. Got lots of great feedback/encouragement on it last week, too! #goalchat

— ⭐ #GoalChat ⭐ (@GoalChat) March 5, 2018
A3 to become more organized in my scheduling for uploads and creating content #goalchat

— Shiloh Morrison (@ShilohfrmAlaska) March 5, 2018
A3) I'll be crisscrossing the country on behalf of clients and business development. Should be a great month. #GoalChat

— Tom Reid (@_TomGReid) March 5, 2018
A3. Being able to discern the right opportunities for my business #goalchat

— Cheval John (@chevd80) March 5, 2018
A3. In ref. the my (A2. answer), call (& talk) to my entire #BDSE18 network from the #NatlSportsForum, but also to apply to (5) new jobs, meet w/ my mentor, and sign-up/pay for (2) professional conferences this month. #GoalChat

— Kevin Wilson (@KWilson805) March 5, 2018
A3. Confirm 13 speaking engagements by March 31st and 10 are pending to meet my goal of #40SpeakingEngagements #goalchat

— Sherry Hayes-Peirce (@trainerchick47) March 5, 2018
Q4. What are your personal goals for March? @WriteOnOnline #GoalChat pic.twitter.com/AX4yCWuoBp

— ⭐ #GoalChat ⭐ (@GoalChat) March 5, 2018
A4. Get back to cooking – I missed it when I was away last week. Who knew? And try a new dance class! #goalchat

— ⭐ #GoalChat ⭐ (@GoalChat) March 5, 2018
I am a huge fan of my @InstantPot You put in ingredients and it comes out food! 🙂 #goalchat

— ⭐ #GoalChat ⭐ (@GoalChat) March 5, 2018

There are a gazillion websites, groups, and recipes. I'll totally hook you up! #goalchat

— ⭐ #GoalChat ⭐ (@GoalChat) March 5, 2018

A4. Continue to grow in empathy #goalchat

— Cheval John (@chevd80) March 5, 2018
A4. To go to the gym (2x) per week for the (entire) month. #GoalChat. I hope to get back to being ⚕y and💪. #GoalChat

— Kevin Wilson (@KWilson805) March 5, 2018
A4. My personal goals are to stay the course and remain focused. Also, enjoy my birthday. #GoalChat

— Danny Kambel (@DannyKambel) March 5, 2018
For those, who want to know when my birthday….@Twitter will help you. You'll have to access my profile on that particular day, Twitter will share with you balloons. #GoalChat

— Danny Kambel (@DannyKambel) March 5, 2018
To enjoy as many #Alaska community events as possible #goalchat

— Shiloh Morrison (@ShilohfrmAlaska) March 5, 2018
Q5. How can we help you achieve your goals? @WriteOnOnline #GoalChat pic.twitter.com/GY0Wd6xAMf

— ⭐ #GoalChat ⭐ (@GoalChat) March 5, 2018
A5. To help me achieve my goals is to remind me of the @JonGordon11 quote, "Purpose is the ultimate fuel for our journey through life. When we drive with purpose we don't get tired or bored and our engines don't burn out." #GoalChat

— Danny Kambel (@DannyKambel) March 5, 2018
Passion has the same effect. Would be an interesting chat topic – comparing passion with purpose. #GoalChat

— Tom Reid (@_TomGReid) March 5, 2018
A5. Accountability #goalchat

— Cheval John (@chevd80) March 5, 2018
A5. I guess I'll put it out there, if anyone knows anyone at @UnderArmour, @CapitalOne, @Octagon, or @Learfield please let me know. I would like to talk to people from there who could help me navigate the hiring process. #GoalChat. 🙏🙌

— Kevin Wilson (@KWilson805) March 5, 2018
A5) You have been doing it for weeks – holding me accountable. #GoalChat

— Tom Reid (@_TomGReid) March 5, 2018
A5 Through good constructive criticism and through sharing on social media #sharingiscaring #hitthatlikebutton #goalchat

— Shiloh Morrison (@ShilohfrmAlaska) March 5, 2018
Great chat tonight everyone! Thanks for joining! #goalchat

— ⭐ #GoalChat ⭐ (@GoalChat) March 5, 2018
The next #GoalChat will be on 3/11. Next week's special topic is Marketing Goals. Thanks for the rec @SabrinaCadini

— ⭐ #GoalChat ⭐ (@GoalChat) March 5, 2018
Please connect with @WriteOnOnline on Facebook: page: https://t.co/tfJqJJxJW3 and group: https://t.co/D0VhQ2Dlop Tweet topic suggestions to @GoalChat #GoalChat

— ⭐ #GoalChat ⭐ (@GoalChat) March 5, 2018
Thanks again, everyone, for joining tonight's #GoalChat Have a fabulous week! And remember, you can do it!

— ⭐ #GoalChat ⭐ (@GoalChat) March 5, 2018
Tags:
#GoalChat
March Goals
Write On! Online