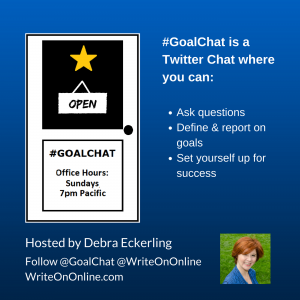 Thanks to everyone who joined us for the 4/15 #GoalChat on Setting Realistic Goals. When determining what it is you wish to accomplish, it's essential to take your schedule and availability into account. Set yourself up for success and you are more likely to be successful.
#GoalChat takes place Sundays at 7pm Pacific/10pm Eastern to set goals, ask questions, and get support. Feel free to tweet to @GoalChat throughout the week.
And join us on April 22 for #GoalChat at 7pm Pt/10pm ET. Special topic: Passion Projects. Tweet topic suggestions to @GoalChat.
Below is a recap with tweets from last night's chat.
Welcome to #GoalChat. This week's special topic is Setting Realistic Goals @writeononline pic.twitter.com/VzoWHP7h9R

— ⭐ #GoalChat ⭐ (@GoalChat) April 16, 2018
Introductions
Introduce Yourselves: Who are you? Where do you live? What do you do? @WriteOnOnline #GoalChat

— ⭐ #GoalChat ⭐ (@GoalChat) April 16, 2018
I am also the founder of @WriteOnOnline, a website and community for writers, creatives & entrepreneurs. Please like the Facebook Page https://t.co/BKv5f2Aw0h and join the group https://t.co/D38rtwcgnM #goalchat

— ⭐ #GoalChat ⭐ (@GoalChat) April 16, 2018
I am Jon from Western NC. Still trying to figure out what I do. #GoalChat

— Jon Duckworth (@Duck_n_Pulpit) April 16, 2018
Romy from the UK here watching Undercover Boss US to keep myself awake at 3am! 😄

— AndromedaTrance (@andromedatrance) April 16, 2018
Nathan Werremeyer, Park Hills MO, small college athletics #GoalChat

— Nathan Werremeyer (@NWerremeyer) April 16, 2018
Biggest Win
Q1. What was your biggest win last week? @WriteOnOnline #GoalChat pic.twitter.com/ch1Z0iLP0T

— ⭐ #GoalChat ⭐ (@GoalChat) April 16, 2018
A1. Made great progress on my site and got a few writing assignments #goalchat

— ⭐ #GoalChat ⭐ (@GoalChat) April 16, 2018
A1. Finished reading 2 books. #GoalChat

— Jon Duckworth (@Duck_n_Pulpit) April 16, 2018
Both books were on the Thirty Years' War & its causes. #GoalChat

— Jon Duckworth (@Duck_n_Pulpit) April 16, 2018
Currently reading through detective mysteries to study how the "detective" is introduced. #GoalChat

— Jon Duckworth (@Duck_n_Pulpit) April 16, 2018
A1) I guested on #VCBuzz to talk about leadership, got confirmation of a new gig in May, spent a day teaching good writing for government procurements, and got everything complete for the webinar that starts this week. #GoalChat

— Tom Reid (@_TomGReid) April 16, 2018
A1: Good evening! Biggest win last week was that I actually started cleaning my shop. This was huge! 🙂 #goalchat

— Dan MacDougall (@Dan_MacDougallx) April 16, 2018
A1: I was able to share some vision and leadership material with people last week. Always fun stuff #GoalChat

— Nathan Werremeyer (@NWerremeyer) April 16, 2018
Recapd #GoalChat notes & called someone on LinkedIn with the view to get some help on some work training. talked a lot through nerves but a lot of good came out of it. I also spoke to one of my work schedulers & she is now giving me jobs with more variety

— AndromedaTrance (@andromedatrance) April 16, 2018
#goalchat A.1 biggest win this week new consultation client.

— Sherry Hayes-Peirce (@trainerchick47) April 17, 2018
Weekly Goals
Q2. What are your goals for this week? @WriteOnOnline #GoalChat pic.twitter.com/6e4KDuZYhw

— ⭐ #GoalChat ⭐ (@GoalChat) April 16, 2018
A2. Get site ready to launch. Get book ready to release. Start videos. Write something fun tp pitch! #goalchat

— ⭐ #GoalChat ⭐ (@GoalChat) April 16, 2018
A2. Outline some mystery tales. Work on Thirty Years' War project (fearing that I will be working on it for the rest of my life) #GoalChat

— Jon Duckworth (@Duck_n_Pulpit) April 16, 2018
Can't edit a blank page. #GoalChat

— Jon Duckworth (@Duck_n_Pulpit) April 16, 2018
A2) The webinars based on the book start this week. Glad to see lots of signups. https://t.co/kh0B8KrvY3
Also have a couple client deliverables due. #GoalChat

— Tom Reid (@_TomGReid) April 16, 2018
#goalchat A.2 Be confirmed as a contributor at https://t.co/u0NXnFYPLU following interview process concludes. Should hear yay or nay this week.

— Sherry Hayes-Peirce (@trainerchick47) April 17, 2018
Special Topic: Setting Realistic Goals
Tonight's Special Topic: Setting Realistic Goals. Ready? @WriteOnOnline #GoalChat

— ⭐ #GoalChat ⭐ (@GoalChat) April 16, 2018
Q3. What factors do you consider when setting a realistic goal? @WriteOnOnline #GoalChat pic.twitter.com/Mfrbx0rWyv

— ⭐ #GoalChat ⭐ (@GoalChat) April 16, 2018
A3. The big factor is time. How much time will the project take? And how much time can you devote to it? #goalchat

— ⭐ #GoalChat ⭐ (@GoalChat) April 16, 2018
Some projects take longer than others. You really need to weigh time commitment vs availability. #goalchat

— ⭐ #GoalChat ⭐ (@GoalChat) April 16, 2018
A3: Like with cleaning my shop, can I break it down into smaller tasks that I can complete over a given time. Keeps me motivated! #goalchat

— Dan MacDougall (@Dan_MacDougallx) April 16, 2018
A3: My goals tend to be more reminders of what I should be doing then I develop them into goals after a bit more thought #GoalChat

— AndromedaTrance (@andromedatrance) April 16, 2018
A3) I align everything into a pyramid structure:
Vision
Strategy
Goals
Tactics
Tasks
Where each task each day fulfills a tactic, which supports a goal which is aligned with the selected strategy to meet the vision.
#GoalChat

— Tom Reid (@_TomGReid) April 16, 2018
I believe goals should be big and audacious. If you lack something to achieve it, e.g. $$, then a tactic will be to focus on ways to make money and a specific task is to go find a new client. With everything aligned, anything is possible. #GoalChat

— Tom Reid (@_TomGReid) April 16, 2018
Q3b. Is setting realistic goals different for a personal vs a professional goal? #GoalChat

— ⭐ #GoalChat ⭐ (@GoalChat) April 16, 2018
A3b. Another factor to consider is whether you have the resources and, if you don't, what does it take to get them. @WriteOnOnline #goalchat

— ⭐ #GoalChat ⭐ (@GoalChat) April 16, 2018
A goal is a dream with a deadline. #GoalChat Dream big.

— Tom Reid (@_TomGReid) April 16, 2018
Totally agree, and we might be saying the same thing with different words. Certainly I have the goal of completing a specific set of tasks each day, but those tasks support a tactic I've developed toward achieving a big goal. #GoalChat

— Tom Reid (@_TomGReid) April 16, 2018
A3b – Using a similar approach to professional and personal goal setting helps keeps consistency and reduces distractions. #goalchat

— Dan MacDougall (@Dan_MacDougallx) April 16, 2018
🙂 #GoalChat https://t.co/Bv3uFHYlmT

— ⭐ #GoalChat ⭐ (@GoalChat) April 16, 2018
Challenges
Q4. What challenges do you face when working toward your goals? And how do you overcome them? @WriteOnOnline #GoalChat pic.twitter.com/BkByY5z00W

— ⭐ #GoalChat ⭐ (@GoalChat) April 16, 2018
A4. I think "life happens" to throw you off schedule, and that's a challenge everyone faces. The best way to deal with it is to take a breath, deal with what you need to, and move forward. #GoalChat

— ⭐ #GoalChat ⭐ (@GoalChat) April 16, 2018
YES! Rules and rewards certainly help! #goalchat

— ⭐ #GoalChat ⭐ (@GoalChat) April 16, 2018
@GoalChat – Time management can be (and is) a big factor is successfully setting and achieving goals. #goalchat

— Dan MacDougall (@Dan_MacDougallx) April 16, 2018
Personal forgiveness is a BIG deal. Never forget that. #goalchat

— Tom Reid (@_TomGReid) April 16, 2018
Remember, sometimes "done" is better than perfect! #goalchat

— ⭐ #GoalChat ⭐ (@GoalChat) April 16, 2018
A4: Honestly, whether or not I can do it! I prefer the weekly goals we do than trying to motivate myself into a five year plan for instance. And I get much more done with this group – you guys tend to give me ideas! #GoalChat

— AndromedaTrance (@andromedatrance) April 16, 2018
#goalchat A.4 my number one challenge with goals is having patience and perseverance.

— Sherry Hayes-Peirce (@trainerchick47) April 17, 2018
Other Types of Goals
Q5. Are all of your goals realistic? What other types of goals do you set? Dream/reach goals? Easy goals? @WriteOnOnline #GoalChat pic.twitter.com/KWWtRajp9B

— ⭐ #GoalChat ⭐ (@GoalChat) April 16, 2018
A5. A mixture is good. Gotta mix in some easy goals for wins! And also reach goals so you are always aiming high! #goalchat

— ⭐ #GoalChat ⭐ (@GoalChat) April 16, 2018
A5) Some parts of the grand vision are significantly "out there," thus some of the goals are quite ambitious. But I would rather try and get part way there than not try and miss every target. Or else run out of goals and just curl up and die. #GoalChat

— Tom Reid (@_TomGReid) April 16, 2018
Some are not realistically achievable, today. I have short term and long term. #GoalChat

— April (@aprilemaye) April 16, 2018
A5: I try to set goals for daily task stuff. They are more like reminders that help show you are accomplishing things! #goalchat

— Dan MacDougall (@Dan_MacDougallx) April 16, 2018
Final Bonus Q: Name one realistic goal or task you will set and achieve this week. #goalchat

— ⭐ #GoalChat ⭐ (@GoalChat) April 16, 2018
I am in a conference this week. If I can apply at least one thing I learned over the next few days, it will all be worth it! #goalchat

— Dan MacDougall (@Dan_MacDougallx) April 16, 2018
Bonus A) I want to practice the webinar and polish it up a bit before Thursday and get those two client deliverables complete. Oh – and a new newsletter is going out this week. #GoalChat

— Tom Reid (@_TomGReid) April 16, 2018
Bonus A. Start my videos. I said it, now I have to do it! #goalchat

— ⭐ #GoalChat ⭐ (@GoalChat) April 16, 2018
A5: Realistic… Some of them require more thought and some I have just to see how far I can get with them. And some an answer will appear eg: deleting my emails I came across an email I didn't know I had which is useful for one of my goals #GoalChat

— AndromedaTrance (@andromedatrance) April 16, 2018
Bonus
May not be on topic , but how do you pull out of a mental/ emotional slump? #GoalChat

— Bryan Houston (@bryanhouston) April 16, 2018
Hi @bryanhouston Best things is to do something that makes you happy, gets your engine going. Then, once you have momentum, you can turn your energy toward your goal. #GoalChat

— ⭐ #GoalChat ⭐ (@GoalChat) April 16, 2018
Maybe not for everybody, but I reassess my vision and make sure I'm still as passionate about it or if it needs adjustment. Then track down the pyramid to adjust everything down to tasks, pick a couple easy ones and go nail them! Motivation returns. #GoalChat

— Tom Reid (@_TomGReid) April 16, 2018
– Stop,breathe,regroup. You will save more time that way than beating your way through it. #goalchat

— Dan MacDougall (@Dan_MacDougallx) April 16, 2018
This is a great place for this. #goalchat

— April (@aprilemaye) April 16, 2018
Step away from it all to clear my mind. It's amazing what a short walk can do for me.

— April (@aprilemaye) April 16, 2018
What are you folks reading, listening to these days? Need a jolt!

— Bryan Houston (@bryanhouston) April 16, 2018
I am reading KNOWN by @markwschaefer He is awesome! #GoalChat

— ⭐ #GoalChat ⭐ (@GoalChat) April 16, 2018
Just throwing this out there, but I've got an excerpt from the Sustained Leadership book on goals that I'm happy to share with anyone who is interested. Just DM me a good email and I'll shoot it out to you. #GoalChat

— Tom Reid (@_TomGReid) April 16, 2018
Next Week
Thanks for another awesome #GoalChat!. See you here next Sunday at 7pm PT/10pm ET. Please tweet topic suggestions to @GoalChat Have a fab week, everyone!

— ⭐ #GoalChat ⭐ (@GoalChat) April 16, 2018
Remember, you can join the @WriteOnOnline community on Facebook – Page https://t.co/BKv5f2Aw0h and group – https://t.co/D38rtwcgnM and tweet to @GoalChat for support throughout the week #goalchat

— ⭐ #GoalChat ⭐ (@GoalChat) April 16, 2018
Sunday's #GoalChat topic: Passion Projects. Join us on 4/22 at 7pm PT/10pm ET @WriteOnOnline

— ⭐ #GoalChat ⭐ (@GoalChat) April 19, 2018
Tags:
#GoalChat
Entrepreneurship
Goals
Realistic Goals
Write On! Online
Writing