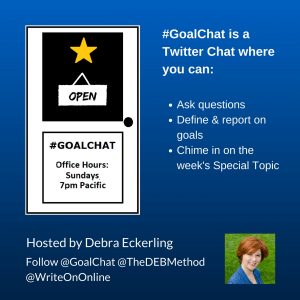 Thanks to everyone who joined us for the 6/3 #GoalChat, where we talked about our June Goals, as well as our weekly goals and wins.
#GoalChat takes place Sundays at 7pm Pacific/10pm Eastern to set goals, ask questions, and get support. Feel free to tweet to @GoalChat throughout the week.
And join us on June 10 for #GoalChat at 7pm Pt/10pm ET. Special topic: Career Development. Tweet topic suggestions to @GoalChat.
Below is a recap with tweets from Sunday's chat.
Welcome to #GoalChat. This week's special topic is June Goals @writeononline @TheDEBMethod pic.twitter.com/NWFO3uSEaG

— ⭐ #GoalChat ⭐ (@GoalChat) June 4, 2018
Introductions
Introduce Yourselves: Who are you? Where do you live? What do you do? @WriteOnOnline #GoalChat pic.twitter.com/oJ2V65EHIe

— ⭐ #GoalChat ⭐ (@GoalChat) June 4, 2018
WU: Good evening #GoalChat family. I look forward to our conversation. For those, I don't know, my name is Danny and I'm a Sports Information Director in Forest Grove, Oregon. pic.twitter.com/IB46cNstKX

— Danny Kambel (@DannyKambel) June 4, 2018
I'm Deb. I live in West LA. I'm a goal coach & project catalyst. My website is @TheDEBMethod https://t.co/NzjbO2HOrW. Am the author of "Write On Blogging" & founder of @WriteOnOnline, a website & community for writers, creatives & entrepreneurs. https://t.co/BKv5f2Aw0h #GoalChat

— ⭐ #GoalChat ⭐ (@GoalChat) June 4, 2018
I am Jon from Western NC and I write detective mysteries. #GoalChat

— Jon Duckworth (@Duck_n_Pulpit) June 4, 2018
Hello! My name is Dan and I am an Automation Operations Support Engineer for Intel in Hillsboro Oregon. #goalchat

— Dan MacDougall (@Dan_MacDougallx) June 4, 2018
Checking in from the mountains NW of Denver where I"m still consulting on government contracting, writing about leadership, and enjoying my wild neighbors. #GoalChat

— Tom Reid (@_TomGReid) June 4, 2018
Good evening, Jim from North Carolina #GoalChat pic.twitter.com/QzFPDOQmHp

— Jim Fuhs of Fuhsion Marketing #SoMe trainer (@FuhsionMktg) June 4, 2018
Jeremy in Connecticut. My day job is currently in communications for an education agency, but my position will end as of June 30. So my goals for this month are particularly relevant. #GoalChat

— Jeremy Bond (@JeremyDBond) June 4, 2018
I'm Romy from the UK and I do security for events, sports, exhibits, etc. It's 3am and I may peg out before the end… #GoalChat

— AndromedaTrance (@andromedatrance) June 4, 2018
Hi all, my name is Isobel Ndoro. I stay in South Africa and it is 0410am SAST. I am a Freelance IT Consultant and Project Administrator for Government and Private sector depending on Projects that are available #GoalChat

— Isobel Ndoro (@Isobel_Ndoro) June 4, 2018
Hey everyone! Danielle from Florida, here! I'm a Social Engagement Specialist by day, Secret Adventurer by night. #GoalChat

— Danielle Mamagona 🧜🏼‍♀️ (@PokeyLuWho) June 4, 2018
Biggest Win
Q1. What was your biggest win last week? @WriteOnOnline @TheDEBMethod #GoalChat pic.twitter.com/fnBLRMRn1V

— ⭐ #GoalChat ⭐ (@GoalChat) June 4, 2018
A1. I was on @depict_media Midweek(ish) chat on Facebook live. Had a blast chatting with @SocialJewelsICT and @jencoleICT You can watch the replay here: https://t.co/9EVeM1DVYZ #GoalChat

— ⭐ #GoalChat ⭐ (@GoalChat) June 4, 2018
A1. 10 of 15 plants have green tomatos present. #GoalChat

— Jon Duckworth (@Duck_n_Pulpit) June 4, 2018
A1: I got everything done at work before starting my Sabbatical! #goalchat

— Dan MacDougall (@Dan_MacDougallx) June 4, 2018
A1. Being able to get back into somewhat condition for my upcoming 5k as well as completing my outline for my upcoming #GetSET presentation on 6/12. #GoalChat pic.twitter.com/MnG0eyAuAd

— Danny Kambel (@DannyKambel) June 4, 2018
A1) I got two blogs posted last week, one to a blog I have not updated for a VERY long time. Also got the content for this week's newsletter locked down, and did an interview on the book that will be used in a video podcast this week. . #GoalChat

— Tom Reid (@_TomGReid) June 4, 2018
A1: Celebrating my youngest daughter's 18th birthday! #GoalChat

— Jim Fuhs of Fuhsion Marketing #SoMe trainer (@FuhsionMktg) June 4, 2018
Got some yard work done and setting June goals for blogging #GoalChat

— Jim Fuhs of Fuhsion Marketing #SoMe trainer (@FuhsionMktg) June 4, 2018
A1. Great work by everyone, in regards to their accomplishments. #GoalChat pic.twitter.com/A9jEp7M23u

— Danny Kambel (@DannyKambel) June 4, 2018
A1) I moved my savings account from a bank with crappy interest to one with really great interest now all I have to do is get some savings!
And I was this close 👋🏽 to HM the Queen working at the Derby yesterday – she looked right at me! #GoalChat

— AndromedaTrance (@andromedatrance) June 4, 2018
Okay been tweeting from wrong account.
A1) Another speaking engagement invite to speak at C3 Technology Conference for LA Arch #goalchat

— Sherry Hayes-Peirce (@trainerchick47) June 4, 2018
A1: My biggest win last week was team building with my team at work. We went to an escape room and got out with 14 minutes to spare… we had the best time for the week, best time for the month, 2nd best time for the year, and 2nd best time for all time! So much fun! #GoalChat

— Danielle Mamagona 🧜🏼‍♀️ (@PokeyLuWho) June 4, 2018
Goals for the Week
Q2. What are your goals for this week? @WriteOnOnline @TheDEBMethod #GoalChat pic.twitter.com/tvvBSjIayK

— ⭐ #GoalChat ⭐ (@GoalChat) June 4, 2018
A2. Move forward on my big project. Start videos! #goalchat

— ⭐ #GoalChat ⭐ (@GoalChat) June 4, 2018
A2. Make appetizers for my sister's birthday party Saturday. #GoalChat

— Jon Duckworth (@Duck_n_Pulpit) June 4, 2018
Haven't narrowed it down yet. Something on top of crackers or tortilla chips. #GoalChat

— Jon Duckworth (@Duck_n_Pulpit) June 4, 2018
A2. Adapt to the summer and set up my June Information Interviews. #GoalChat

— Danny Kambel (@DannyKambel) June 4, 2018
A2: To write a blog post this week. #GoalChat

— Jim Fuhs of Fuhsion Marketing #SoMe trainer (@FuhsionMktg) June 4, 2018
Start as many as you can and see which one has wings. #goalchat

— ⭐ #GoalChat ⭐ (@GoalChat) June 4, 2018
A2) I'll be guesting in @BizapaloozaChat tomorrow at noon mountain time to discuss the book and leadership in general with a link to the video podcast. I've got a newsletter coming out this week, and on Thursday I leave for BWI to attend a weekend event in Lancaster PA. #GoalChat

— Tom Reid (@_TomGReid) June 4, 2018
A2: 1)Get ready for camping and 2) Post more content on Twitter and LinkedIn. #GoalChat

— Dan MacDougall (@Dan_MacDougallx) June 4, 2018
A2: Today is my birthday, June the 4th, l am going to revise all my #Goals, definitely try to pray more and try to focus on what I am good at, do peer to peer review, self- assessment and study for Prince 2 exams #GoalChat

— Isobel Ndoro (@Isobel_Ndoro) June 4, 2018
A2: Biggest goal for this week is to get ahead! I'm taking a week off soon and want to make sure everything is ready for while I'm gone. #GoalChat

— Danielle Mamagona 🧜🏼‍♀️ (@PokeyLuWho) June 4, 2018
A2) Complete two PowerPoints for speaking engagement on June 20 at Oahu Faith Formation Conference. #goalchat

— Sherry Hayes-Peirce (@trainerchick47) June 4, 2018
I am looking forward to a visit from my friend from Arizona this weekend and I am avoiding all work in anticipation!

— AndromedaTrance (@andromedatrance) June 4, 2018
Special Topic: June Goals
Ready to talk about June goals? Remember you can also post them on FB on the @WriteOnOnline page: https://t.co/BKv5f2Aw0h and group: https://t.co/D38rtwcgnM #GoalChat

— ⭐ #GoalChat ⭐ (@GoalChat) June 4, 2018
Professional Goals for June
Q3. What are your professional goals for June? @WriteOnOnline @TheDEBMethod #GoalChat pic.twitter.com/IbeWkMyWag

— ⭐ #GoalChat ⭐ (@GoalChat) June 4, 2018
A4. Work on my next book! Get some more goal coaching clients. Book more speaking. @TheDEBMethod @WriteOnOnline #goalchat

— ⭐ #GoalChat ⭐ (@GoalChat) June 4, 2018
A3b. I will be on #BizapaloozaChat on 6/18 and #TwitterSmarter on 6/21 #goalchat

— ⭐ #GoalChat ⭐ (@GoalChat) June 4, 2018
A3. Write, post to blog, edit stories, be a little more active with online writers' groups, be "social". #goalchat

— Jon Duckworth (@Duck_n_Pulpit) June 4, 2018
A3: Redesign of my logo and business website #GoalChat

— Jim Fuhs of Fuhsion Marketing #SoMe trainer (@FuhsionMktg) June 4, 2018
A3) Mostly related to the next stage of my career. Updating my resume, profiles, learning what I can and making connections. In the short term I'll need a new steady source of income after this month. #GoalChat

— Jeremy Bond (@JeremyDBond) June 4, 2018
A3. 3️⃣ goals: #CoSIDA18 at the end of the month; @cscc_edu Sport and Exercise Studies Hall of Fame on 6/14; #GetSET presentation on 6/12 to my peers at @pacificu. #GoalChat

— Danny Kambel (@DannyKambel) June 4, 2018
A3: Write Prince 2 exams and attend Business Management workshops to network #GoalChat

— Isobel Ndoro (@Isobel_Ndoro) June 4, 2018
A3) College reunion (marketing), Sustained Leadership Webinar 6/14, #BizapaloozaChat tomorrow, newsletter this week and another the week of 6/18, Denver Social Media event 6/29 where I will meet a ton of SoMe friends IRL for 1st time. And some administrivia to tend to. #GoalChat

— Tom Reid (@_TomGReid) June 4, 2018
A3: I'm trying REALLY hard to get a Twitter Chat launched this month for the company I work for. I am so excited! I've been trying to do this for a couple years. #GoalChat

— Danielle Mamagona 🧜🏼‍♀️ (@PokeyLuWho) June 4, 2018
I started a "personal interest" chat in February, just for fun. And that's definitely for anyone! #LetsTalkAboutChat is currently on hiatus though while I try to find a better day/time for the chat. #GoalChat

— Danielle Mamagona 🧜🏼‍♀️ (@PokeyLuWho) June 4, 2018
A3) To look into learning new things and do some courses #GoalChat

— AndromedaTrance (@andromedatrance) June 4, 2018
Personal Goals for June
Q4. What are your personal goals for June? @WriteOnOnline @TheDEBMethod #GoalChat pic.twitter.com/HRD8v7SjZm

— ⭐ #GoalChat ⭐ (@GoalChat) June 4, 2018
A4. Add another workout day into my routine. And do more personal writing! And start pitching articles. #goalchat

— ⭐ #GoalChat ⭐ (@GoalChat) June 4, 2018
I have Aikido on Sundays, Hip Hop on Tuesdays, and then I try to walk as much as I can. Need something for Fridays #goalchat

— ⭐ #GoalChat ⭐ (@GoalChat) June 4, 2018
@OldSchoolSkinny Hip Hop Dance workout = Amazing! #goalchat

— ⭐ #GoalChat ⭐ (@GoalChat) June 4, 2018
A4: Gotta get the house cleaned! My whole family is coming for a long weekend. Can't wait! #GoalChat

— Danielle Mamagona 🧜🏼‍♀️ (@PokeyLuWho) June 4, 2018
A4. Take a break; find some stress relief. #GoalChat

— Jon Duckworth (@Duck_n_Pulpit) June 4, 2018
A4) My June goals are two secure some Grant's to fund some initiatives I am working on. #goalchat

— Sherry Hayes-Peirce (@trainerchick47) June 4, 2018
A4: Getting rid of some old files and getting my daughter's clothes sorted prior to her leaving for college #GoalChat

— Jim Fuhs of Fuhsion Marketing #SoMe trainer (@FuhsionMktg) June 4, 2018
A4. Taking the time to read, reflect, rest and relax. In pursuit of those 3️⃣ professional goals, I have "vacation" planned. #GoalChat

— Danny Kambel (@DannyKambel) June 4, 2018
You can say that again. It feels like you just got to make time, when time is available. #Goalchat pic.twitter.com/WAFIcMsqnt

— Angela Hemans (@AngelaHemans) June 4, 2018
A4) At the moment they're kinda interwoven with my professional goals. But there's also the usual kids ending school and starting camp late in the month, so there's also the readjustment of that routine. #GoalChat

— Jeremy Bond (@JeremyDBond) June 4, 2018
To pray more and bond with my son. #GoalChat

— Isobel Ndoro (@Isobel_Ndoro) June 4, 2018
Once I finish some edits. I hope to pitch to several genre magazines. IF I finish the edits. #GoalChat

— Jon Duckworth (@Duck_n_Pulpit) June 4, 2018
A4) My brother, sister-in-law, niece, nephew and a spare are visiting and so I will be trying to see as much of them as I can and fit in with work #GoalChat

— AndromedaTrance (@andromedatrance) June 4, 2018
2018 Goals Progress
Q5. How are you doing on your 2018 goals? @WriteOnOnline @TheDEBMethod #GoalChat pic.twitter.com/Wi5mNJu5hD

— ⭐ #GoalChat ⭐ (@GoalChat) June 4, 2018
A5. My motto – Create Launch Repeat – is going well. Next launch is video series, so exciting. Now I just have to do it! #goalchat

— ⭐ #GoalChat ⭐ (@GoalChat) June 4, 2018
A5. Baby steps. I've made positive strides in some areas. #GoalChat pic.twitter.com/HgPCxmSLXA

— Danny Kambel (@DannyKambel) June 4, 2018
A5: Making good progress, mid year is almost here so good time to measure where I want to be before year ends #GoalChat

— Jim Fuhs of Fuhsion Marketing #SoMe trainer (@FuhsionMktg) June 4, 2018
A6. Falling a bit short of 2018 goals at moment. I am not progressing as much as I had hoped. However, opportunities to meet or even surpass them is very much achievable. #GoalChat

— Jon Duckworth (@Duck_n_Pulpit) June 4, 2018
A5. My goals are not as much as calendar oriented. That's because my job is intense from August to May in higher education. #GoalChat

— Danny Kambel (@DannyKambel) June 4, 2018
A5) So… annual goals are not my strong suit. I don't mean keeping them as much as clearly establishing them. I do always look back and feel best about the years in which I've made substantive change. I just need to set out ahead of time what I want that to be. #GoalChat

— Jeremy Bond (@JeremyDBond) June 4, 2018
A5: I have become a Neurotic Reader, reading Prince 2 has been a challenge but l will stick my goals on my Wardope as a reminder, listen to Podcasts and stick to #GoalChat since it motivates accountability. pic.twitter.com/OIwyoTdj4f

— Isobel Ndoro (@Isobel_Ndoro) June 4, 2018
A5: Not so great 😂🙈🤷🏼‍♀️

The house still needs all the organization and I still haven't been writing—at all. But I want to! #GoalChat

— Danielle Mamagona 🧜🏼‍♀️ (@PokeyLuWho) June 4, 2018
A5) Pretty well and I want to thank each of you for being my accountability partners in getting things across the finish line. #GoalChat

— Tom Reid (@_TomGReid) June 4, 2018
A5) I don't really make plans for the whole year; I see what comes up and make goals to deal with them #GoalChat

— AndromedaTrance (@andromedatrance) June 4, 2018
Q5b. How can we help you achieve your monthly or annual goals! #goalchat

— ⭐ #GoalChat ⭐ (@GoalChat) June 4, 2018
A5b. Invite people to join the chat Would love to grow this amazing community. Thanks! #goalchat

— ⭐ #GoalChat ⭐ (@GoalChat) June 4, 2018
A5b. I just need to be a bit more accountable & focused (even when I'm not in the "mood" or having difficulties with my "muse") #GoalChat

— Jon Duckworth (@Duck_n_Pulpit) June 4, 2018
A5b. Accountability and responsibility. This chat has helped me in this area for such a short period of time. #GoalChat

— Danny Kambel (@DannyKambel) June 4, 2018
A5b) Same. And breaking down into smaller goals that make progress toward my ultimate goal. #GoalChat

— Jeremy Bond (@JeremyDBond) June 4, 2018
I help where i can here, But if you need one-on-one coaching check out @TheDEBMethod https://t.co/NzjbO2qdAo #goalchat

— ⭐ #GoalChat ⭐ (@GoalChat) June 4, 2018
A5b. Hello everyone, I just returned🏠from a "Beach Week" vaca. Sorry I missed another #GoalChat, but I thought I wld weigh in b4 the last ?. I cld use a chat from a HR specialist in #SportsBiz (or anyone else, such as @DannyKambel now that I'm back in town for the month of June.

— Kevin Wilson (@KWilson805) June 4, 2018
#GoalChat https://t.co/wCkxqSeFJT

— Danny Kambel (@DannyKambel) June 4, 2018
Next Week
Btw, the next #GoalChat will be on 6/10. Topic is Career Development. Tweet suggestions for future topics to @GoalChat

— ⭐ #GoalChat ⭐ (@GoalChat) June 4, 2018
You all totally rock! Thanks for another amazing #GoalChat

— ⭐ #GoalChat ⭐ (@GoalChat) June 4, 2018
Continue the conversation! Please connect with @WriteOnOnline on the Facebook page: https://t.co/tfJqJJxJW3 and group: https://t.co/D0VhQ2Dlop. And check out @TheDEBMethod https://t.co/NzjbO2HOrW https://t.co/Z1ukMAkCgL #GoalChat

— ⭐ #GoalChat ⭐ (@GoalChat) June 4, 2018
Tags:
#GoalChat
Goals
June Goals