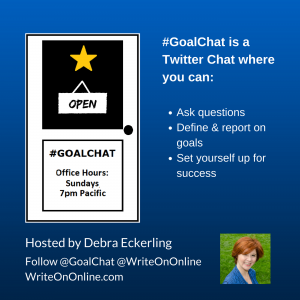 Thanks to everyone who joined us for the 1/21 #GoalChat. Join us every Sunday at 7pm Pacific/10pm Eastern to set goals, ask questions, and get support. Feel free to tweet to @GoalChat throughout the week.
This week's special topic: Mission Statements and  Mottos. Before you set goals, it's helpful to have an idea of your mission statement, since all of your goals in some way, shape, or form should serve your mission. Take your mission statement and pare it down to a simple motto to keep in mind at all times.
Below is a recap with some of the tweets from this week's chat.
Welcome to #GoalChat! Office hours have started! pic.twitter.com/RfyTTb9iaZ

— ⭐ #GoalChat ⭐ (@GoalChat) January 22, 2018
Welcome to #GoalChat Introduce yourselves Who are you? Where are you from? What do you do? @WriteOnOnline pic.twitter.com/qbM5HHnMDK

— ⭐ #GoalChat ⭐ (@GoalChat) January 22, 2018
Hello everyone #goalchat

— Cheval John (@chevd80) January 22, 2018
Hello everyone #goalchat

— Cheval John (@chevd80) January 22, 2018
Hi @chevd80 and everyone else. I look forward to this conversation tonight about mission statements and mottos. #GoalChat

— Danny Kambel (@DannyKambel) January 22, 2018
Did everyone see my goal-setting live stream on Friday? https://t.co/tN0gXnfqzM #goalchat

— ⭐ #GoalChat ⭐ (@GoalChat) January 22, 2018
Welcome to #GoalChat Introduce yourselves Who are you? Where are you from? What do you do? @WriteOnOnline pic.twitter.com/qbM5HHnMDK

— ⭐ #GoalChat ⭐ (@GoalChat) January 22, 2018
My name is Danny; I am from Eldridge, Iowa (but I live in Oregon). I work as a Sports Information Director. #GoalChat

— Danny Kambel (@DannyKambel) January 22, 2018
I am tweeting fro the mountains outside of Loveland Colorado tonight where we got 9 inches of snow today. I help the government and its contractors do business together. #goalchat

— Tom Reid (@_TomGReid) January 22, 2018
Hello Everyone! Excited to be here, I'm from Northern VA, I work as a Investigative Analyst during the day and as a #SportsBiz & industry biz developer at night. #GoalChat.

— Kevin Wilson (@KWilson805) January 22, 2018
Cheval John, founder and ceo of #vallanomedia, a marketing agency which helps small to mid sized businesses navigate social media to build a loyal audience. Tweeting from houston texas #goalchat

— Cheval John (@chevd80) January 22, 2018
Q1. What was your biggest win last week? pic.twitter.com/BSbDs15kFp

— ⭐ #GoalChat ⭐ (@GoalChat) January 22, 2018
A1. My win was keeping a positive attitude despite the trials I am facing #GoalChat

— Cheval John (@chevd80) January 22, 2018
A1. My biggest win for this week was the integration of in-event graphics (@BoxersGameDay) to highlight the performances of our swimming and track&field teams. #GoBoxers #GoalChat

— Danny Kambel (@DannyKambel) January 22, 2018
My biggest win last week was to renew a contract with a client! #goalchat

— Sherry Hayes-Peirce (@trainerchick47) January 22, 2018
Biggest win: being selected to volunteer at #SMMW18. So excited! Thanks @Goalchat for the rec! & Yes, I saw your goal-setting Live #goalchat

— Rita Johnson (@msritajohnson) January 22, 2018
A1) Finally got everything lined up last week to get the launch of the newsletter completed. #goalchat

— Tom Reid (@_TomGReid) January 22, 2018
Q2. What are your goals for the week? #GoalChat pic.twitter.com/IEyW93wQmQ

— ⭐ #GoalChat ⭐ (@GoalChat) January 22, 2018
A2. My goals for this week is to continue the training and development of my student assistants. #GoalChat

— Danny Kambel (@DannyKambel) January 22, 2018
Goals: complete a 5-Day Challenge re my next launch; work on revamped version of website; start outlining a course. #goalchat

— Rita Johnson (@msritajohnson) January 22, 2018
A2) I have a couple client deliverable and proposal responses due this week. #goalchat

— Tom Reid (@_TomGReid) January 22, 2018
A2. My goals for this week is to land three clients and make revenue for business #goalchat

— Cheval John (@chevd80) January 22, 2018
A2. My goals for the week are: Telephone &/or in-person contact with (10) contacts this week. Also, to decide on whether to apply for zero, one, or both #Sportsindustry related professional programs. #GoalChat.

— Kevin Wilson (@KWilson805) January 22, 2018
Secure a speaking engagement this week! #goalchat

— Sherry Hayes-Peirce (@trainerchick47) January 22, 2018
We're going to start talking about mission statements and mottos. Ready? #goalchat

— ⭐ #GoalChat ⭐ (@GoalChat) January 22, 2018
Ready! #goalchat

— Rita Johnson (@msritajohnson) January 22, 2018
I am ready. #GoalChat

— Danny Kambel (@DannyKambel) January 22, 2018
Q3. What unique characteristics describe you? pic.twitter.com/7Xx9y1pc88

— ⭐ #GoalChat ⭐ (@GoalChat) January 22, 2018
A3. Those around me know my acronym – SET – strategic * engaged * teamwork. Plus, I am accountable and responsible. #GoalChat

— Danny Kambel (@DannyKambel) January 22, 2018
Resourceful; attentive; inventive; determined #goalchat

— Rita Johnson (@msritajohnson) January 22, 2018
A3. My characteristics are I'm a Relator, Positive, an Includer, Creative, who has strong perseverance. #GoalChat.

— Kevin Wilson (@KWilson805) January 22, 2018
Q4. What do you want to achieve? pic.twitter.com/99duqw651c

— ⭐ #GoalChat ⭐ (@GoalChat) January 22, 2018
A4. I want to achieve net profitably in seven figures the right way this year while enjoying and continue to be consistent in work ethic and treating people right #goalchat

— Cheval John (@chevd80) January 22, 2018
Who You Are + What You Want = Your Mission Statement #goalchat

— ⭐ #GoalChat ⭐ (@GoalChat) January 22, 2018
All of your goals should relate to your mission statement, so you are constantly moving forward toward achieving them. #goalchat

— ⭐ #GoalChat ⭐ (@GoalChat) January 22, 2018
A4) After a lengthy career in government contracting, I want to travel the world teaching leadership based on my recently released book. #goalchat

— Tom Reid (@_TomGReid) January 22, 2018
A4. I want to achieve full-time employment in the #SportsBiz in 2018. I would like/prefer to reach a mid-level position which I feel equates to my educational and professional experience. #GoalChat.

— Kevin Wilson (@KWilson805) January 22, 2018
Q5. What is Your Mission Statement? #goalchat

— ⭐ #GoalChat ⭐ (@GoalChat) January 22, 2018
A5. To be SET in accomplishments towards a pursuit of personal as well as professional endeavors is my mission statement. #GoalChat

— Danny Kambel (@DannyKambel) January 22, 2018
A5) Improving the world one leader at a time. #goalchat

— Tom Reid (@_TomGReid) January 22, 2018
My company helps my customers to develop social media strategy for using social media to inform, inspire and engage their customer #goalchat

— Sherry Hayes-Peirce (@trainerchick47) January 22, 2018
To support fiscal sustainability for non-profits in the mental health and addiction recovery arena. #goalchat

— Rita Johnson (@msritajohnson) January 22, 2018
A5. To build a strong community using social media and connect like minded people who will benefit from working with each other and show people that you can succeed in business the right way through hard and consistent work #GoalChat

— Cheval John (@chevd80) January 22, 2018
A5. To serve all those who want to enhance the world through #Sports and the #SportsBiz. I hope through my service I will create a organization that enhances lives through sport. #GoalChat.🙏

— Kevin Wilson (@KWilson805) January 22, 2018
My @WriteOnOnline Mission: Bring community to writers, creatives & entrepreneurs #goalchat

— ⭐ #GoalChat ⭐ (@GoalChat) January 22, 2018
My @GoalChat Mission: Help individuals and businesses plan, set & achieve their goals #goalchat

— ⭐ #GoalChat ⭐ (@GoalChat) January 22, 2018
Next: Shorten Your Mission Statement into a 3 to 5 Word Motto #goalchat

— ⭐ #GoalChat ⭐ (@GoalChat) January 22, 2018
Something short and sweet as a reminder of what you want to accomplish is super-helpful. It's like having a theme song or image. #goalchat

— ⭐ #GoalChat ⭐ (@GoalChat) January 22, 2018
SET – strategic; engaged; teamwork. #GoalChat

— Danny Kambel (@DannyKambel) January 22, 2018
Shortened mission: Fiscal sustainability for non-profits. #goalchat

— Rita Johnson (@msritajohnson) January 22, 2018
A6. My personal mission for 2018 is Create. Launch. Repeat. #goalchat

— ⭐ #GoalChat ⭐ (@GoalChat) January 22, 2018
My personal mission for 2018 is: Create. Inspire. Give back. #goalchat

— Rita Johnson (@msritajohnson) January 22, 2018
A6. Continue to grow personally, professionally and spiritually #GoalChat

— Cheval John (@chevd80) January 22, 2018
What do you do to stay focused and keep your eye on the prize? #goalchat

— ⭐ #GoalChat ⭐ (@GoalChat) January 22, 2018
I keep the bigger picture in mind, constantly plug into mentors & others who inspire me, & know this is a long game. #goalchat

— Rita Johnson (@msritajohnson) January 22, 2018
Every morning I pray and meditate, make lists of prospects and participate in networking digitally and physically! #goalchat

— Sherry Hayes-Peirce (@trainerchick47) January 22, 2018
Accountability to myself – first; then to the people that I work with and work for. After establishing the accountability, then I strive to demonstrate the same level of responsibility to myself. The combination of accountability and responsibility are 🔑integral. #GoalChat

— Danny Kambel (@DannyKambel) January 22, 2018
With a limit on characters, I failed to include the responsibility to those that I work with and work for. That is an important part of the equation. #GoalChat

— Danny Kambel (@DannyKambel) January 22, 2018
@GoalChat A6. #40SpeakingEngagements, 3 blogs a week, 3 more clients #goalchat

— Sherry Hayes-Peirce (@trainerchick47) January 22, 2018
I live by lists and appointments. If it's not written down, it doesn't get done! #goalchat

— ⭐ #GoalChat ⭐ (@GoalChat) January 22, 2018
Any questions for me? #GoalChat pic.twitter.com/RPuRxuMsnZ

— ⭐ #GoalChat ⭐ (@GoalChat) January 22, 2018
Debra what's your writing process? #goalchat

— Sherry Hayes-Peirce (@trainerchick47) January 22, 2018
I have an appointment with myself for every day at 4pm to work on my stuff, whether it's writing or something else #goalchat

— ⭐ #GoalChat ⭐ (@GoalChat) January 22, 2018
If I don't set aside time, it does not get done. #goalchat

— ⭐ #GoalChat ⭐ (@GoalChat) January 22, 2018
Debra so you write every day? #goalchat

— Sherry Hayes-Peirce (@trainerchick47) January 22, 2018
Nope. I think every day is a stretch. I aim for 4 – 5 of each 7 #goalchat

— ⭐ #GoalChat ⭐ (@GoalChat) January 22, 2018
Unless I have a deadline, Those I do work on daily #goalchat

— ⭐ #GoalChat ⭐ (@GoalChat) January 22, 2018
The thing with goals is … it's a balance. You need to move forward while keeping the rest of your life – and commitments – in check. #GoalChat

— ⭐ #GoalChat ⭐ (@GoalChat) January 22, 2018
So TRUE, that's the trick of this. I like your advice for setting deadline(s) & using visuals. I'm more of a buddy-buddy system, but whatever works for people to set & reach their goals. That's why I'm a fan of #GetSET & #GoalChat.

— Kevin Wilson (@KWilson805) January 22, 2018
Debra thanks for the clarification. I have three verticals so I write for each one on a specific day of the week so I write 3 days #goalchat

— Sherry Hayes-Peirce (@trainerchick47) January 22, 2018
That's great. The process that works for you is the best one! #goalchat

— ⭐ #GoalChat ⭐ (@GoalChat) January 22, 2018
More about my 5 of 7 rule is here: https://t.co/U86opQuyxZ #goalchat

— ⭐ #GoalChat ⭐ (@GoalChat) January 22, 2018
I have often struggled with balance professionally and workaholic tendencies. Making a concerted effort to shift. #goalchat

— Rita Johnson (@msritajohnson) January 22, 2018
Make appointments for personal time, too! That may help! #goalchat

— ⭐ #GoalChat ⭐ (@GoalChat) January 22, 2018
@Goalchat – What do you think about vision boards and other visual representations of goals? What's your favorite method? #goalchat

— Rita Johnson (@msritajohnson) January 22, 2018
@msritajohnson Visual representations are great. For example, if you want to be on a top 20 list, take the current list and put your name and face at the top. #GoalChat

— ⭐ #GoalChat ⭐ (@GoalChat) January 22, 2018
You should also post your main goals everywhere and look at them often. Keep your eye on the prize #goalchat

— ⭐ #GoalChat ⭐ (@GoalChat) January 22, 2018
Thanks. What's your best advice for those of us striving towards full-time entrepreneur ship? #goalchat

— Rita Johnson (@msritajohnson) January 22, 2018
Keep going. Work on your projects every day, network every day, keep building and don't give up! #goalchat

— ⭐ #GoalChat ⭐ (@GoalChat) January 22, 2018
@msritajohnson have an escape plan! I went to the SBDC to get a loan to finance my new business and that has allowed me to do it! #goalchat

— Sherry Hayes-Peirce (@trainerchick47) January 22, 2018
Getting a coach seems to be the rage what are the pros and cons? #goalchat

— Sherry Hayes-Peirce (@trainerchick47) January 22, 2018
@trainerchick47 As a coach/project catalyst – I help people who can't quite get it together on their own. Sometimes you need extra support beyond online resources. #GoalChat

— ⭐ #GoalChat ⭐ (@GoalChat) January 22, 2018
My FB page and group do that too. https://t.co/BKv5f2S7oR @msritajohnson @trainerchick47 #goalchat

— ⭐ #GoalChat ⭐ (@GoalChat) January 22, 2018
I'll be starting online coaching groups in March. Stay tuned! #goalchat

— ⭐ #GoalChat ⭐ (@GoalChat) January 22, 2018
Any requests for next week's special topic? #goalchat

— ⭐ #GoalChat ⭐ (@GoalChat) January 22, 2018
Motivation #goalchat

— Rita Johnson (@msritajohnson) January 22, 2018
Done. Motivation is next week's topic! Thanks! #goalchat

— ⭐ #GoalChat ⭐ (@GoalChat) January 22, 2018
Thanks for the great chat tonight, everyone. Hope to see you next week. #goalchat

— ⭐ #GoalChat ⭐ (@GoalChat) January 22, 2018
In the meantime, please connect with @WriteOnOnline on Facebook: https://t.co/tfJqJJg94v https://t.co/D0VhQ2lKwR #goalchat

— ⭐ #GoalChat ⭐ (@GoalChat) January 22, 2018
Thank YOU @Goalchat. This was great. I liked the mission work & connecting with others. #goalchat

— Rita Johnson (@msritajohnson) January 22, 2018
Join us for #GoalChat next Sunday, 1/28. Special topic = Motivation @WriteOnOnline pic.twitter.com/ZOsceCrLNV

— ⭐ #GoalChat ⭐ (@GoalChat) January 22, 2018
Tags:
#GoalChat
Goals
Mission Statement
Write On! Online