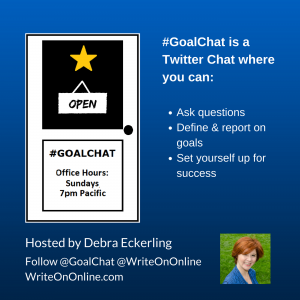 Thanks to everyone who joined us for the 2/5 #GoalChat on a special night. This week's special topic: Teamwork. What makes a good – and not so good – teammate? How do you manage and be part of a team?
Join us next week and every Sunday at our regular time: 7pm Pacific/10pm Eastern to set goals, ask questions, and get support. Next week's special topic is How to Focus and Avoid Distractions – suggested by Cheval John (@chevd80). Feel free to tweet to @GoalChat throughout the week.
Below is a recap with some of the tweets from tonight's chat.
Hi Everyone! Welcome to #GoalChat. This week's special topic is teamwork. Thanks @HRcupofcoffee for the topic recommendation. @writeononline

— ⭐ #GoalChat ⭐ (@GoalChat) February 6, 2018
Introduce Yourselves: Who are you? Where do you live? What do you do? @WriteOnOnline #GoalChat pic.twitter.com/UBkYVEDFS3

— ⭐ #GoalChat ⭐ (@GoalChat) February 6, 2018
Hello all! I'm in South Louisiana. It's the age old question, "Do you better on a team or alone?" #Goalchat

— Lainey B. Wellbrock (@HRcupofcoffee) February 6, 2018
I am currently working in the Insurance industry. I'm hoping to get into human resources this yr. I love everything HR, networking, learning & development. #GoalChat

— Lainey B. Wellbrock (@HRcupofcoffee) February 6, 2018
I'm Tony, live in NYC and I'm interviewing and working on creating my own content. #GoalChat pic.twitter.com/E1pf6wJR6Y

— Tony Overthinking Procrastinator (@SirKingofGifs) February 6, 2018
Tom in Colorado where I write, teach, and consult on government contracting and leadership. #GoalChat

— Tom Reid (@_TomGReid) February 6, 2018
We should talk about the great need for leadership development and the fact that so much of it is done so poorly these days. Important HR topic. #GoalChat

— Tom Reid (@_TomGReid) February 6, 2018
For those of you, I have not connected with before, let me introduce myself. My name is Danny; I am the Sports Information Director at Pacific University; I live in suburban Portland, Oregon. #GoalChat

— Danny Kambel (@DannyKambel) February 6, 2018
Q1. What was your biggest win last week? @WriteOnOnline #GoalChat pic.twitter.com/Y2LrCtZ5ef

— ⭐ #GoalChat ⭐ (@GoalChat) February 6, 2018
A1. I was sent questions for an interview. I really need to do more promo, so very excited. #GoalChat

— ⭐ #GoalChat ⭐ (@GoalChat) February 6, 2018
Good evening everyone! I just wanted to say thanks to everyone for their encouragement with my biggest win on my #GetSET and Sports Information 101 presentation to the PR students at Southeast Missouri State. #GoalChat

— Danny Kambel (@DannyKambel) February 6, 2018
Recorded a podcast, wrote a new article piece and finished reading a book. #GoalChat

— Tony Overthinking Procrastinator (@SirKingofGifs) February 6, 2018
A1: My biggest win last week was creating an effective marketing strategy at work. #GoalChat pic.twitter.com/Anv1zWxVD2

— Alexis Smith (@Alexified) February 6, 2018
#GoalChat My biggest win last week was getting 6300+ views on one of my LinkedIn posts which led to some meaningful connections. https://t.co/AR2FrO5l1x

— Lainey B. Wellbrock (@HRcupofcoffee) February 6, 2018
Yes that is awesome indeed. Can you share a link so I can be number 6301? #GoalChat

— AJ Borowsky (@AskWhatNext) February 6, 2018
#GoalChat Here is a link to my profile, from there please let me know if you have trouble finding my posts. https://t.co/wiiFPSe6tw

— Lainey B. Wellbrock (@HRcupofcoffee) February 6, 2018
A1) I had to deal with several people's failure to perform last week, crunching the schedule for this week. The success was that we got the work done despite them. This week the goal is to fire the non-performers. #GoalChat

— Tom Reid (@_TomGReid) February 6, 2018
A1 My biggest win was making the official announcement of my new website for my coaching service. #GoalChat

— AJ Borowsky (@AskWhatNext) February 6, 2018
Thank you. https://t.co/MCJSJFbAOn – would welcome any thoughts and ideas. #GoalChat

— AJ Borowsky (@AskWhatNext) February 6, 2018
Q2. What are your goals for this week? @WriteOnOnline #GoalChat pic.twitter.com/vjga30JxM6

— ⭐ #GoalChat ⭐ (@GoalChat) February 6, 2018
A2. Busy week. Meet deadlines, attend at least one Twitter chat a week – #TwitterSmarter last week, #ImpactMatters this week – and keep moving forward on my side projects. #GoalChat

— ⭐ #GoalChat ⭐ (@GoalChat) February 6, 2018
A2. I am in the process of training some new students to help enhance a manual for them to be more successful in their contributions to our office. #GetSET #GoalChat

— Danny Kambel (@DannyKambel) February 6, 2018
A2 My goal for this week is to announce and start signing ppl up for my webinar. #GoalChat

— AJ Borowsky (@AskWhatNext) February 6, 2018
#GoalChat My goal for this week is to read more on the art of creating dialogue with my posts. I was able to do it with one post by tagging people but I don't want to have to tag others for views. I want my work to inspire so that people will gravitate to it.

— Lainey B. Wellbrock (@HRcupofcoffee) February 6, 2018
A2: Make some significant movement toward my overall job goals, keep up with my mom (she's been ill), destress, and appreciate friends. #GoalChat

— Alexis Smith (@Alexified) February 6, 2018
Goals this week: 1. Fire the non-performers
2. Replace the non-performers
3. Prepare the material for next week's newsletter.
4. Complete a blog post
5. Attend a photoshop class
6. Develop newsletter announcements re: free Leadership webinars starting in April. #GoalChat

— Tom Reid (@_TomGReid) February 6, 2018
I do Toot Your Horn Thursday every week in my FB group, if you want to join in https://t.co/D38rtwcgnM @HRcupofcoffee @_TomGReid #goalchat

— ⭐ #GoalChat ⭐ (@GoalChat) February 6, 2018
A2: To finish some editing on my videos and do uploads 💖💖💖 #goalchat

— Shiloh Morrison (@ShilohfrmAlaska) February 6, 2018
To meet your deadlines, establish accountability and responsibility. I have learned that for myself to be successful that is necessary. #GoalChat

— Danny Kambel (@DannyKambel) February 6, 2018
Q3. Do you work solo, as part of a team, or both? #GoalChat pic.twitter.com/n2TXX2zThg

— ⭐ #GoalChat ⭐ (@GoalChat) February 6, 2018
A3. Mostly solo: coaching and content. However, I have a few clients where I am members of their team. It's a nice mix! #GoalChat

— ⭐ #GoalChat ⭐ (@GoalChat) February 6, 2018
A3. I work as a team. I have a great team of students, who support me in my roles and responsibilities. As a team, we strive to integrate the concept of T(ogether) E(veryone) A(chieves)M(ore). #GoalChat

— Danny Kambel (@DannyKambel) February 6, 2018
A3) I run my own business solo; I have a team of people (1099's) helping to promote the new book and the related training sessions; and I serve as president of a non-profit certifying body. So I span all three. #GoalChat

— Tom Reid (@_TomGReid) February 6, 2018
A3: I'm a part of the Sales & Marketing team… as the only marketer lol. So, I'm typically solo. But I'm an introvert so I love it! #GoalChat

— Alexis Smith (@Alexified) February 6, 2018
#GoalChat A3. Because I am an assistant CSR, majority of my time is working as a team discussing what's happening with our clients.

— Lainey B. Wellbrock (@HRcupofcoffee) February 6, 2018
A3 Both. My day job is part of a team but my side business (soon to be only business) I work alone. #GoalChat

— AJ Borowsky (@AskWhatNext) February 6, 2018
I love having that balance, don't you? RT @AskWhatNext A3 Both. My day job is part of a team but my side business (soon to be only business) I work alone. #GoalChat

— ⭐ #GoalChat ⭐ (@GoalChat) February 6, 2018
Yes. I like the freedom of working alone but I like the feedback from a team. #GoalChat

— AJ Borowsky (@AskWhatNext) February 6, 2018
Q4. What attributes do you look for in a teammate? #GoalChat pic.twitter.com/gytYOV9ajM

— ⭐ #GoalChat ⭐ (@GoalChat) February 6, 2018
A4. Smart, reliable, enthusiastic. #goalchat

— ⭐ #GoalChat ⭐ (@GoalChat) February 6, 2018
Communication is definitely key! Without it, you have a mess! #goalchat

— ⭐ #GoalChat ⭐ (@GoalChat) February 6, 2018
#GoalChat A4. I look for teammates who are flexible, willing to both teach and learn, open to discussion, etc. We all have value to offer.

— Lainey B. Wellbrock (@HRcupofcoffee) February 6, 2018
A4 Curious and not afraid to challenge me. I enjoy debate. #GoalChat

— AJ Borowsky (@AskWhatNext) February 6, 2018
A4) Character, competence, compassion, communication, and commitment – especially to the vision of the respective organization. #GoalChat

— Tom Reid (@_TomGReid) February 6, 2018
A4: A good teammate is one that you can bounce ideas off of. Constructive criticism, listening, encouragement, their own good ideas. #GoalChat

— Alexis Smith (@Alexified) February 6, 2018
#GoalChat Working with a team allows me to see different perspectives. Working alone allows me to digest it all at a slower pace. I like the balance as well.

— Lainey B. Wellbrock (@HRcupofcoffee) February 6, 2018
For those without a team, please join my Facebook group for encouragement and feedback https://t.co/D38rtvUFwe #goalchat

— ⭐ #GoalChat ⭐ (@GoalChat) February 6, 2018
A4. SERVANT (Selfless, Empathetic, Resolute, Virtuous, Authentic, Needful and Thorough). They know that they have a role in the success of the team. #GoalChat

— Danny Kambel (@DannyKambel) February 6, 2018
Q4b. What attributes do you avoid in a teammate? Have you ever had to leave a gig because you were put in a bad situation? #goalchat

— ⭐ #GoalChat ⭐ (@GoalChat) February 6, 2018
A4b I'm in a situation now where my teammate works harder to avoid work than actually doing his job. It's frustrating and leading me to leave. #GoalChat

— AJ Borowsky (@AskWhatNext) February 6, 2018
Yes there is a benefit there. I say you need just the right amount of laziness to make you efficient 😀#GoalChat

— AJ Borowsky (@AskWhatNext) February 6, 2018
Sometimes a new start and a new team is what you need! #GoalChat

— Lainey B. Wellbrock (@HRcupofcoffee) February 6, 2018
A4b. They speak by saying "me"/"I" instead of "we." #GoalChat

— Danny Kambel (@DannyKambel) February 6, 2018
Definitely don't like to argue but debate can be healthy and helps me see things from a perspective I wouldn't have otherwise. #GoalChat

— AJ Borowsky (@AskWhatNext) February 6, 2018
It takes some talent and practice (not to mention patience) to learn how to handle constructive conflict well. It is a good source of learning. Seems like you are approaching it with the right view. #GoalChat

— Tom Reid (@_TomGReid) February 6, 2018
#GoalChat That is a disaster to a team. It sucks the motivation out of other members. Makes people want to work alone bc you start to distrust others. I had issues with that in school. After, I had to retrain my brain bc I found myself wanting to work alone.

— Lainey B. Wellbrock (@HRcupofcoffee) February 6, 2018
Yes. I don't like what this has made me become. I no longer have motivation which is one reason I'm leaving. #GoalChat

— AJ Borowsky (@AskWhatNext) February 6, 2018
#GoalChat A4B. Working with members who are doing less than their fair share or who ridicule others for trying.

— Lainey B. Wellbrock (@HRcupofcoffee) February 6, 2018
Q5. What recommendations do you have for managing or being part of a team? #GoalChat pic.twitter.com/7P56GkMigy

— ⭐ #GoalChat ⭐ (@GoalChat) February 6, 2018
A5. Figure out your goals and make sure everyone is clear on t heir role and deadlines. Also make sure there is no tension between teammates, so their is a healthy environment. That's helps tremendously with productivity! #GoalChat

— ⭐ #GoalChat ⭐ (@GoalChat) February 6, 2018
A5. Be open! I have found that I have been most creative when I have worked with a good team because someone else sees & experiences the world different than me and that's a positive thing! #GoalChat

— Lainey B. Wellbrock (@HRcupofcoffee) February 6, 2018
A5. Be accountable and responsible as a leader and as a follower. #GoalChat pic.twitter.com/L24Y3dVHgD

— Danny Kambel (@DannyKambel) February 6, 2018
A5) That is a very large question. In simplest terms, I suppose, is to develop your own leadership capabilities to your fullest extent and help the rest of your team do the same so that each of is a better "you/them" today than "you/they" were yesterday. #GoalChat

— Tom Reid (@_TomGReid) February 6, 2018
A5: Know the strengths (and weaknesses) of each teammate and delegate accordingly. Not all teams work the same. #GoalChat

— Alexis Smith (@Alexified) February 6, 2018
A5 Know when to lead, when to follow, and when to get out of the way. Our roles are more fluid than most realize. #GoalChat

— AJ Borowsky (@AskWhatNext) February 6, 2018
A5: Always be willing to help but also know your limits and time constraint. It's good to be eager but not overwhelmed #goalchat

— Shiloh Morrison (@ShilohfrmAlaska) February 6, 2018
Q5b If you were putting together a team, what's the first thing you would do? #goalchat

— ⭐ #GoalChat ⭐ (@GoalChat) February 6, 2018
A5b: You gotta assess the goals of the team & who (roles) you need to accomplish them. #GoalChat

— Alexis Smith (@Alexified) February 6, 2018
A5b. Know your goal, first. Then, identify top people for the team and a plan to get buy-in from those who may be less than interested. There will always be people who don't want to participate but as I said, everyone can bring value. #GoalChat

— Lainey B. Wellbrock (@HRcupofcoffee) February 6, 2018
A5B) Hire for character. You can train most people to do most tasks, but they bring their character with them. . #GoalChat

— Tom Reid (@_TomGReid) February 6, 2018
John Maxwell has a book called "There is no Such thing as Business Ethics" which is based on the believe that we are 24 hour people and whatever ethics we have away from work we also bring to the job. Exactly as you are saying. You might enjoy that book. #GoalChat

— Tom Reid (@_TomGReid) February 6, 2018
Thanks everyone for a fab #GoalChat. Join us again on Sunday at 7pm PT/10pm ET. Please connect with @WriteOnOnline on Facebook: https://t.co/tfJqJJxJW3 and https://t.co/D0VhQ2Dlop and tweet to @GoalChat through the week. @WriteOnOnline

— ⭐ #GoalChat ⭐ (@GoalChat) February 6, 2018
Tags:
#GoalChat
Goals
Teamwork
Write On! Online