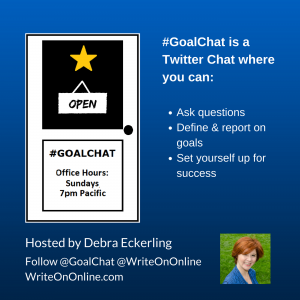 Thanks to everyone who joined us for the 2/18 #GoalChat on dealing with rejection. We had a spirited conversation on a very sensitive topic. I so appreciate everyone's input.
Join us Sundays at  7pm Pacific/10pm Eastern to set goals, ask questions, and get support. Next week, we will have an informal #GoalChat. I'll be in San Diego pre-Social Media Marekting World, and tied up in meetings, but I will check in on everyone's goals around 8pm PT or so. Feel free to tweet to @GoalChat throughout the week.
And join us on March 4 for #GoalChat at 7pm Pt/10pm ET. Taking topic suggestions. Thanks!
Below is a recap with some of the tweets from last night's chat.
Welcome to #GoalChat. This week's special topic is Dealing with Rejection – Thanks @@sittingpretty61 for the suggestion. @writeononline pic.twitter.com/A6Elw1clvk

— ⭐ #GoalChat ⭐ (@GoalChat) February 19, 2018
Introduce Yourselves: Who are you? Where do you live? What do you do? @WriteOnOnline #GoalChat

— ⭐ #GoalChat ⭐ (@GoalChat) February 19, 2018
I'm Deb. I live in West LA. I help people set, plan, and achieve their goals. I do coaching and group workshops. Am the author of "Write On Blogging" and founder of @WriteOnOnline, a website and community for writers, creatives & entrepreneurs. https://t.co/BKv5f2Aw0h #goalchat

— ⭐ #GoalChat ⭐ (@GoalChat) February 19, 2018
Hi Everyone! #GoalChat I'm Lainey in South Louisiana. https://t.co/GxD1rDxfiK

— Lainey B. Wellbrock (@HRcupofcoffee) February 19, 2018
Currently in Customer Service but my goal is to launch a career in #HR. I love people development & organizational development. #GoalChat

— Lainey B. Wellbrock (@HRcupofcoffee) February 19, 2018
Good evening, I hope everyone had a great weekend! I am here to get myself right for the week with #GoalChat I am Dorrie, I am tweeting from Pa! pic.twitter.com/ptDkTIlYSj

— Dr. Dorrie Cooper (@sittingpretty61) February 19, 2018
Okema | Unemployed | Greensboro, NC – desiring to relocate #goalchat

— Okema L. Sandlin (@OkemaForever) February 19, 2018
Tom from Colorado where I write, teach, and consult on #Leadership and government contracting. I reject the notion that nothing can be learned at #GoalChat tonight.

— Tom Reid (@_TomGReid) February 19, 2018
@sittingpretty61 @HRcupofcoffee @GoalChat Greetings to you fine ladies this evening. Take me down to #GoalChat city where the grass is green and the girls are pretty.

— Tom Reid (@_TomGReid) February 19, 2018
Hey everyone! It's my first time checking out #GoalChat. I live in Florida and am a Social Media Engagement Specialist.

— Danielle Mamagona (@PokeyLuWho) February 19, 2018
Intro: My name is Danny; I live in Forest Grove, OR and I'm a Sports Information Director #GoalChat

— Danny Kambel (@DannyKambel) February 19, 2018
Q1. What was your biggest win last week? @WriteOnOnline #GoalChat pic.twitter.com/GorzRQyEqB

— ⭐ #GoalChat ⭐ (@GoalChat) February 19, 2018
A1. Finished a draft of my latest project I love working on new things! #GoalChat

— ⭐ #GoalChat ⭐ (@GoalChat) February 19, 2018
Q1. My biggest win was making a decision without worrying about! #goalchat https://t.co/BJZ2lQA6Zr

— Lainey B. Wellbrock (@HRcupofcoffee) February 19, 2018
A1. I think my biggest win was hanging out with my kids and realizing they are growing up in spite of this world and I better get used to my role with them changing for the good. #goalchat

— Dr. Dorrie Cooper (@sittingpretty61) February 19, 2018
A1). On a professional note finished a course on servitization with emphasis on customer service as intangible goals with conversation analysis. I also finished another blog post and someone asked if I would consult on violence issues for a school. #GoalChat

— Dr. Dorrie Cooper (@sittingpretty61) February 19, 2018
A1) We hit our stride and got the third newsletter out on schedule. Doing one every other week; then got about 60% of the content pulled together for the next one. This was MAJOR accomplishment based on our track record. #GoalChat

— Tom Reid (@_TomGReid) February 19, 2018
A1.1) Also got a new blog post up (on the cost of making a bad hire) , figured out how to scale pictures for the blog, and drafted another one on how to construct a "Stop Doing" list. #GoalChat

— Tom Reid (@_TomGReid) February 19, 2018
a1| Honestly cannot think of anything. #GoalChat https://t.co/wE6w5f53tL

— Okema L. Sandlin (@OkemaForever) February 19, 2018
Though I'm seemingly stalled, I have millions of awesome ideas in my head. #goalchat

— Okema L. Sandlin (@OkemaForever) February 19, 2018
I trust you all appreciate what Debra is doing to help us. We have become each others' accountability partners. I genuinely thought last week about having something to say this week and got myself refocused. It truly helps. #GoalChat

— Tom Reid (@_TomGReid) February 19, 2018
A1: getting to attend to of the bigger events in Alaska for February #matsupolarplunge and the #irondog and get footage for both👍👍👍 #Goalchat https://t.co/xk3Plu4dfg

— Shiloh Morrison (@ShilohfrmAlaska) February 19, 2018
A1. My biggest win last week was seeing @theblackpanther. I've been reallt@excited@anout this film and got to see it Friday night. #GoalChat

— Danielle Mamagona (@PokeyLuWho) February 19, 2018
@WriteOnOnline #GoalChat I unexpectedly spent three night shifts all by myself looking after an exhibit. Despite all the creepy nighttime noises I quite enjoyed being alone at work.

— AndromedaTrance (@andromedatrance) February 19, 2018
A1. My biggest win of the week was my presentation to @MoniqueAJMorgan and her students. #GoalChat pic.twitter.com/mkVT1TP058

— Danny Kambel (@DannyKambel) February 19, 2018
Q2. What are your goals for this week? @WriteOnOnline #GoalChat pic.twitter.com/cZTko9j3EA

— ⭐ #GoalChat ⭐ (@GoalChat) February 19, 2018
A2. Finish project – just got notes back, so extra psyched! Prep for #SMMW18 #GoalChat

— ⭐ #GoalChat ⭐ (@GoalChat) February 19, 2018
A2. My professional goals are to develop a plan to address aggression and violence in the school and how it is addressed or not handled as well as map out intervention. #GoalChat

— Dr. Dorrie Cooper (@sittingpretty61) February 19, 2018
I'm recently divorced and desire to peacefully move on with my life… #goalchat

— Okema L. Sandlin (@OkemaForever) February 19, 2018
No easy feat, my dear so I commend you for recognizing the need and wanting to do so! #GoalChat

— Dr. Dorrie Cooper (@sittingpretty61) February 19, 2018
A2. My goal this week is to be a little more committed to my #30DS writing challenge on LinkedIn & read my book faithfully. I am reading "Year of Yes" by @shondarhimes It is awesome. #goalchat

— Lainey B. Wellbrock (@HRcupofcoffee) February 19, 2018
A2) Get the full content for the next newsletter to the publisher before Friday; Complete n/l/t 30 hours of client work; travel to San Antonio for a presentation by a friend; host a meeting with the government's 809 panel. Usul meetings. #GoalChat

— Tom Reid (@_TomGReid) February 19, 2018
A2: My biggest goal for this week is to have a successful Twitter Chat launch! I'm hosting my first chat on Wednesday night and I'm so nervcited about it! #GoalChat

— Danielle Mamagona (@PokeyLuWho) February 19, 2018
Thank you! It's a personal interest chat, #LetsTalkAboutChat. Just something fun for everyone to get to know all the other chatters. I participate in a lot of marketing chats and wanted something different that lots of people could enjoy. It's Wednesdays at 9pm EST. #GoalChat

— Danielle Mamagona (@PokeyLuWho) February 19, 2018
A2: to edit and publish the footage for this week to keep on track. Still trying to figure out what is the best day to post on YouTube if I am only posting weekly #GoalChat

— Shiloh Morrison (@ShilohfrmAlaska) February 19, 2018
A2. Reorganization. #GoalChat

— Danny Kambel (@DannyKambel) February 19, 2018
Tonight's Special Topic: Dealing with Rejection @WriteOnOnline Ready? #goalchat

— ⭐ #GoalChat ⭐ (@GoalChat) February 19, 2018
Q3. Why is rejection important? @WriteOnOnline #GoalChat pic.twitter.com/LIGdvwyrzl

— ⭐ #GoalChat ⭐ (@GoalChat) February 19, 2018
A3. If you get rejected it means you are putting yourself out there. Trying is part of the process. #goalchat

— ⭐ #GoalChat ⭐ (@GoalChat) February 19, 2018
There is a popular leadership quote that says if you are not experiencing setbacks regularly, you are not trying hard enough. The only way to grow and progress is to get out there and swing for the fences. Learn from the setbacks and start again with a better plan. #goalchat

— Tom Reid (@_TomGReid) February 19, 2018
Actually the quote most often uses "failure" but I am of the opinion that you do not fail until you give up. Until then, these things are just setbacks from which you learn. #goalchat

— Tom Reid (@_TomGReid) February 19, 2018
a3| Protection from God. Realizing that we cannot always get what we want. #GoalChat https://t.co/tIX8D4nXkV

— Okema L. Sandlin (@OkemaForever) February 19, 2018
Professional rejection is great because it saves you the hassle of hating going to work. #goalchat

— Okema L. Sandlin (@OkemaForever) February 19, 2018
Personal rejection is wonderful because it saves you from getting in a relationship with the wrong person. #goalchat

— Okema L. Sandlin (@OkemaForever) February 19, 2018
Sometimes, our discernment will always tell us when something isn't right, person or situation, we have to trust our hunch. #goalchat

— Okema L. Sandlin (@OkemaForever) February 19, 2018
A3. It's a part of life that we must deal with on a daily basis sometimes. #GoalChat

— Dr. Dorrie Cooper (@sittingpretty61) February 19, 2018
I agree. Have you heard of @SusanDavid_PhD ? She's done research , writes and speaks about #emotionalagility . It's very interesting! (& True, as for me, anyway) #GoalChat https://t.co/GSyyHu7YFJ

— Lainey B. Wellbrock (@HRcupofcoffee) February 19, 2018
A3. Rejection is important because we all face it at some point in our lives. What is more important is what we do with it. #GoalChat

— Lainey B. Wellbrock (@HRcupofcoffee) February 19, 2018
A3. In discussing it, you might realize the rejection is about something completely different than just you personally. Maybe the project isn't a fit for your specialty area, or the timing is off. #goalchat

— Anna Ebert (@Anname12) February 19, 2018
So true @Anname12 Frequently rejection has nothing to do with you #goalchat

— ⭐ #GoalChat ⭐ (@GoalChat) February 19, 2018
A3) Rejection is a reality of life. You will never please everyone (nor should you try) so it is important to carve out your special contribution that only you can make with your time, talent, and treasure. #GoalChat

— Tom Reid (@_TomGReid) February 19, 2018
If you can learn to handle rejection I think then you really can manage one of life's biggest disappointments. #GoalChat

— Dr. Dorrie Cooper (@sittingpretty61) February 19, 2018
Great philosophy! RT @OkemaForever Never trust or associate with those that play with your time, money, or food. #goalchat

— ⭐ #GoalChat ⭐ (@GoalChat) February 19, 2018
A3: Rejection gives you the opportunity to learn something. (Hopefully the rejection comes with some constructive criticism.) #GoalChat

— Danielle Mamagona (@PokeyLuWho) February 19, 2018
If you don't ask, you don't get. @_TomGReid @OkemaForever #goalchat

— ⭐ #GoalChat ⭐ (@GoalChat) February 19, 2018
A3; rejection can force us to review our work reassess our goals and help us understand where we may need to change to find the approval we are needing #goalchat https://t.co/XitZTz203p

— Shiloh Morrison (@ShilohfrmAlaska) February 19, 2018
A3. With rejection comes education and assessment. The cost of doom and gloom takes you away from the successes of living and our goals. #GoalChat

— Danny Kambel (@DannyKambel) February 19, 2018
Q4. Is rejection ever good? In what instances? @WriteOnOnline #GoalChat pic.twitter.com/CV0bvR7FbX

— ⭐ #GoalChat ⭐ (@GoalChat) February 19, 2018
A4 We have already started covering this. Rejection is good when it helps you avoid bad situations and puts you on a better path! #goalchat

— ⭐ #GoalChat ⭐ (@GoalChat) February 19, 2018
a4| Rejection for me is perfect. Until we meet again, because we WILL meet again. #GoalChat https://t.co/BaV1DumxXT

— Okema L. Sandlin (@OkemaForever) February 19, 2018
A4: Yes! (Even if it's tough to accept that!) You might have totally dodged a not-so-great scenario, or have an even better opportunity coming your way! #goalchat

— Anna Ebert (@Anname12) February 19, 2018
A4. I tend to approach rejection on a spectrum from constructive to malicious. I think if you may lack some life experience understanding the nature of the rejection, the transaction, and your response takes some work. #GoalChat

— Dr. Dorrie Cooper (@sittingpretty61) February 19, 2018
I thought up until recently that it was me being positive but after watching a TED talk by Dr @SusanDavid_PhD I learned that it was my ability to embrace the less than positive parts of life (like rejection or even harder, my mom dying) #GoalChat

— Lainey B. Wellbrock (@HRcupofcoffee) February 19, 2018
A4: Rejection can absolutely be a good thing. I strongly believe if you or something you're doing is rejected, there's a good reason for it. The reason may not be clear right away, but it will be eventually. Better things will come. #GoalChat

— Danielle Mamagona (@PokeyLuWho) February 19, 2018
Q4) I've seen people rejected for jobs that were terrible fits. That was a good rejection. Very often, a rejection frees you up to refocus and pursue a better opportunity. Always try to get feedback on any rejection. #GoalChat

— Tom Reid (@_TomGReid) February 19, 2018
A4: I do my best to reject negativity. Not always successful, but I try. And when im@able to, my days are better for it. #GoalChat

— Danielle Mamagona (@PokeyLuWho) February 19, 2018
A4: I believe rejection is a great way to measure and adjust your efforts. Always a learning experience to improve #goalchat

— Sabrina Cadini (@SabrinaCadini) February 19, 2018
Totally agree. You cannot steer a ship that is dead in the water. Get moving, bouncing off the bumpers along your path until you get focused in the right direction (market, education, goal, whatever). The key is to NEVER STOP MOVING FORWARD. #goalchat

— Tom Reid (@_TomGReid) February 19, 2018
A4. It gives you perspective. For me, the best lessons in rejections have came in the job search process. #GoalChat pic.twitter.com/04q1jUZ2DC

— Danny Kambel (@DannyKambel) February 19, 2018
Q4b. Have you ever rejected someone/something and the scenario turned out for the better? #goalchat

— ⭐ #GoalChat ⭐ (@GoalChat) February 19, 2018
a4b| Yes. We all have. #GoalChat | People get mad, assume, whisper, but leaders have to do things sometimes where not everyone will click like or RT, so is life. https://t.co/umskJuLcob

— Okema L. Sandlin (@OkemaForever) February 19, 2018
A4b. It has happened a lot! It is like the Universe just knows sometimes when rejection is right. #GoalChat

— Lainey B. Wellbrock (@HRcupofcoffee) February 19, 2018
A4b) Yes. All the time. Whenever I say yes to one thing I have said no to ALL of the other options. I've learned a lot about opportunity costs and where I need to focus my time, talent, and treasure. #goalchat

— Tom Reid (@_TomGReid) February 19, 2018
Q5. What advice do you have for dealing with rejection? @WriteOnOnline #GoalChat pic.twitter.com/pcL4SC7Rbn

— ⭐ #GoalChat ⭐ (@GoalChat) February 19, 2018
a5| #GoalChat | Stay open. Accept it. Say thank you if you mean it, if you don't, appreciate it. https://t.co/Nnw2wk3QjN

— Okema L. Sandlin (@OkemaForever) February 19, 2018
A5: Keep your head up. Just because you've been rejected doesn't mean you should stop trying. #GoalChat

— Danielle Mamagona (@PokeyLuWho) February 19, 2018
A5. I think for some people who have received a great deal of criticism it takes some undoing to reframe rejection to unpacking the validity of the rejection and that it can become constructive and a learning experience. #GoalChat

— Dr. Dorrie Cooper (@sittingpretty61) February 19, 2018
Rejection is wonderful for me, I worry not one bit either way, never really have, all things work together for the good. #goalchat

— Okema L. Sandlin (@OkemaForever) February 19, 2018
A5. Rejection hurts. But there's a valuable lesson somewhere in it, seek it! #GoalChat https://t.co/Zfn0jfBZqq

— Lainey B. Wellbrock (@HRcupofcoffee) February 19, 2018
Self confidence can be a fragile thing, but take an inventory of things you KNOW about yourself without question (that you are honest, that you are a good friend, that you love dogs/animals/babies). When you know these things, what others think is of no importance. #GoalChat

— Tom Reid (@_TomGReid) February 19, 2018
I tell people to know their work before they show it to others for that very reason! #goalchat

— ⭐ #GoalChat ⭐ (@GoalChat) February 19, 2018
A5. If you undergo a rejection which is painful, try to not get defensive and grab a support in a friend or professional and look at both sides. Get some distance and put your feelings in one column and thoughts in another. If you do respond use the thoughts as goals. #GoalChat

— Dr. Dorrie Cooper (@sittingpretty61) February 19, 2018
A5: keep working towards your goals. If you were rejected from a certain place either you need to continue to improve yourself or it shows that it wasn't the right place/direction for you at this time. Remember that rejection of failure is one step closer to your goals #goalchat

— Shiloh Morrison (@ShilohfrmAlaska) February 19, 2018
A5. Listen, learn as well as rest and reflect in a positive way through accountability and responsibility. #GoalChat

— Danny Kambel (@DannyKambel) February 19, 2018
For support throughout the week, tweet anytime and/or gconnect on the @WriteOnOnline Facebook: Page: https://t.co/tfJqJJxJW3 and Group https://t.co/D0VhQ2Dlop #GoalChat

— ⭐ #GoalChat ⭐ (@GoalChat) February 19, 2018
Thanks again everyone for your insights on rejection on this week's #GoalChat. Thanks again for suggesting this @sittingpretty61

— ⭐ #GoalChat ⭐ (@GoalChat) February 19, 2018
Btw, on 2/25 we will have an informal #GoalChat as I will already be in San Diego and tied up with #SMMW18. I will still check in with you on your goals. #GoalChat

— ⭐ #GoalChat ⭐ (@GoalChat) February 19, 2018
Should I have a #GoalChat on Oscar night (3/4) or have it on Monday (3/5) instead?

— ⭐ #GoalChat ⭐ (@GoalChat) February 19, 2018
Tags:
#GoalChat
Dealing with Rejection
Rejection
Write On! Online