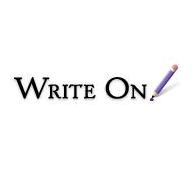 Did you miss the February meeting? Check out the February meeting recap and video, where we talk about personal goals.
Whether or not you live in LA, join the Write On Online Facebook Group for writers, creatives, and entrepreneurs. Chime in on the threads, share your links, and more. Plus, keep an eye on the Write On Online Facebook Page for my spontaneous videos.
Remember, post your February Goals on Write On Online and weekly goals on Facebook (a new goal-thread starts every Monday) to be entered in a drawing to win a book from Michael Wiese Productions.
Btw, you can find some awesome ebooks at the lowest prices at my Write On Online MWP Affiliate bookstore.
Upcoming Events
February 18: Join us for #GoalChat at 7pm PT on Twitter. This week's special topic is Dealing with Rejection.
February 26: A panel of romance writers (Susan B. James, Stacy Wise, Maggie Marr, Aviva Vaughn) discuss their craft and genre at the Veterans Memorial Building in Culver City at 7:30pm. Presented by IWOSC (Independent Writers of Southern California) and free to members; $15 nonmembers. RSVP at IWOSC.org after Feb. 6, or just come to the door!
March 3: The Annual MWP Pro-Oscar Bash will be live-streamed on Facebook at 10am PT. Panelists are John Bucher and Jeremy Casper (Masters of the Cinematic Universe), Naomi Beaty, Pamela Jaye Smith (Romantic Comedies and The Power of the Dark Side),  Steve Katz (Film Directing), and Steve Kaplan (The Hidden Tools of Comedy). RSVP to get reminders.
March 7: March LA Hangout at C&M Coffee and Milk Westwood Gateway, 11111 Santa Monica Blvd, in Westwood from 1-3pm. C&M will validate parking in the building. RSVP on Facebook
Ongoing
Join #GoalChat every Sunday at 7pm Pacific/10pm Eastern. Go to Tweetchat.com and follow the hashtag. And read the recaps.
On the 2nd and 4th Tuesdays of each month, writers are welcome to come to the Santa Monica Bay Woman's Club to write from 6:30 to 10pm. The club, at 1210 4th St, asks for a $3 donation. RSVP to MAnnapav@aol.com.
Plus
Need blogging inspiration? Check out my book: Write On Blogging: 51 Tips to Create, Write & Promote Your Blog. Whether you are starting or relaunching your blog, it will walk you through the process.
Author & Expert Q&As on Write On Online. Do you have a new book or an upcoming book release? Do you have an entrepreneurial, marketing, or creative specialty to share? Are you interested in being featured on Write On Online? For consideration email deckerling@gmail.com with your website link and a short bio. Thanks!
Check out the Guided Goals Podcast on Write On's companion site GuidedGoals.com. The podcast is a series of expert interviews, designed to help people pursue their passion projects. Each episode wraps with action items (recommended goals), so listeners can take what they heard, and move forward right away. Watch on YouTube, listen, and subscribe on iTunes, or listen on Stitcher. 
Do your kids love to write? Want to encourage them to hone and expand their writing skills? Check out Purple Pencil Adventures: Writing Prompts for Kids of All Ages.  Although it's geared towards kids, there are plenty of prompts adults can use to exercise those writing muscles! Write on!
* * *
Writers, please email me if you have a 2-3 line news item or event and/or if you are are interested in contributing a Write On! Review or Expert Column. Write On!
Tags:
Goals
Meeting Recap
Write On! Online
Write On! Wednesday