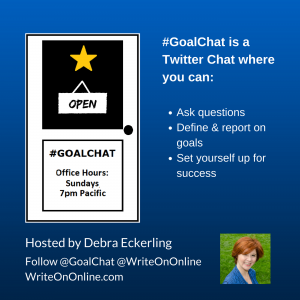 Thanks to everyone who joined us for the 3/25 #GoalChat, where we discussed LinkedIn. In addition to our usual sharing of wins, goals, and helpful tips, lots of new connections were made.
#GoalChat takes place Sundays at 7pm Pacific/10pm Eastern to set goals, ask questions, and get support. Feel free to tweet to @GoalChat throughout the week.
And join us on April 1 for #GoalChat at 7pm Pt/10pm ET. Special Topic: April Goals. Tweet topic suggestions to @GoalChat.
Below is a recap with tweets from last night's chat.
Welcome to #GoalChat. This week's special topic is LinkedIn @writeononline pic.twitter.com/2jXRWlzmth

— ⭐ #GoalChat ⭐ (@GoalChat) March 26, 2018
Did SOMEONE say #LinkedIn? #goalchat

— Chaim Shapiro 🎤 Help you MAXIMIZE LinkedIn 💻 (@ChaimShapiro) March 26, 2018
Please Introduce Yourselves: Who are you? Where do you live? What do you do? @WriteOnOnline #GoalChat pic.twitter.com/x9l5mVscHw

— ⭐ #GoalChat ⭐ (@GoalChat) March 26, 2018
I'm Deb. I live in West LA. I help people set, plan, and achieve their goals. I do coaching and workshops. Am the author of "Write On Blogging" and founder of @WriteOnOnline, a website and community for writers, creatives & entrepreneurs. https://t.co/BKv5f2Aw0h #goalchat

— ⭐ #GoalChat ⭐ (@GoalChat) March 26, 2018
Hello everyone! Jim from Swansboro, NC #SocialMedia Management Consultant #GoalChat https://t.co/2LUmzkZw6P

— Jim Fuhs of Fuhsion Marketing #SMMW18 (@FuhsionMktg) March 26, 2018
I'm Kim. I live in San Antonio, TX. I'm a PPC/SEO manager and all-around digital marketing enthusiast. #GoalChat

— Kim Doughty (@Howdy_Doughty) March 26, 2018
Intro: Hi all! I'm Ben Sailors from Austin, TX. I'm an Integration Engineer. I build websites, do CSS, JavaScript, JQuery, HTML and other programming stuff. I'm a big reader and seeker of knowledge and wisdom. Also after dat paper. #GoalChat https://t.co/AucD7iFjIV

— Ben Sailors (@SailorsBen) March 26, 2018
Hi everyone! Sorry my job has forced me to miss the last few weeks of conversation. I am multi-tasking – Twitter chats and working. Hello everyone, I am Danny and I am a Sports Information Director in Forest Grove, Oregon. #GoalChat

— Danny Kambel (@DannyKambel) March 26, 2018
Hey all! My name is Shana and I am a the Owner of a social media management company. I live in the awesome city of Chattanooga and am glad to join this chat. #goalchat

— Shana Browne (@brownetime08) March 26, 2018
I am in the UK working the night shift looking after a bridal exhibition/event. It is very peaceful😔

— AndromedaTrance (@andromedatrance) March 26, 2018
Hello everyone, I'm working backwards due to some #WalkingDeadTV watching. This is Kevin, from Alexandria, VA. I am a Investigative Analyst working for a #DoD agency. I'm a trying to make a transition in my career back to the #SportsBiz. #GoalChat

— Kevin Wilson (@KWilson805) March 26, 2018
Hey everyone! Sorry I'm late! I'm Danielle, from Michigan but currently living in Florida. I'm a Sr. Social Engagement Specialist by day and Secret Adventurer by night. #GoalChat

— Danielle Mamagona (@PokeyLuWho) March 26, 2018
Sorry I'm late to #GoalChat… I was busy volunteering for a charity FootGolf Tournament. I'm a Social Media Strategist & I empower entrepreneurs to step up their digital game pic.twitter.com/syxEMFM2TX

— Marisa Cali @allthesocial (@allthesocial) March 26, 2018
I tried to connect via mobile but it gave me an error. I used to work in the #SportsBiz space but no longer do. Would love to connect.https://t.co/VkxJrOvcdi

— Marisa Cali @allthesocial (@allthesocial) March 26, 2018
I'm Chrysanthe, and I love sweet potatoes. Professionally, I'm a composer, violinist, writer, and podcaster living in Los Angeles! #GoalChat

— Chrysanthe Tan (@ChrysantheTan) March 26, 2018
Q1. What was your biggest win last week? @WriteOnOnline #GoalChat pic.twitter.com/kVtvFqUNv8

— ⭐ #GoalChat ⭐ (@GoalChat) March 26, 2018
A1. Accomplished my goal of at least three outreaches – messages, chats, calls – a day last week. Trying to stir things up. #goalchat

— ⭐ #GoalChat ⭐ (@GoalChat) March 26, 2018
A1. My biggest win in the last week has been the start of @coytecooper Flip the Script 28-Day Challenge. #GoalChat

— Danny Kambel (@DannyKambel) March 26, 2018
A1 I am a Loyola Alumnus, SOOO… #FinalFour #GoalChat

— Chaim Shapiro 🎤 Help you MAXIMIZE LinkedIn 💻 (@ChaimShapiro) March 26, 2018
A1: Completing a FB live video challenge and seeing great engagement on my business page because of it. #GoalChat https://t.co/slOp3DOBtu

— Jim Fuhs of Fuhsion Marketing #SMMW18 (@FuhsionMktg) March 26, 2018
A1 My biggest win was an awesome review for my book. Thanks @SailorsBen #goalchat

— AJ Borowsky (@AskWhatNext) March 26, 2018
Had a successful call with a client. Wasn't sure if we'd walk away on the same page but I was pleasantly surprised! #GoalChat

— Kim Doughty (@Howdy_Doughty) March 26, 2018
A1. Hi all! My biggest win last week was recognizing I was taking too long on my second blog post. I scrapped it and almost done with the new one. #GoalChat

— Lainey B. Wellbrock (@HRcupofcoffee) March 26, 2018
.@HRcupofcoffee – I have enjoyed reading your blog posts on @LinkedIn. Keep up the great work! #GoalChat

— Danny Kambel (@DannyKambel) March 26, 2018
I'm doing a blog on workplace bullying after last week's #hrtailgate chat on the subject. #GoalChat

— Lainey B. Wellbrock (@HRcupofcoffee) March 26, 2018
This happens to me a lot, too. Sometimes I get stuck with one post for a long time, but when I scrap and start over or start another, I finish it soon enough. Happens most when I lack clarity in what I'm writing about. #GoalChat

— Narmadhaa (@s_narmadhaa) March 26, 2018
Yes, I do that, too. Mine is forty-five to sixty minutes. I like sticking to the same time every day, showing up on time, and just getting writing done. #GoalChat

— Narmadhaa (@s_narmadhaa) March 26, 2018
A1) Maneuvering amidst all the travel, completing the teaching of the four-day certification class for a client in California, and getting back to Denver where I can catch up on things that got neglected last week. #GoalChat

— Tom Reid (@_TomGReid) March 26, 2018
My biggest win was successfully trying out new roles at work and proving to myself that I am capable of doing them

— AndromedaTrance (@andromedatrance) March 26, 2018
A1: It's been a busy time, but I managed to finish my midterm, two blog stories and some other assignments. Best part? I came away with an increased love of writing. #winwin #GoalChat https://t.co/uw0wFO0Vxn

— Bernie Mixon (@BernieMixon) March 26, 2018
A1. Finally having a meeting with a very important lead. Excited to build this relationship. #goalchat

— Shana Browne (@brownetime08) March 26, 2018
A1. Biggest win last week was an "awesome" informational interview w/ #ChinaJude. It was very informative and a potential great advocate in the #SportsBiz. #GoalChat

— Kevin Wilson (@KWilson805) March 26, 2018
A1. I think my biggest win was just making myself make a blog part of my website even if it wasn't fully fleshed out. Just getting anything done and live felt like a significant accomplishment. #GoalChat https://t.co/29PMWqVyJZ

— Ben Sailors (@SailorsBen) March 26, 2018
A1: I remembered that my journal is just for me and I should stop being so polite in it and say what I really feel – tremendously cathartic! #GoalChat

— AndromedaTrance (@andromedatrance) March 26, 2018
A1. Biggest win last week landed a featured speaker invitation at the Dallas Ministry Conference #goalchat

— Sherry Hayes-Peirce (@trainerchick47) March 26, 2018
A1: Biggest win from last week was successfully watching the first 30 "Disney Animated Features" (minus 4 I didn't have access to) with my sister while she was visiting me. It was SO much fun! We'll pick it up again when she's here in June. #GoalChat

— Danielle Mamagona (@PokeyLuWho) March 26, 2018
Q2. What are your goals for this week? @WriteOnOnline #GoalChat pic.twitter.com/UgjZqKdBDN

— ⭐ #GoalChat ⭐ (@GoalChat) March 26, 2018
A2. Get next draft of my book to my editor. Finish writing the pages from my new biz site. Prep to launch. #goalchat

— ⭐ #GoalChat ⭐ (@GoalChat) March 26, 2018
A2 Get ready for #Passover! #GoalChat

— Chaim Shapiro 🎤 Help you MAXIMIZE LinkedIn 💻 (@ChaimShapiro) March 26, 2018
A2: Start fully using @ContentCal_io to schedule my Social Media Campaigns across all platforms. #GoalChat

— Jim Fuhs of Fuhsion Marketing #SMMW18 (@FuhsionMktg) March 26, 2018
A2) The goals are rather mundane this week: to get caught up on the things I did not get done last week while working in California. Will be a significant challenge but worth the effort. #GoalChat

— Tom Reid (@_TomGReid) March 26, 2018
A2 My goals for this week is to get more focused on my blog posts and to continue getting ready to move. #goalchat

— AJ Borowsky (@AskWhatNext) March 26, 2018
A2. My goals for the week are to continue the Flip the Script Challenge; strategize the month of April – personally and professionally; read at least 30 minutes a day and workout more than last week. #GoalChat #GetSET

— Danny Kambel (@DannyKambel) March 26, 2018
A2: Prioritize my health. Work out 2-3x this week, cut my sugar intake, and go to sleep at the same time each night. #GoalChat https://t.co/ED64VWuCZf

— Kim Doughty (@Howdy_Doughty) March 26, 2018
Let me know what you think of that book. I've read it and have some views of my own. #GoalChat

— Tom Reid (@_TomGReid) March 26, 2018
A2: This is release week for me at work. Been working for this week for over 5 months. My goal is to see it through without a hitch. #GoalChat

— Narmadhaa (@s_narmadhaa) March 26, 2018
To send back things I have ordered that don't quite fit or are not what I was expecting. The thought of queuing up at the Post Office depresses me 🙄

— AndromedaTrance (@andromedatrance) March 26, 2018
A2. Goal: stick to my to-do list. Goal: post on my blog. Goal: close on a big lead. #goalchat

— Shana Browne (@brownetime08) March 26, 2018
A2: I'm finishing up one blog series on Tuesday and writing another at the end of the week. I'm also taking some time off. It has been a busy 1Q, and I want to be ready for all the great storytelling opportunities to come. #GoalChat https://t.co/b7VYG3zwZ1

— Bernie Mixon (@BernieMixon) March 26, 2018
A2. Goals for the week — 1). Meet w/ my mentor & hve (2) Info. interviews. 2). Call (2) Cohort members per day from the @NatlSportsForum & #BDSE18 (to catch-up). #GoalChat.

— Kevin Wilson (@KWilson805) March 26, 2018
A2. Recenter my priorities. I've felt a little off balance lately. Just need to get a grip on why I do what I do, and make sure what I do is in alignment with my why.

Also, knocking out all the tickets in my queue. #goalchat https://t.co/BLXQZZNNZm

— Ben Sailors (@SailorsBen) March 26, 2018
A2. My plans for next week is to plan tasks for the month of April and because I'm Catholic and it being Holy Week adding more prayer time and mass attendance to my schedule #goalchat

— Sherry Hayes-Peirce (@trainerchick47) March 26, 2018
A2: Writer's Magazine has published its annual list of writing competitions which I am looking over to see what I can enter. #GoalChat

— AndromedaTrance (@andromedatrance) March 26, 2018
Absolutely and let me make a broader offer. Go to https://t.co/VPkZt8lzPF and look at the chart. Pick any of the subjects there and I'll send you an excerpt from the book. This is for the whole #GoalChat family. Happy to help if I can.

— Tom Reid (@_TomGReid) March 26, 2018
A2: Biggest goal is to start paying attention to what I'm eating & up my physical activity a bit. I've been invited to a masquerade ball in May and need to fit into my dress (don't want to buy a new one). I find when I utilize the food log in my @Fitbit, I lose weight. #GoalChat

— Danielle Mamagona (@PokeyLuWho) March 26, 2018
Special Topic: LinkedIn. What is your LinkedIn profile link? @WriteOnOnline #GoalChat https://t.co/iP8j56vbPT

— ⭐ #GoalChat ⭐ (@GoalChat) March 26, 2018
My profile link to my LinkedIn is at: https://t.co/MLWjniQCGp#GoalChat

— Danny Kambel (@DannyKambel) March 26, 2018
I'm at https://t.co/LxzY8HSngw #GoalChat https://t.co/1ofXI3V6A8

— Ben Sailors (@SailorsBen) March 26, 2018
https://t.co/wiiFPSe6tw #GoalChat

— Lainey B. Wellbrock (@HRcupofcoffee) March 26, 2018
I would love to connect with everyone at #goalchat on LinedIn as well – My profile is at: https://t.co/P6wDxIbv2b Hope to see you there.

— AJ Borowsky (@AskWhatNext) March 26, 2018
https://t.co/9Zkb8285dU#GoalChat

— Narmadhaa (@s_narmadhaa) March 26, 2018
My LinkedIn is https://t.co/dsbxz7mvmK #goalchat

— Kim Doughty (@Howdy_Doughty) March 26, 2018
My Linked in Profile is https://t.co/KaZsGyooLs #GoalChat

— Jim Fuhs of Fuhsion Marketing #SMMW18 (@FuhsionMktg) March 26, 2018
— Shana Browne (@brownetime08) March 26, 2018
LinkedIn profile #GoalChathttps://t.co/JCLNK7XOT5

— Tom Reid (@_TomGReid) March 26, 2018
I definitely agree @WriteOnOnline. Here is mine for those that want to connect & network in whatever space you work & play in…https://t.co/5chmLdE5q8#GoalChat 🧐

— Kevin Wilson (@KWilson805) March 26, 2018
#goalchat https://t.co/vjiKBckb0y

— Sherry Hayes-Peirce (@trainerchick47) March 26, 2018
Wanna connect on LinkedIn? You can find me here 👇🏼#GoalChathttps://t.co/q0oUBPxsYH

— Danielle Mamagona (@PokeyLuWho) March 26, 2018
Q3. Why do you love or dislike LinkedIn? @WriteOnOnline #GoalChat pic.twitter.com/jkm7oCNeB5

— ⭐ #GoalChat ⭐ (@GoalChat) March 26, 2018
A3. There is more that I love about LinkedIn than I dislike. I have found it as a good way to connect and further my relationship with individuals on another social media channel. #GoalChat

— Danny Kambel (@DannyKambel) March 26, 2018
A3 I dislike LinkedIn because the engagement seems very one way – people put their info out there but don't interact with others. At least that's what I've found. #goalchat

— AJ Borowsky (@AskWhatNext) March 26, 2018
I also sometimes feel this way. I find it easier to keep up with current relationships on LinkedIn than to find and grow new ones. #GoalChat

— Kim Doughty (@Howdy_Doughty) March 26, 2018
A3: I'm still learning to navigate LinkedIn. But I enjoy how easy it is to find and connect with new people. Though not everyone responds as much as I'd like, it's a good place to absorb a lot of information from. #GoalChat

— Narmadhaa (@s_narmadhaa) March 26, 2018
A3: I like the general positivity of LinkedIn. Everyone is there to improve. I learn a LOT from the people in my network. #goalchat https://t.co/ih4z8YgDvj

— Kim Doughty (@Howdy_Doughty) March 26, 2018
A3. I love @LinkedIn because I can easily access professional topics without getting distracted by cute puppies and kittens. #goalchat

— Shana Browne (@brownetime08) March 26, 2018
Love this. It's also less cluttered, so your posts have a better chance of being seen. #goalchat

— ⭐ #GoalChat ⭐ (@GoalChat) March 26, 2018
Relatable! If it's fluffy, it's going to steal my attention. #goalchat

— Kim Doughty (@Howdy_Doughty) March 26, 2018
Sorry I had to! #GoalChat pic.twitter.com/PcdyCPcOsb

— Lainey B. Wellbrock (@HRcupofcoffee) March 26, 2018
If I disappear from the chat, just know that I'll be looking at more corgis. So cute! 🐶 #goalchat

— Kim Doughty (@Howdy_Doughty) March 26, 2018
It's ok I'm not complaining 😂 #goalchat pic.twitter.com/lyn83TPhDL

— Kim Doughty (@Howdy_Doughty) March 26, 2018
A3. I like LinkedIn for the ability to connect with B2B. Dislike the lack of engagement and disappointed with Groups and their activity. #Goalchat

— Jim Fuhs of Fuhsion Marketing #SMMW18 (@FuhsionMktg) March 26, 2018
A3. I use LinkedIn to connect as soon as I meet new peeps. Great way to keep track and stay in touch. #goalchat

— ⭐ #GoalChat ⭐ (@GoalChat) March 26, 2018
Keep track is a good way to put it. I think LinkedIn is great as a contact manager. You don't engage with everyone all time time (unlike Twitter) but you do have a database of who you've met/worked with and can reach out to. #GoalChat

— Narmadhaa (@s_narmadhaa) March 26, 2018
A3) I never see much activity there. #GoalChat

— Tom Reid (@_TomGReid) March 26, 2018
A3. I like @LinkedIn bc it's an avenue to focus on my professional interests. I'm kind of a nerd so I spend much time focusing on personal and professional development. I enjoy it. #GoalChat

— Lainey B. Wellbrock (@HRcupofcoffee) March 26, 2018
A3. I like the fact that it's easy to connect with anyone on @LinkedIn. I hate the fact that you don;t have the option to "ghost view" people's pages. When you click on someone's pg, they notice it. #GoalChat

— Kevin Wilson (@KWilson805) March 26, 2018
Which, let's be honest, is pretty lame anyway, if you're not paying for premium. #GoalChat

— Ben Sailors (@SailorsBen) March 26, 2018
Check your privacy settings. There should be an option to pick how you want others to see you. #GoalChat https://t.co/yazrehOYJc

— Ben Sailors (@SailorsBen) March 26, 2018
A3. I like how professional overall LinkedIn is. I like that it's a very portable resume. I like that it's a great way to reach out to new people quickly.

I dislike how after that initial connection it loses a lot of it's value. #GoalChat https://t.co/94O9oyUnFT

— Ben Sailors (@SailorsBen) March 26, 2018
A3. Why do I love LinkedIn? It has allowed me to make connections I never would have made. Publishing articles has helped me establish myself as a thought leader with followers in a variety of verticals. I also drop links to the articles into groups too! @GoalChat

— Sherry Hayes-Peirce (@trainerchick47) March 26, 2018
A3: I love the throwback days and the fact you can learn about so many jobs I never even knew existed. At school job suggestions we are given are so limited compared to what's out there. I can really expand my horizons. #GoalChat

— AndromedaTrance (@andromedatrance) March 26, 2018
A3: I have no opinion of LinkedIn right now. I have an account, but rarely use it. I'm sure it needs to be updated. #GoalChat

— Danielle Mamagona (@PokeyLuWho) March 26, 2018
Q3b. Share a LinkedIn success story. @WriteOnOnline #goalchat

— ⭐ #GoalChat ⭐ (@GoalChat) March 26, 2018
A3b: My graphic/web designer and I connected via LinkedIn. We have been working together for over a year now. #Goalchat

— Jim Fuhs of Fuhsion Marketing #SMMW18 (@FuhsionMktg) March 26, 2018
A3b. LinkedIn has allowed me to face my fear of public speaking by producing video content. Believe me, it is nothing spectacular but allows me to practice and connect. #GoalChat

— Lainey B. Wellbrock (@HRcupofcoffee) March 26, 2018
A3b. I completed a challenge on #LinkedIn where I had to get a bunch of my network to recommend me to a person/company to land an interview. I succeeded, but it wld of been a lot harder (or more time) to do it w/out #LinkedIn & it says on my profile feed for sometime. #GoalChat

— Kevin Wilson (@KWilson805) March 26, 2018
A3b. I once got a job because I requested a referral through someone on LinkedIn. #goalchat

— ⭐ #GoalChat ⭐ (@GoalChat) March 26, 2018
A3b: I've had the opportunity to provide guidance to people starting out in their careers, and LinkedIn is the main way we stay in touch. It's super rewarding and a huge win for me to be seen as a resource to others. #goalchat

— Kim Doughty (@Howdy_Doughty) March 26, 2018
Q4. In what ways do you use LinkedIn? Connecting? Updates? Publisher? Native Video? All of the above? @WriteOnOnline #GoalChat pic.twitter.com/wj2BAE1hRi

— ⭐ #GoalChat ⭐ (@GoalChat) March 26, 2018
A4: For now, observing. There's so much to keep me going.

Also, experimenting with publishing, but still a long way to go. #GoalChat

— Narmadhaa (@s_narmadhaa) March 26, 2018
A4. I try to post updates at least weekly, Must try native video, which I plan to do with my new site launch. #goalchat

— ⭐ #GoalChat ⭐ (@GoalChat) March 26, 2018
A4. I like to update my LinkedIn bio periodically to acknowledge achievements as well as growth in my areas of responsibilities. I am strategizing about the idea of tying it into my blog, too. #GoalChat

— Danny Kambel (@DannyKambel) March 26, 2018
A4. I use LinkedIn to connect, write, career search and video content. #GoalChat

— Lainey B. Wellbrock (@HRcupofcoffee) March 26, 2018
A4 Certainly connecting but I find the connections aren't very responsive. I also post updates and have posted videos. #goalchat

— AJ Borowsky (@AskWhatNext) March 26, 2018
A4: Definitely connecting, attempting to post more, sharing and commenting on other's content. #Goalchat

— Jim Fuhs of Fuhsion Marketing #SMMW18 (@FuhsionMktg) March 26, 2018
A4. I use it primarily for connecting and reaching out if I see an opportunity I'm interested in and know anyone at that company. #GoalChat https://t.co/3uV1cMdRhX

— Ben Sailors (@SailorsBen) March 26, 2018
A4: Connecting with others in my industry, mostly. Keeping up with my mentors and lurking on influencers I admire. #goalchat. https://t.co/4yfAuc5Qdc

— Kim Doughty (@Howdy_Doughty) March 26, 2018
A4. I use LinkedIn for all of the above. Another thing I do is reach out to authors of articles I really like or speakers at conference sessions I will or do attend too.

— Sherry Hayes-Peirce (@trainerchick47) March 26, 2018
A4. All of the ways.
It's my 2nd favorite platform… pic.twitter.com/30dKVNVFFV

— Marisa Cali @allthesocial (@allthesocial) March 26, 2018
A4: I used to use it to read articles about customer service and social medi, but I haven't logged on for a long time. #GoalChat

— Danielle Mamagona (@PokeyLuWho) March 26, 2018
Q4b. Which LInkedIn features are most underutilized? #GoalChat

— ⭐ #GoalChat ⭐ (@GoalChat) March 26, 2018
A4b: Video and maybe to some extent ads, but my understanding is ads are pricey on LinkedIn #Goalchat

— Jim Fuhs of Fuhsion Marketing #SMMW18 (@FuhsionMktg) March 26, 2018
I have been trying to reach out to ppl I have worked with in the past to consider writing recommendations on LinkedIn. I think that it could be a powerful tool in my career. #goalchat

— Lainey B. Wellbrock (@HRcupofcoffee) March 26, 2018
A4b. By far #LinkedIn video feature. Also, person/name posting in text; meaning typing people's auto-filled name by #LinkedIn when mentioning or acknowledging someone in you comments section. It gives them a quick shout out & they see it immediately in their #LI feed. #GoalChat.

— Kevin Wilson (@KWilson805) March 26, 2018
A4b.

Native video but I kind of like it.. FB is overloaded with videos. I like reading/learning on LinkedIn.

— Marisa Cali @allthesocial (@allthesocial) March 26, 2018
Q5. What advice do you have for others using LinkedIn? @WriteOnOnline #GoalChat pic.twitter.com/tCDIUZb73o

— ⭐ #GoalChat ⭐ (@GoalChat) March 26, 2018
A5 I have none – I need the advice when it comes to LinkedIn. #goalchat

— AJ Borowsky (@AskWhatNext) March 26, 2018
A5. Review and update your profile regularly. Add media – especially to your profile. Ask for recommendations. #goalchat

— ⭐ #GoalChat ⭐ (@GoalChat) March 26, 2018
Yes and always write a note with reference when you make a connection request. @KWilson805 @WriteOnOnline #goalchat

— ⭐ #GoalChat ⭐ (@GoalChat) March 26, 2018
"Hi ____, We met at _____. Would love to connect!" @andromedatrance @s_narmadhaa @KWilson805 @WriteOnOnline #goalchat

— ⭐ #GoalChat ⭐ (@GoalChat) March 26, 2018
Or "Hi ______. I saw you speak, heard you interviewed, etc…." @andromedatrance @s_narmadhaa @KWilson805 @WriteOnOnline #goalchat

— ⭐ #GoalChat ⭐ (@GoalChat) March 26, 2018
A5: I have a goal of adding at least one person a week to my network. Don't connect with someone just to sell them. Get to know them. #Goalchat

— Jim Fuhs of Fuhsion Marketing #SMMW18 (@FuhsionMktg) March 26, 2018
That's so true Jim, connections first – even better help the other person first then ask for what you need. #GoalChat

— AJ Borowsky (@AskWhatNext) March 26, 2018
A5. #goalchat check out Viveka von Rosen's profile on LinkedIn and influencer Tim Queen's profile for tips!

— Sherry Hayes-Peirce (@trainerchick47) March 26, 2018
Yes @trainerchick47 Viveka aka @LinkedInExpert is the best @WriteOnOnline #goalchat

— ⭐ #GoalChat ⭐ (@GoalChat) March 26, 2018
Update your profile as needed, create original content and interact with others on their content. #GoalChat

— Lainey B. Wellbrock (@HRcupofcoffee) March 26, 2018
A5: A lot of people put their job title in their profile headline, but I'd recommend using that space to talk more about YOU, not what you do. Get creative with it! You aren't your job. #goalchat https://t.co/5pAOHakGiH

— Kim Doughty (@Howdy_Doughty) March 26, 2018
A5. If you're a company owner, don't forget to set up a quality company page. #goalchat

— Shana Browne (@brownetime08) March 26, 2018
A5. A LinkedIn profile is a social media tool. It is something that is valuable and visible to employers – present and in the future. #GoalChat

— Danny Kambel (@DannyKambel) March 26, 2018
A5. Of all the social networks you should have a @LinkedIn profile. It's your online resume and a way to connect with any new people! #GoalChat

— ⭐ #GoalChat ⭐ (@GoalChat) March 26, 2018
The next #GoalChat will be on 4/1. Topic: April Goals. Tweet suggestions for future topics to @GoalChat

— ⭐ #GoalChat ⭐ (@GoalChat) March 26, 2018
April goals bring May successes! #GoalChat Have a great Monday everyone.

— AJ Borowsky (@AskWhatNext) March 26, 2018
A5.
.
.
Be yourself.
Are you in one industry but have a passion for things outside of that industry?

Share that.
It's where you can showcase your personal brand. pic.twitter.com/0O0yWfifSk

— Marisa Cali @allthesocial (@allthesocial) March 26, 2018
The 4/8 #GoalChat topic will be blogging, thanks to last week's side chat initiated by @AskWhatNext

— ⭐ #GoalChat ⭐ (@GoalChat) March 26, 2018
Thanks for another amazing #GoalChat. Please connect with @WriteOnOnline on Facebook: page https://t.co/tfJqJJxJW3 and group https://t.co/D0VhQ2Dlop to continue the conversation. You can also tweet to @GoalChat! Have a fabulous week!

— ⭐ #GoalChat ⭐ (@GoalChat) March 26, 2018
Thanks for the shout out! I enjoy the #goalchat group, too! Looked like it grew tonight! Happy to connect with you all on LinkedIn, as well! I look forward to more goal discussions! pic.twitter.com/eZppC5yFRA

— Lainey B. Wellbrock (@HRcupofcoffee) March 26, 2018
Tags:
#GoalChat
Business
Goals
LinkedIn