Author Jon Wuebben is a veteran copywriter, speaker, entrepreneur, and online marketing leader. Wuebben wrote Content Rich: Writing Your Way to Wealth to help businesses learn all the tips and tricks of SEO copywriting and how it relates to online marketing. He speaks with Write On! about what he learned from his publishing process, and offers tips to get started.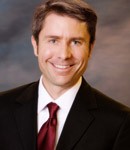 When and how did you first start writing?
I have enjoyed writing all my life, but once I started a writing business and was able to see my content helping other businesses succeed, that's when it got real interesting. Writing is a passion, a way to express thoughts and something that many people will pay you to do.
How did Content Rich come about?
I was speaking to many small business groups and realized that there was a huge knowledge gap when it came to online marketing and web writing. It appeared that there were thousands of small businesses that needed a simple, easy to use guide on writing content for the web. I had always wanted to write a book, so it seemed like a great idea.
What was favorite part of the writing process? The greatest challenge?
The best part was when I would "get in the zone" and find a way to write 30 pages in one sitting … this happened quite a bit. I found that by being around other creative people in a Starbucks was the perfect place for me to write. The greatest challenge was (and is) promoting it. There's a lot of competition out there.
How did you go about getting it published?
I self-published it, because I wanted to control the process and keep more revenue. I thought if it got big enough, the publishers would come to me … and now they are.
What are the top 3 things a writer should know about writing for the web?
You must use keyword phrases, optimize the page AND the meta tags, and write about benefits first and foremost.
If a writer looking to promote has to choose a website or a blog, which would you recommend and why?
A blog—more options for social media integration and lower cost to start.
What's the value of using social media for self-promotion?
It's the hottest thing to ever hit the web—get on and ride the train! Twitter and Facebook to start.
Any additional advice for writers?
Find the time when you are most productive and write then! Study yourself and what inspires you.
What do you know now that you wish you knew when you first started writing?
That you need to be a salesman as much as you are a writer. Get on the phone! This is a big stumbling block for most writers, but you need to force yourself to do it.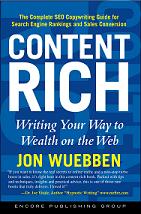 Tags:
Author Q&A
Blogs
Content Rich
Debra Eckerling
Facebook
Jon Wuebben
Non-fiction
Online Marketing
Social Media
Twitter
Write On!
Writing for the Web