Darcía Helle is mystery/suspense writer, who just released her 5th book: Miami Snow. The novel tells the tale of a man whose "perfect" life is turned upside down when his wife leaves him. Starting over, on the other side of the state,  "Nick" gets involved with his wife's polar opposite—the dangerous Brandy. As he falls further down the rabbit hole, Nick finds himself caught between two worlds, desperate to stay alive.
Helle's other books—Enemies and Playmates, Hit List, No Justice, and Beyond Salvation—are also character driven with an element of suspense. Helle's website—Quiet Fury Books—has contests , as well as her monthly nonfiction, crime-related newsletter called Guilty As Charged. The newsletter covers a wide range of topics, from the history of burning at the stake to modern-day serial killers.
Darcía Helle and Write On! Online are part of the VBT – Writers On the Move Blog Tour. Please check out the VBT Website for more exciting author interviews and expert columns!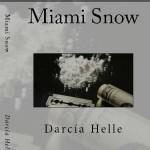 What led you to pursue a career as a writer?
I've never not been a "writer." When I was very young, I wrote little stories to amuse myself. In my teen years, I moved on to poetry. Later, I wrote stories for my two boys, starring each of them as the hero. I volunteered for several health-related websites, for which I wrote dozens of articles. One day I realized that I had this character in my head that would not go away. I sat down and began putting it all on paper. That turned into my first novel. (Which I have not published … yet.)
Why mystery? What is it about the genre that appeals to you?
Mystery and suspense are my favorite fiction genres to read, so I guess it was a natural fit for me. I honestly never sat down and said to myself, "I'm going to write mystery and suspense novels." It just sort of happened.
How do you approach the blank page?
I don't think I've ever had an issue with a blank page. My problem is that I tend to have too many pages at once that belong to too many different stories. I like to say I have writers' A.D.D. I'm very character-driven and these characters will pop into my head with a story to tell. Staying focused on one character's story long enough to complete the novel (without distraction from other novels in-progress) is my biggest problem. And it's one that I have yet to master.
What was your favorite part of writing Miami Snow?
My favorite part was to be able to get inside my main character's head. Nick has been terribly hurt by the woman he'd loved and trusted completely. We often read and hear stories about women whose lives are nearly destroyed by divorce but we rarely hear those stories from a man's perspective.
The greatest challenge?
The greatest challenge was in showing Nick's weaknesses without making him appear like a sappy, easily deceived wimp. Hopefully, I succeeded!
How did you first go about getting published? Miami Snow is your 5th book—have there been differences and/of similarities between your various publishing experiences?
I started out seeking an agent and found query letter/synopsis writing exasperating. I am not particularly patient when I want something (one of my many character flaws!). I have a lot of time on my hands, due to chronic health complications from late-stage lyme disease. So I researched various self-publishing options and taught myself how to create a website.
For now, I'm self-published and the process has been pretty much the same with each book.
What genre-specific elements must a writer know about attacking the mystery/suspense genre?
Wow. That's a challenging question! For mystery/suspense to work (for me, as a reader), it needs an element of surprise or an unexpected twist. But it also needs to make sense. Some writers toss things into the plot to shake things up but the reader is left thinking, "That would never happen!"
The characters also need to feel real. Sometimes I will read a mystery or suspense novel with a fabulous plot but the characters feel wooden and one-dimensional. No matter how good the plot, I need to care about the characters I'm reading about.
What mistakes do would-be mystery writers tend to make?
They break the "show, don't tell" rule. Readers don't want to be told that, "Sam is a terrible cook and can't even manage to boil pasta properly." Readers want to see that, "Sam masked the soggy strands of spaghetti with a bottle of boiled Ragu sauce."
Additional advice for writers?
Read a lot, particularly in your genre of choice. Join writers' support and critique groups. Try not to fall in love with your work so much that you can't read it with a critical eye. And develop a thick skin; you cannot ever please every reader.
What do you know now that you wish you knew when you first started writing?
Oh, so much! Writing is a constant learning experience. Above all, I wish I had known how incredibly happy I would be to just sit in a room by myself and create a fictional world.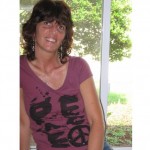 Tags:
Author Q&A
Beyond Salvation
Darcia Hale
Debra Eckerling
Enemies and Playmates
Guilty as Charged Newsletter
Hit List
Miami Snow
Mystery
No Justice
Quiet Fury Books
VBT - Writers on the Move
Write On!