What an incredible celebration of writers!
On February 20, at simultaneous ceremonies in Los Angeles and New York, the Writers Guild of America, West (WGAW) and the Writers Guild of America, East (WGAE) announced the winners of the 2010 Writers Guild Awards for outstanding achievement in writing.
Here are photos – and winners – from the event at the Hyatt Regency Century Plaza Hotel in Los Angeles.
FILM WINNERS: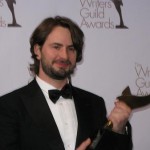 Original Screenplay: The Hurt Locker, Written by Mark Boal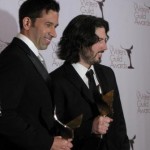 Adapted Screenplay:Up in the Air, Screenplay by Jason Reitman (right) and Sheldon Turner;
Based upon the novel by Walter Kirn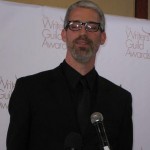 Documentary Screenplay: The Cove, Written by Mark Monroe
TELEVISION WINNERS: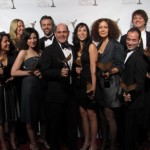 Drama Series: Mad Men
Written by Lisa Albert, Andrew Colville, Kater Gordon, Cathryn Humphris, Andre Jacquemetton, Maria Jacquemetton, Brett Johnson, Erin Levy, Marti Noxon, Frank Pierson, Robin Veith, Dahvi Waller, Matthew Weiner, AMC
Comedy Series: 30 Rock, Written by Jack Burditt, Kay Cannon, Robert Carlock, Tom Ceraulo, Vali Chandrasekaran, Tina Fey, Donald Glover, Steve Hely, Matt Hubbard, Dylan Morgan, Paula Pell, Jon Pollack, John Riggi, Tami Sagher, Josh Siegal, Ron Weiner, Tracey Wigfield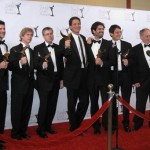 New Series: Modern Family
Written by Paul Corrigan, Sameer Gardezi, Joe Lawson, Steven Levitan, Christopher Lloyd, Dan O'Shannon, Brad Walsh, Caroline Williams, Bill Wrubel, Danny Zuker
Episodic Drama – any length – one airing time:
"Broken, Part 1 and Part 2" (House), Written by Russel Friend & Garrett Lerner & David Foster & David Shore, Fox
Episodic Comedy – any length – one airing time – TIE:
"Apollo, Apollo" (30 Rock), Written by Robert Carlock, NBC
"Pilot" (Modern Family), Written by Steven Levitan & Christopher Lloyd, ABC
Long Form – Original – over one hour – one or two parts, one or two airing times:
Georgia O'Keeffe, Written by Michael Cristofer, Lifetime
Long Form – Adaptation– over one hour – one or two parts, one or two airing time:
Taking Chance, Teleplay by Lieutenant Colonel Michael R. Strobl, USMC (Ret.) and Ross Katz, Based on the short story by Lieutenant Colonel Michael R. Strobl, USMC (Ret.), HBO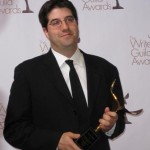 Animation – any length – one airing time:
"Wedding for Disaster" (The Simpsons), Written by Joel H. Cohen; Fox
Comedy/Variety – (Including Talk) Series – TIE:
Saturday Night Live, Head Writer: Seth Meyers, Writers Doug Abeles, James Anderson, Alex Baze, Jessica Conrad, James Downey, Steve Higgins, Colin Jost, Erik Kenward, Rob Klein, John Lutz, Lorne Michaels, John Mulaney, Paula Pell, Simon Rich, Marika Sawyer, Akiva Schaffer, John Solomon, Emily Spivey, Kent Sublette, Jorma Taccone, Bryan Tucker, Additional Sketch by Adam McKay, Andrew Steele; NBC
The Daily Show with Jon Stewart, Head Writer: Steve Bodow, Writers Rory Albanese, Kevin Bleyer, Rich Blomquist, Tim Carvell, Wyatt Cenac, Hallie Haglund, JR Havlan, David Javerbaum, Elliott Kalan, Josh Lieb, Sam Means, Jo Miller, John Oliver, Daniel Radosh, Jason Ross, Jon Stewart; Comedy Central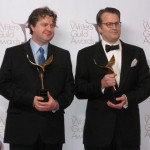 Comedy/Variety – Music, Awards, Tributes – Specials: "Film Independent's 2009 Spirit Awards,"
Written by Billy Kimball (right), Neil MacLennan; IFC/AMC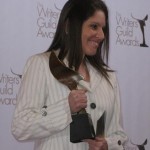 Daytime Serial: The Young and the Restless
Written by Amanda L. Beall, Tom Casiello, Lisa Connor, Janice Ferri Esser, Eric Freiwald, Jay Gibson, Scott Hamner, Marla Kanelos, Beth Milstein (pictured), Natalie Minardi Slater, Melissa Salmons, Linda Schreiber, James Stanley, Sandra Weintraub, Teresa Zimmerman; CBS
Children's Episodic & Specials:
"Welcome to the Jungle" (The Troop), Written by Max Burnett; Nickelodeon
Children's Script – Long Form or Special:
"Another Cinderella Story," Written by Erik Patterson, Jessica Scott; ABC Family
Uncharted 2: Among Thieves, Written by Amy Hennig; Sony Computer Entertainment
Congratulations to the winners of the 2010 WGA Awards!
For the complete list of winners, including special award recipients,  go to www.wga.org or www.wgaeast.org.
Tags:
2010 Writers Guild Award Winners
30 Rock
Hurt Locker
Los Angeles Ceremony
Mad Men
Modern Family
The Cove
Up in the Air
Writers Guild of America