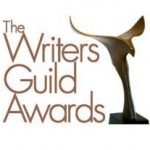 The Writers Guild of America celebrated screenwriters on Saturday, February 20, at the WGA Awards—held in both New York and Los Angeles. Plus, on Thursday, February 18, the Guild hosted Beyond Words, a panel of WGA-nominated screenwriters.
In this Special Edition Author Q&A, Write On! Online reveals tips and advice shared by winners, nominees, and creative people who attended last week's events.
Director Kathryn Bigalow, The Hurt Locker,talks about writer Mark Boal, who won the WGA Award for Best Original Screenplay. The film, about an elite Army bomb squad unit in Iraq, is nominated for 9 Academy Awards, including Best Picture, Best Writer, and Best Director.
What do writers mean to you?
Bigalow: I am one of those firm believers that the material is everything, that you can't compensate for material that's not there. I was so incredibly lucky that I had a phenomenal screenplay. Mark is an extraordinary writer. And we just tried to honor his story and the men and women who are still in the field every day during this ongoing conflict, and that's what we tried to do—be as respectful as possible.
What do you know now that you wish you knew at the beginning of your career?
Bigalow: To have the writer on the set every day. From my standpoint, it's phenomenal. I love it! I think that filmmaking is a real collaboration anyway. But to have the writer, the person there who originated the material, as you're shooting is a profound resource and a great gift.
Scott Moore and Jon Lucas wrote The Hangover, a Las Vegas comedy about three groomsmen who lose the groom and have to piece-together the previous night's activities, which was nominated for the WGA Award for Best Original Screenplay.
"When we sat down to write the Hangover, we weren't thinking 'Oh, we're going to win all these awards.'" Moore explains. "It was more like, 'Let's just write a funny movie, and hopefully the movie will make money.'
"Jon and I have been writing in the comedy world for nine or ten years now, so when you're in that world—the award world—you don't really think about it."
Do you have tips for getting un-stuck?
Moore: Jon and I don't really believe in writers block; you just keep writing. It's work, just as much as it is an art. We're not the type to sit around and wait for a muse, we sit down and keep typing and keep writing. And we may end up throwing it all out, but at least the act of writing usually triggers something.
What do you know now that you wish you knew when you first started writing?
Moore: Sort of akin to what I was just saying, for us it's a lot about the work. I think if I had taken writing more seriously when I first started, that'd be great—treat it like a job, work at it every day, put in the time, put in the pages. It's all about honing your craft. Don't expect yourself to be brilliant right off the bat. Like professional sports or being a painter—whatever it is—you've got to work at it.
Crazy Heart, written and directed by Scott Cooper, tells the tale of a faded country music musician (played by Jeff Bridges), forced to reassess his dysfunctional life. The film, based on the book by Thomas Cobb, was nominated for the WGA Award for Best Adapted Screenplay.
Do you have any tricks for getting un-stuck when you are writing?
Cooper: Since this is the first thing and the only thing that I have written, I didn't really experience any [writers block], because I knew this world so well, and I knew the material so well. When I would get tired, I would go for long walks with my dog.
I hope I don't experience writers block, But I expect I will some day—most people do—but so far, so good.
What do you know now that you wish you knew when you first started writing?
Cooper: I wish I probably had more patience. I think I was impatient, but naively impatient. Now I've learned to trust my instincts and take my time. I think good things come to those who wait.
The Cove—written by WGA-Award winner Mark Monroe, and directed by Louie Psihoyos, who won the DGA Award for the film—is a documentary about a group of activists, led by renown dolphin trainer Ric O'Barry, who infiltrate a cove near Taijii, Japan to expose both a shocking instance of animal abuse and a serious threat to human health. The film is also nominated for an Oscar for Best Feature Documentary.
The Cove is a controversial film …
Monroe: Any time you shine a light on a difficult topic, you're going to get a little controversy. And I don't think that's a bad thing.
How does someone write a documentary?
Monroe: That's the 24 million-dollar question. "How does one write a documentary?" To be honest, it's all about the structuring—building scenes one on top of the other—so it feels like a narrative.
What do you know now that you wish you knew when you first started doing documentaries?
Monroe: I know that documentary is a very small niche in the entertainment industry.
Actor John Corbett (Northern Exposure, Sex & the City) currently co-stars in the Showtime series, The United States of Tara opposite Toni Collette. He is also a musician and songwriter, and performs with his John Corbett Band.
How long have you been writing songs?
Corbett: Since I was 7.
What got you interested in songwriting?
Corbett: Well, songs are just little stories. I've always been good at telling stories with my buddies to make them laugh, to make things up.
Do you have any advice for creative people?
Corbett: It's a really lonely thing to do—sit in a room and write…. You got to keep going. You've got to have fun.
For the list of WGA-Award winners, go here. And for more information, go to www.wga.org.
Tags:
Author Q&A
Awards
Crazy Heart
Debra Eckerling
John Corbett
John Corbett Band
Kathryn Bigalow
Larry David
Mark Monroe
Scott Moore
Screenwriting
The Cove
The Hangover
Write On!
Writers Guild of America