Judy Sandra—novelist, journalist, and musician—speaks with Write On! about her literary novel The Metal Girl (JSM Books), which was just released.
"This is exciting," she says. ""I'm looking forward to the fact that people finally will be able to read the book."
Sandra also blogs about communications and the media at JS Media Blog, writes about film for Moving Pictures Magazine, and has written a screenplay Something In Common.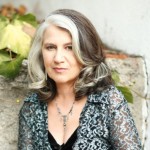 Where did you get the idea for The Metal Girl?
The story is highly autobiographical, and I sat on it for years. Then, in the middle of a snowstorm in Vermont at a writer's colony one winter, I just "saw" what that whole experience was about, like one long vision, and I "heard" the first sentence of the book and wrote it down. The story resonated with me at that moment because I was going through some enormous life changes that explained those events to me, and also that I felt I was finally resolving.
Why did you decide to publish under your own imprint?
I created JSM Books for many reasons. I had tried the traditional approach when I first wrote the book, and that was not a fruitful experience. Last summer, my original manuscript was miraculously discovered in the basement of a house church in Brooklyn, where they were having a clear-out. The minister of the church then searched for me on the Internet and wrote to me on Facebook to tell me that he had found and was reading the book, and that he was "enthralled" with it. (You can read the whole story at my website: www.judysandra.com). It felt like divine intervention, and I took it as a sign to take the publishing into my own hands. Also, the publishing landscape has changed dramatically, and independent publishing is now a choice and a viable alternative. I like the idea of having complete creative control and owning my intellectual property. The literary heritage side of me feels the legacy of one of my biggest influences, Virginia Woolf and her company Hogarth Press. I have produced my own CDs and started my own business, so it doesn't seem much of a stretch to produce a book, now that it can be done so economically.
What was your favorite part of writing The Metal Girl?
I loved these characters, and that made writing about them a pleasure. They are entertaining and should be delightful to read about. You really can't dislike them, even when they're behaving badly.
The greatest challenge?
I had two different challenges: one was practical and one literary. The practical challenge was having to write a novel on my lunch hour. I had a full-time job, and that's the only "down" time I had. I was too tired at night. Every day I would go to a nearby cafe, shut out the noisy din by listening to music on my CD player earbuds, and write the next pages. The second challenge was writing a novel directly from an autobiographical experience. I had to resist the temptation to be "truthful" and instead create situations that moved the narrative, the book's themes, rather than give an account of what actually happened or my personal feelings. I had to make the first person narrator into the woman telling the story, a character, as opposed to a character who is just me.
What is your writing process? How do you approach the blank page?
I do the first drafts of my fiction writing in long hand with a pen and a pad of lined paper. Yes, I know, I'm very last century, but I cannot hear my "voice" on a computer. That little tap, tap, tapping of the keys annoys me and is not conducive to creative thought. I need silence. Frankly, I don't feel that sense of a page that is blank because my mind isn't blank at the point that I start writing. I usually think about a story for a while, play it out in my mind like a movie. I let the story, scenes and characters percolate for a while. I need to know who these characters are, understand them and like them. Eventually some words emerge, and I start writing. At some point I stop and plot the whole novel. I outline the chapters, but then I tend to skip around and not write them in order. At a certain point I feel compelled to write the ending, because I have to know how the story resolves in order to guide the narrative to that climax. A more internal part of my process is that I think in scenes, in chapters.
When did you first develop your love of writing?
I believe that every writer first falls in love with books and reading. When I was  20 years old, I lived  in the mountains of North Carolina in a very isolated area with few people. I'm an artist who is deeply inspired by nature, whether in writing or music, and that is incredibly beautiful country. I spent a lot of time alone walking around the mountains with a little notebook, and I started to write poetry.
What's next?
I would like to adapt The Metal Girl for a film and write the screenplay, and I've begun to approach directors with the project.  I also have an idea for another novel.
Advice for writers?
I think we find our individual processes and teachers. It's important to find your own "small personal voice," as Doris Lessing called the literary voice. Find one or two mentors, whose opinion you value, and shut out all the rest. But, on the practical level, the best technique that I ever learned, from my teacher, the writer Ursule Molinaro, is to read your work out loud. You will hear right away what works and what doesn't. And, of course, it can't hurt to read great literature, great writing of all kinds.
What do you know now that you wish you knew when you first started writing?
I am more knowledgeable about the business side of the arts and much smarter about promoting and marketing my work. I have a deeper understanding of what it means to have a creative career. And I've come to realize that whatever I write, I am communicating directly to another human being. Writing can be a powerful medium; one has the ability to touch a reader's heart and mind, which is a wonderful thing. I have seen this first hand as a writer. I know that people are hungry for stories, for shared human experience, and that the writer/reader relationship is a precious one.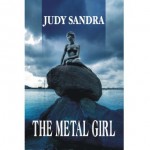 Tags:
Author Q&A
Debra Eckerling
JSM Books
Judy Sandra
Literary Novel
Moving Pictures Magazine
The Metal Girl