Bitter Feast had its world premiere last weekend at the Los Angeles Film Festival. The dark comedic thriller is about a disgraced TV Chef who blames his downfall on a food blogger's bad review, and then kidnaps aforementioned food blogger to exact revenge.
In this LA Film Fest Write On! Q&A, we speak with writer/director Joe Maggio and producer Peter Phok of Glasseye Pix, and get their takes on the production process, creating comedic horror, the importance of the Festival, and more.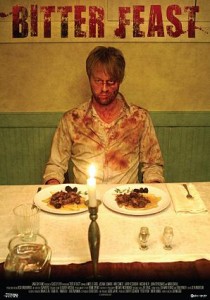 Bitter Feast looks awesome – like a cross between Misery and Julie & Julia. Was that the intent?
Maggio: Misery was certainly an inspiration, especially in nailing down what I knew would be a rather peculiar tone. Bitter Feast is a horror film, but like Misery, it's maybe better described as a creepy drama. I wasn't a big fan of Julie & Julia—I'd say I was going more for Peter Greenaway's The Cook, the Thief, His Wife and Her Lover. As for the actual look, the cinematography, I give it up to Michael McDonough and the Canon 5D which is just an amazing camera. The image is kind of indescribable, almost liquid-like—perfect for this kind of surreal storytelling.
How did you develop the idea for Bitter Feast?
Maggio: The idea came to me after reading Frank Bruni's New York Times review of Gordon Ramsey's restaurant, London Hotel. I felt that Bruni's review was oddly lazy (I'm a big Bruni fan and read him religiously). He condemned the restaurant because, in his opinion, it lacked "excitement." That's pretty weak tea if you ask me, and unfortunately for Ramsey, Bruni's word holds a great deal of weight for NY restaurant goers. So, I started thinking, what would Ramsey do if he could get Bruni alone. After many strange imaginings, I put it all down on paper and Bitter Feast was born.
Phok: The idea for Bitter Feast was a collaborative effort, as Joe shared his early drafts with us as his producers. We gave him suggestions, and each draft became more exciting as we schemed the different cooking challenges. As a production company, we happily support our filmmakers' visions and Joe's was very clear.
How did you end up working together?
Maggio: I've known Larry Fessenden of Glasseye Pix for a number of years. In the Spring of 2009, he called and asked me if I had any horror scripts that would work on a low budget. I didn't, but I'm not one to pass up an opportunity to work, so I lied and said I did, but that I needed a week or so to polish it up. I started wracking my brain for anything that would work as a horror film and the Bruni/Ramsey review came to mind. I wrote furiously for seven days, gave it to Glasseye, they thought it would work (with revisions) and we were off to the races.
Phok: Larry Fessenden, one of the film's producers, knew Joe from the festival circuit when Joe was promoting his early films, Virginal Bliss and Milk & Honey. Joe's ability to pull together these wonderful dramatic films on very low budgets set him apart as an ideal director for our company. Larry was so excited to bring Joe to the horror genre.
How has Bitter Feast differed from your other film projects?
Maggio: Making a horror film with blood and stunts and suspense and scares is extremely difficult. With a drama you can improvise, make things up as you go along, let the actors go where they may and sort of follow them with the camera. Not so with a horror film. You have to know exactly what is going to happen because there are physical laws dictating so much of what you're doing. Like blood flying from someone's neck and hitting a wall in such a way that the camera sees it, or choreographing a kick or punch without actually harming the actors, or really selling a knife going into someone's eye, etc. This stuff takes time and care and preparation.
Are there any similarities?
Maggio: I approached the character development in the same way as I've always done. I always really take time in the script phase to make sure I'm creating whole characters, that I understand who they are and why they do what they do. This was certainly the case in Bitter Feast. In fact, the first draft wasn't really a horror film at all, but more of a study of loss and empathy. So when we started bloodying things up, it was like laying gore on top of a neat, little chamber drama.
What was your favorite part of working on Bitter Feast?
Maggio: My favorite part was working with Beck Underwood, the production designer. I owe her more than I could possibly list in this interview. It was with Beck that my ideas really came to life, first as cool sketches, then photo shopped mock-ups, and finally the real sets. I remember walking into the basement/dungeon for the first time and just feeling giddy at how creepy and beautiful it was.
Phok: The entire process was memorable, as each step had its challenges to overcome. My favorite part of working on Bitter Feast was post-production, during which the film really took form through the editorial talents and tireless work of Seth Anderson, the film's editor, with Joe's direction. The process continued, with the skills of sound designer, Graham Reznick and composer, Jeff Grace, who both weaved the beautiful score and poignant sound design to achieve a succinct and final whole.
The greatest challenge?
Maggio: The greatest challenge was something I've mentioned above, and that was fulfilling the technical demands of making the blood gags and stunts look believable. I'll say it again: horror is no bull. You really have to know what your doing for anything to work.
Phok: Our greatest challenge, in my opinion, was scheduling during production. Our main shooting period was not very long and left out a few key scenes, intended to be filmed at a later time. However, when the time came, it was very tricky to have the actors' schedules re-align. In the end, we made it work: a true testament of everyone's commitment to Bitter Feast.
How are you enjoying being part of Los Angeles Film Festival?
Maggio: I had what I can characterize as the hands down best festival experience of my life in the LA Film Festival's filmmaker retreat at the Skywalker Ranch. EVERY film festival should do it. They take all the feature directors away for two days and give you a chance to really get to know each other, meet people like Kathryn Bigelow or Curtis Hansen, and I don't mean a handshake and see you later—they're there the whole time, hanging out, lounging around the ranch, eating meals with you, partying with you. Curtis Hansen was good friends with John Cassavetes, a filmmaker who has had an enormous influence on me, and talking with Curtis Hansen was as close as I think I'll ever come to talking with the man himself.
Phok: LAFF is one of my favorite film festivals in the world. We have been invited to participate in the festival for a few years now, and really enjoy traveling from New York to Los Angeles to support the program. This year marks the festival's move to Downtown LA from Westwood. It has been fun exploring Downtown LA, seeing the films, and attending events. We hope to return next year with another film as it was just last year this time when we began production on Bitter Feast.
How important are festivals for up and coming filmmakers?
Maggio: Well, festivals are everything. They are our greatest forum for putting our work in front of audiences and generating buzz.
Phok: We are big supporters of film festivals for all filmmakers especially those up and coming. I believe festivals are so important for those filmmakers because they offer opportunities for them and their work to be noticed and discovered. Without film festivals, our films would never have received the success they found which was a direct result of the festival's press coverage and audience support.
When you write, how do you approach the blank page?
Maggio: While firmly touching/embracing wood, I have never had writer's block. I love writing. I write every day and have more ideas than I have time to develop those ideas. But when I settle on a story I want to write as a script, I first do what I call a scene menu, basically the entire movie, beginning at scene one, written out as one or two line scene descriptions, occasionally with bits of dialogue or visual notes. This menu is generally about 20 pages long. When it's done, I begin at the beginning and just start fleshing out each scene. The benefit of this is that if the story just doesn't work, you discover this before you expend all the creative energy of writing a script and getting to page 85 and realizing you've wasted an enormous amount of time on a dud.
Any tips/techniques you recommend for writers/filmmakers in their creative process?
Maggio: Don't be afraid to slash and burn when something isn't working. When I first started writing screenplays I would just sit down with my notes (without doing the complete scene menu which I describe above.) I'd get to say page 75 and I'd love everything, but I'd have written myself into a corner. I couldn't bear the thought of changing anything, but I couldn't go any further either, so there I'd be with a fantastic "almost script." If this ever happens, don't be afraid to completely obliterate most of the script. It will take less time and produce greater results than trying to fix an intrinsically flawed story.
Additional advice for filmmakers/screenwriters?
Maggio: Don't be pig-headed, but at the same time, if you feel strongly about a story, or an actor or anything associated with you work, don't let anyone deter you. I recently completed production on a film that I wanted to make ten years ago. What happened is this. I wrote the script in 2000. I thought it was the best thing I'd ever written. I sent it to my agents and they didn't like it at all. I sent it around to a variety of producers in town and they didn't like it either, so I gave up for a number of years. It took four films before I learned to trust my instincts. As soon as I began showing it around last year, looking for money, people kind of flipped out and fell instantly in love with it. Who can explain why those initial readers all those years ago didn't respond? Who cares. Go with your gut, but also be open to constructive feedback and plain common sense.
What do you know now that you wish you knew when you first started making films?
Maggio: Nobody knows anything. Producers, investors, and development execs who claim to "know" what people want to see, know what will sell, know if an idea is any good—they are completely full of it. Nobody knows a damn thing. The man or woman who can prognosticate infallibly or with any degree of accuracy whether a film will be successfully or not would be the most powerful person in the history of Hollywood. They don't exist. I've let a lot of great ideas die on the vine because I believed what a producer or development exec told me.
Phok: I know now, the hardest part of making a film can be getting it to audiences in the form of distribution. The process of filmmaking is exhilarating from start to finish, but it does not end there. Each film still needs to find a home with a distributor as an independent film. With the impact of technology and the internet it is clear that distribution patterns are changing as we're seeing more and more films open both at the theaters and on video on-demand. I think this is a great direction as it really allows more audiences to see the film.
What's next?
Maggio: Well, I'm writing a radio play for Glasseye Pix's Tales from Beyond the Pale. I'm finishing The Last Rites of Joe May, a film I shot in Chicago in December in conjunction with Steppenwolf Films. I'm writing and hopefully shooting another film this Fall.
Phok: Next on my plate are three films in post-production which include Jim Mickle's vampire film Stake Land that is currently in the world of visual effects, sound design, and score. Also in post-production are James Felix McKenney 's monster movie Hypothermia and Ti West's haunted hotel film The Innkeepers. It is very exciting to complete these films as we look forward to sharing them with audiences.
Tags:
Beck Underwood
Bitter Feast
Brent Kunkle
Dark Comedy Thriller
Filmmaking
Glass Eye Pix
Joe Maggio
LA Film Festival
Larry Fessenden
Misery
Peter Phok
Screenwriting
The Cook The Thief His Wife and Her Lover