If you have children, other family members, or friends who you continuously have to reprimand for not letting you know where they are—causing you unnecessary worrying—have them view 127 Hours. It should break them of their bad habits.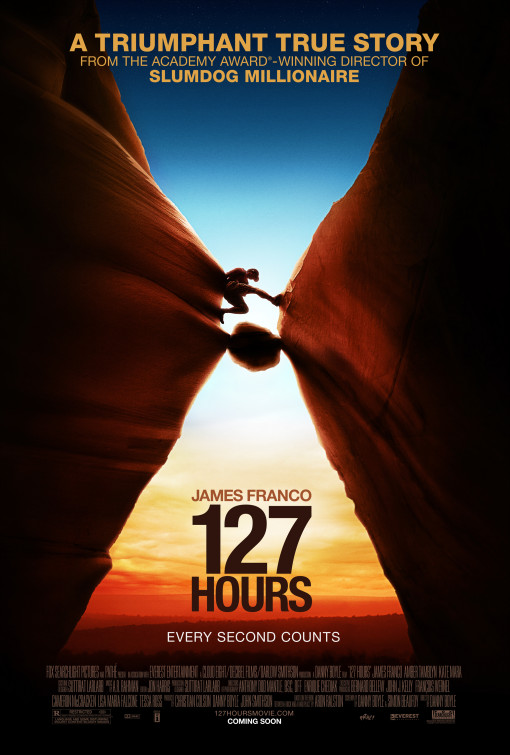 James Franco stars in 127 Hours, based on the real-life story of Aron Ralston—chronicled in the book, Between a Rock and a Hard Place. On a 2003 solo hike in Utah's Canyonlands National Park Ralston was pinned by a boulder in a canyon. He was in a remote area and had told no one of his hiking destination.
Having exhausted creative ways to free himself, and increasingly losing lucidity, five days into his ordeal, the experienced climber and hiker managed to break his arm bones so that he then could cut into the soft tissue to sever his arm and free himself. Yes, actually cut off his arm—and that's without the assistance of pharmaceuticals or a good sharp knife. Ralston then managed to rappel down a wall and walk several miles before being rescued.
Knowing the general storyline, it was difficult to view 127 Hours and not fixate on "when's the amputation coming." But director Danny Boyle (Slumdog Millionaire, 28 Days Later, and Trainspotting) does not give much opportunity to dwell on the inevitable, as he takes the viewer on the sped-up version of 127 hours of Ralston's fight for his life with a mix of very physical predicaments, breakaway attempts, hallucinations, reminiscences, and humor (drinking urine is "no Slurpy") against a very fresh and hip soundtrack that doesn't let up until Ralston's rescue.
Even if you did not know the outcome, James Franco's Ralston is such an enthusiastic outdoor adventurer (practically flying over terrain on his bike) with so much joie de vivre who also is smart (except for that thing about hiking alone and not telling anyone) and industrious, you think he's bound to figure a way out of his horrible position.
It's good that his character is so engaging, because 127 Hours is all Franco-driven; carrying an entire film is no small feat. While his roles in the Spider Man franchise, Tristan + Isolde, and City by the Sea were particularly anemic, Franco has turned in brilliant performances in Milk and many other roles, and seems to be the only true contemporary Renaissance man—acting, writing, ongoing education (now working on a PhD), artist, and even working on soap opera. So he just comes across as cool and fun in his public image, which seeps into his on-screen persona. Franco—and the film—have already received nominations from the Writers Guild Awards, Film Independent Spirit Awards, and Golden Globes, among others.
At the end of the ordeal—as the music changes and the rescue helicopter takes Ralston to safety—"the film leaves you," as the New York Times so aptly wrote, "with the impression of having lived, vicariously but intensely, through something whose meaning is both profound and elusive."
3 of 5 Purple Pencils

Tags:
127 Hours
Aron Ralston
Between a Rock and a Hard Place
Danny Boyle
James Franco
Simon Beaufoy