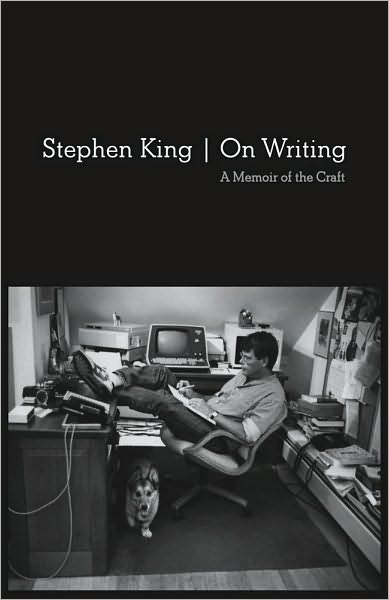 A few years ago, a friend suggested I read Stephen King's On Writing. Of course I had heard of it, but since I had not read any of King's work, I couldn't imagine what I'd gain from Mr. Horror's advice.
But I trusted this fellow writer, and ordered the book.
As I began reading, I was most struck with how different it was from other books on craft. This isn't a "how to" book as much as it is a "this is how I did it" book. It was exactly what I needed at that time in my writing career.
I was relatively new to my full-time pursuit of writing, only imagining myself as a novelist or a screenwriter, but King's personal reveal of his own professional path showed me there's more than one way to write for a living. He opened my eyes to freelance writing, the process of submitting articles and short stories, as well as the value of editing. He shared candidly about his marriage, his struggles, poverty, being hungry, and how despite all the obstacles, he managed to write every single day and never give up.
Who would have thought this best-selling author had started his career writing a sports column? The lesson in it all is: baby steps and patience. Patience. Patience. Patience.
* * *
As King guides the reader through his life, from childhood to famed author, he sneaks in writing lessons. I say, "sneaks in" because the book reads more like a memoir than a book on craft. Actually, it's more like one long letter from a friend who wants to lend a helping hand.
King sprinkles the "Toolbox" section with tidbits of knowledge:
– "Good writing is often about letting go of fear and affectation."
– "All I ask is that you do as well as you can, and remember that, while to write adverbs is human, to write he said or she said is divine."
– "The most important things about back story are that (a) everyone has a history and (b) most of it isn't very interesting. Stick to the parts that are, and don't get carried away with the rest."
He also advises, read a lot and write a lot. Saying, "If you don't have time to read, you don't have the time (or tools) to write. Simple as that."  He takes books with him everywhere he goes … and that was before the Kindle. Maximum your time. Listen to books on tape as you drive, as well as have one in the car you read in grocery lines. In short, finding a way to fit reading into your life is paramount to creating your own writing voice.
Perhaps one of the most important lessons for me was "writing with the door closed." That first draft should be fearless; therefore, you need to keep you door closed to outside influence and judgment while you bleed all over the pages. Write with passion. That philosophy alone was liberating for me.
On Writing is the book every serious writer should not only read once, but should read at various stages of his/her career. There are tidbits you'll miss because you aren't ready to hear them yet. For that very reason, I make an effort to read it once a year … an annual gift to myself.
King declares, "Writing is seduction." Hail to a man who made a book on craft truly seducing.
5 Purple Pencils

Tags:
Jeanne Veillette Bowerman
On Writing
Stephen King
Write On Review
Write On! Online