Once a month, screenwriters gather for karaoke at a neighborhood bar in LA to network and belt out tunes.
Wait a minute.  Singing?  Really?  Writers are supposed to be hiding in dark caves, typing away on their keyboards dressed in pajamas, half drunk.
Screenwriter Karaoke brings screenwriters out of the cave… though I'm fairly certain liquid courage plays a role.
On Twitter, I had heard the urban myths of Screenwriter Karaoke, but had never been able to attend an event. Last June, I went to Great American Pitchfest and decided to face my singing fears. Can I sing? Hell, yes–in the shower, in my car, and in my kitchen. With no one listening, I sound like Jewel. But on a stage, I am confident I sound more like Bobby Brady with a pubescent cracking voice.
Knowing how terrified I was, Merrel Davis, the founder and organizer of Screenwriter Karaoke, sent me a list of songs to choose from. With hands shaking, I clicked the link. The list was surprisingly long and full of songs I actually knew!
Merrel started the karaoke networking as an alternative to mainstream stale events. "I was tired of going to exciting film panels and seminars and then being forced to mill around the boring, staid networking events that followed. Every event was like the first day of junior high, and I was wearing noisy corduroy pants."
Let me assure you, Merrel is no wallflower. He was born to sing and connect people.
The first Screenwriter Karaoke was birthed in NYC's Greenwich Village in a tiny bar with ten screenwriters. "We were all strangers, but we liked to write, sing and drink and soon enough, we were friends and peers."
While Merrel has since moved to LA, the New York set maintains the karaoke tradition. In the past year, the LA monthly events have grown ten times that of the original gathering, occurring at some of LA's premiere bars. Merrel has changed the face of networking from passing out business cards to passing a microphone.
While I am far more comfortable holding a pen than a mic, on the night of Screenwriter Karaoke at the Great American Pitchfest, I walked toward the ballroom, music blasting through every crack and crevice of the walls. I heard singing. Damned good singing. I stopped in my tracks and took a deep breath. Forward march.
Merrel and his sponsor, Xandy Sussan of Cover My Script, were welcoming writers as another was on stage singing "Mustang Sally," which happens to be my favorite. Others were in the crowd, swigging beer and dancing. The one thing everyone had was an enormous smile.
Merrel and Xandy saw my fear and reassured me. No pressure to sing, just mingle and enjoy. Little did I know, within the hour, they would lure me on stage to sing a trio of "Build Me Up Buttercup" with Merrel and our mutual friend, Zac Sanford.
It's a night I'll never forget, not because I faced a fear and sang, but because the room was full of twisted, insecure, boisterous writers just like me. Suddenly we had more than just writing in common, we were singing, laughing and making connections on the foundation of fun.
On Saturday, October 9th, Screenwriter Karaoke comes to Creative Screenwriting EXPO for their networking party. I can't think of a better format to meet screenwriters and make friends.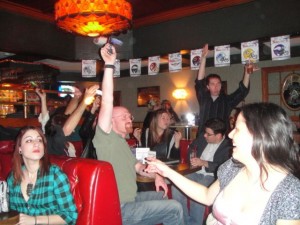 5 of 5 Purple Pencils

Screenwriter Karaoke will be at the Screenwriting Expo 2010 October 9. Write On! spoke with creator Merrel Davis during the Great American PitchFest. Watch the video interview. RSVP here.
Screenwriting Expo runs Thursday, October 7 through Sunday, October 10 at the LAX Hilton in Los Angeles.
Tags:
Cover My Script
Jeanne Veillette Bowerman
Merrel Davis
Screenwriter Karaoke
Screenwriting Expo
Write On Review
Xandy Susan